Taiwan shares extend gains to end above 11,100 points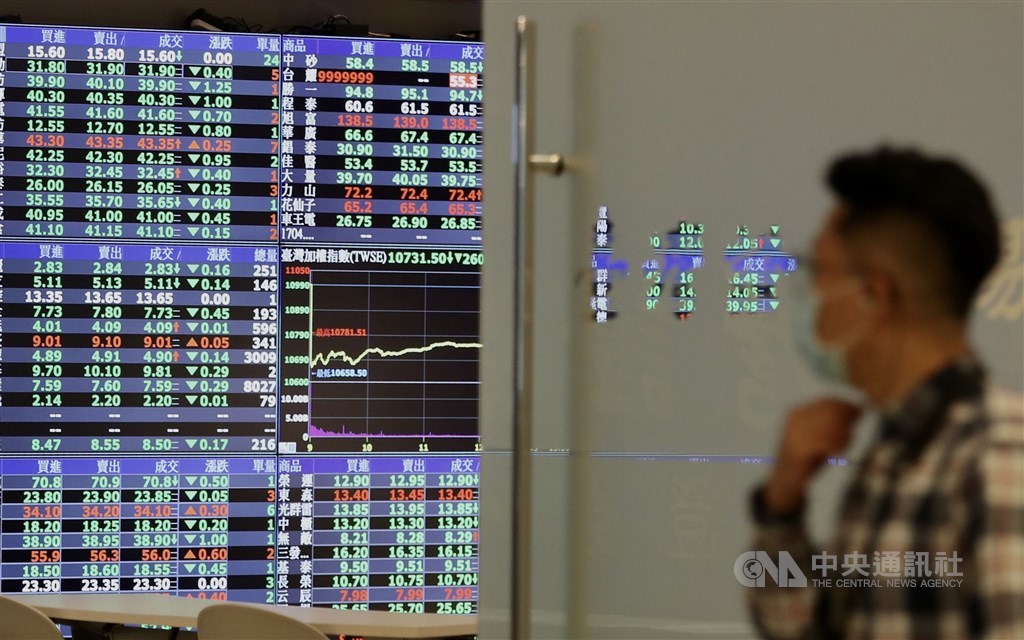 Taipei, June 2 (CNA) Shares in Taiwan extended momentum from a session earlier to close above the 11,100-point mark Tuesday as buying was seen almost across the board, led by large-cap tech and financial stocks, dealers said.
While the local main board breached the stiff technical resistance level ahead of the 120-day moving average of 11,087 points, turnover remained moderate, the dealers said.
Many investors preferred to stay on the sidelines, watching to see what policies foreign institutional investors will adopt after a massive net sell in May, they explained.
The weighted index on the Taiwan Stock Exchange (TWSE), or Taiex, ended up 48.91 points, or 0.44 percent, at 11,127.93, after moving between 11,102.97 and 11,170.49, on turnover of NT$179.2 billion (US$5.99 billion).
The market opened up 0.27 percent to breach 11,100 points on follow-through buying from a session earlier, when the Taiex closed up 1.25 percent, and momentum accelerated, led by tech stocks such as integrated circuit designer MediaTek Inc. and other financial heavyweights, which pushed the index higher, the dealers said.
But with the Taiex moving closer to 11,200 points, some investors started to lock in their earlier gains, placing a cap on the index by the end of the session, they said.
"Local investors are closely monitoring the attitude of foreign institutional investors, which recorded a net sell of about NT$150 billion-worth of shares on the local main board in May despite a net buy yesterday," Mega International Investment Services Corp. analyst Alex Huang said.
"Amid concerns of a possible shift to the sell side by foreign institutional investors, many local investors appeared reluctant to chase prices for the moment and pocketed their earlier gains to cap today's upturn," Huang said.
According to the TWSE, foreign institutional investors bought a net NT$1.73 billion-worth of shares on the main board Tuesday.
"Therefore, buying in Taiwan Semiconductor Manufacturing Co. (TSMC) was reduced to some extent today on lower turnover. Otherwise, the broader market could have moved higher," Huang said.
TSMC, the most heavily weighted stock in the local market, rose 0.34 percent to close at NT$296.50 after a 1.20 percent increase a day earlier.
"Fortunately, MediaTek rallied to post gains, giving a boost to the tech sector as well as the tech sector," Huang said.
MediaTek, the largest IC designer in Taiwan, rose 5.09 percent to close at NT$485.00 after foreign brokerages raised target prices on the stock amid optimism toward its 5G chip shipments.
Also in the electronics sector, iPhone assembler Hon Hai Precision Industry Co. gained 1.18 percent to close at NT$77.10, and smartphone camera lens maker Largan Precision Co. added 0.49 percent to end at NT$4,085.00.
"Another bright spot was that the financial sector attracted bargain hunting throughout the session," Huang said.
In the financial sector, which rose 0.86 percent, E.Sun Financial Holding Co. rose 1.85 percent to close at NT$27.55, and CTBC Financial Holding Co. gained 1.25 percent to end at NT$20.30.
Among the gaining old economy stocks, which benefited from rotational buying, China Steel Corp., the country's largest steelmaker, rose 1.49 percent to close at NT$20.40, while Formosa Taffeta Co. added 2.45 percent to end at NT$35.55.