Taiwan shares close above 11,600 on liquidity-driven gains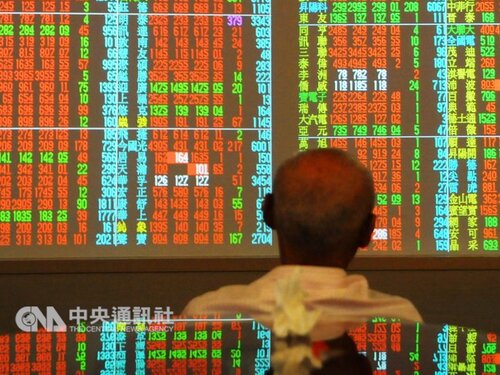 Taipei, Nov. 5 (CNA) Shares in Taiwan continued their momentum from a session earlier to end above 11,600 points Tuesday as the market remained awash in liquidity, with investors scrambling to park their funds in large cap stocks, dealers said.
Market sentiment improved, expanding investors' appetite for risk amid high hopes the United States and China will sign a first phase deal later this month to resolve part of their trade disputes, prompting investors to pick up market heavyweights, in particular in the bellwether electronics sector, they said.
The weighted index on the Taiwan Stock Exchange (TWSE) or the Taiex ended up 87.18 points, or 0.75 percent, at the day's high of 11,644.03, after coming off an early low of 11,576.18, on turnover of NT$152.80 billion (US$5.03 billion).
The market opened up 0.17 percent in a reaction to gains posted on the U.S. markets, where the Dow Jones Industrial Average, S&P 500 index and the tech-heavy Nasdaq index all closed at all-time highs on eased concerns over trade friction between Washington and Beijing, dealers said.
Interest on the local main board accelerated with big tech stocks such as contract chipmaker Taiwan Semiconductor Manufacturing Co. and iPhone assembler Hon Hai Precision Industry Co. in focus. After buying intensified in the last few minutes of the session, the Taiex maintained its earlier strength and even closed at the day's high, dealers added.
"It seems that the U.S. and China will ink a trade pact for the first phase of their talks soon since Washington is considering granting permissions to U.S. firms on sales to Chinese telecom equipment supplier Huawei Technologies Inc., while Beijing is planning to buy farm goods from American farmers," Ta Chan Securities Investment Consulting analyst Jerry Chen said, referring to the recent comments traded between both sides.
"That's why Wall Street hit a record high and other markets simply followed suit," Chen said. "As for the market in Taiwan, continued fund flows led foreign institutional investors, including passive mutual funds, to buy into big stocks today and their buying was more apparent in the late trading session."
According to the TWSE, foreign institutional investors bought a net NT$13.16 billion worth of shares on the main board Tuesday, marking the 17th consecutive trade session of net buying.
"TSMC is one of their favorite stocks, serving as a driver to the upturn," Chen said. "In addition, Hon Hai joined the list of gaining stocks pushing up the Taiex further." The two are the largest stocks in Taiwan in terms of market capitalization.
Amid optimism at the company's lead over its peers in high-end process development, TSMC, the most heavily weighted stock on the market, gained 1.14 percent to close at the day's high of NT$310.50 with 32.03 million shares changing hands, while Hon Hai received a boost from bargain hunting, up 1.12 percent to close at NT$90.00.
Led by the two tech giants, the bellwether electronics sector closed up 1.01 percent.
Also in the tech sector, shares in Largan Precision Co., a supplier of smartphone camera lenses to Apple Inc., added 0.98 percent to close at NT$4,615.00, and integrated circuit designer MediaTek Inc. rose 3.16 percent to end at NT$425.00.
Chen said it was likely passive mutual funds also bought into the financial sector, which closed up 0.61 percent.
Among the gaining financial stocks, Shanghai Commercial & Savings Bank rose 2.10 percent to end at NT$53.50, Cathay Financial Holding Co. added 1.22 percent to close at NT$41.45, and Mega Financial Holding Co. grew 0.83 percent to end at NT$30.20.
In the mixed old economy sector, food brand Uni-President Enterprises Corp. lost 0.52 percent to close at NT$76.00 and Formosa Plastics Corp. ended unchanged at NT$98.90, while China Steel Corp., the largest steel maker in Taiwan, rose 0.85 percent to close at NT$23.80.
"Due to solid foreign institutional investors, liquidity driven gains have become the theme of trading in recent sessions," Chen said. "But, I am worried about overshooting on the Taiex, which could trigger a technical pullback."
During the 17 consecutive sessions of foreign institutional net buying, the Taiex has gained more than 5 percent.
"The main board could see strong technical support at around 11,400 points, ahead of an intraday high of 11,391 on Nov. 1, if there is any retreat," Chen said.