Taiwan shares up, above 10,900 points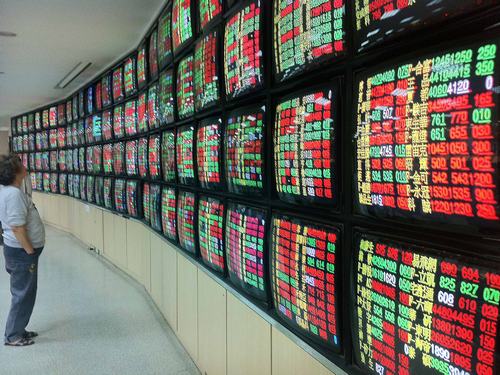 Taipei, Sept. 18 (CNA) Shares in Taiwan staged a technical rebound and ended above the 10,900-point mark amid reduced concerns over a continued spike in international crude oil prices, but the gains were capped ahead of the conclusion of a two-day policymaking meeting of the U.S. Federal Reserve, dealers said.
The bellwether electronics sector led the upturn throughout the session as major local suppliers to Apple Inc. attracted buying on hopes that their shipments will increase on the back of better-than- expected pre-order sales of the latest iPhones over the weekend, the dealers added.
The weighted index on the Taiwan Stock Exchange (TWSE), or Taiex, closed up 54.95 points, or 0.51 percent, at 10,929.45, after moving between 10,878.34 and 10,971.54, on turnover of NT$128.42 billion (US$4.14 billion).
The market opened up 0.12 percent after bouncing back from a session earlier, when the Taiex ended down 0.22 percent, as investors took cues from gains posted on U.S. markets, where the Dow Jones Industrial Average closed up 0.13 percent and the tech-heavy Nasdaq index ended up 0.40 percent overnight amid eased geopolitical concerns after drone attacks on oilfields in Saudi Arabia late last week, the dealers said.
Buying accelerated, focusing on tech heavyweights, in particular in the Apple supply chain, such as contract chipmaker Taiwan Semiconductor Manufacturing Co. and smartphone camera supplier Largan Precision Co., on the back of a research report that upgraded a forecast for shipments of the new iPhones after strong first weekend pre-order sales, they said.
However, the gains were limited by late-session profit-taking as investors were waiting for the conclusion of the ongoing Fed policymaking meeting, the dealers said.
"Judging from the rebound, I think that worries over a further increase in international crude oil prices have been on the decline," Mega International Investment Services Crop. analyst Alex Huang said, referring to a pullback of more than 5 percent in crude oil prices overnight.
The fall in crude oil prices came after the energy minister of Saudi Arabia said the country's oil supply is expected to be back online by the end of the month after its efforts to restore production, which was cut by the drone attacks.
Huang said the local bellwether electronics sector was highlighted by Wednesday's buying, closing up 0.65 percent.
"Apple concept stocks led the gains amid optimism toward sales of the new iPhones (pre-order sales of which started Sept. 13)," Huang said. After the weekend debut, TF International Securities analyst Ming-Chi Kuo (郭明錤) raised his forecast for iPhone shipments for 2019 to 70 million-75 million units from 65 million-70 million.
Among the gaining Apple suppliers, TSMC, the most heavily weighted stock in the local market, rose 0.75 percent to close at NT$267.00, with 47.61 million shares changing hands.
Also in the Apple supply chain, Largan, which benefits from its technology lead over its peers in high-end smartphone lens production, soared 5.78 percent to close at NT$4,210.00, and metal casing maker Catcher Technology Co. gained 1.76 percent to end at NT$231.50.
"Look at these higher tech stocks. I think foreign institutional investors were on the buy side, which was encouraging," Huang said.
According to the TWSE, foreign institutional investors bought a net NT$17.94 billion-worth of shares on the main board Wednesday.
Bucking the downturn, iPhone assembler Hon Hai Precision Industry Co. fell 0.27 percent to close at NT$74.40, extending a loss of 1.87 percent a day earlier after Terry Gou (郭台銘), founder of the company, announced late Monday that he will not run for Taiwan's presidency in January but will continue to participate in political affairs.
Huang said the financial sector was boosted by rotational buying, up 0.61 percent at the close, lending additional support to the broader market.
In the financial sector, CTBC Financial Holding Co. rose 1.43 percent to close at NT$21.30, Mega Financial Holding Co. added 1.20 percent to end at NT$29.55 and E. Sun Financial Holding Co. gained 0.95 percent to close at NT$26.60. "Today's gains were capped as investors were watching closely the outcome of the Fed results, as well as its comments for the economy for more clues about how the central bank will continue its rate-cut cycle," Huang said.
"Despite today's gains, room for a further upturn is expected to narrow as the Taiex is faced with stiff technical resistance ahead of 11,000 points," Huang said.