Taiwan shares end higher on eased concerns over global trade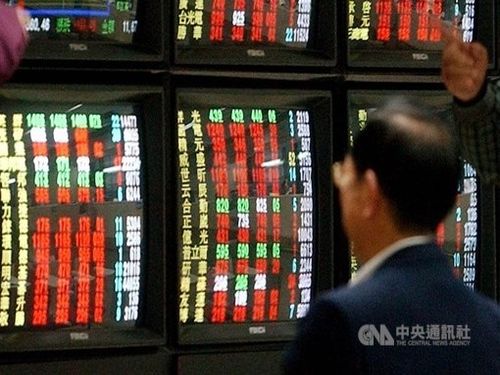 Taipei, Sept. 16 (CNA) Shares in Taiwan closed higher and moved closer to the 10,900-point mark Monday as market sentiment improved amid eased fears over the trade tension between the United States and China, dealers said.
While select large cap tech stocks, including contract chipmaker Taiwan Semiconductor Manufacturing Co. (TSMC), attracted buying, in particular in the late-trading session, the petrochemical sector got a significant boost on the back of a spike in international crude oil prices caused by a production cut in Saudi Arabia after drone attacks on the country's oil production facilities, the dealers said.
The weighted index on the Taiwan Stock Exchange (TWSE), or Taiex, ended up 70.58 points, or 0.65 percent, at the day's high of 10,898.13, after coming off an early low of 10,822.69, on turnover of NT$116.55 billion (US$3.76 billion).
The market opened down 4.86 points at the day's low on a mild technical correction from a session earlier, when the Taiex closed up 0.19 percent, but the local main board soon regained its footing as reduced concerns over a global trade war sparked buying after U.S. President Donald Trump said Friday that he would consider an interim agreement with China to deal with their trade dispute, the dealers said.
Buying focused on market heavyweights in the electronics and petrochemical sectors and accelerated in a just few minutes ahead of the end of the session to boost the broader market to the day's high, they said.
"The upturn of these large cap stocks was evidence of improved market sentiment toward the global trade issues," Concord Securities analyst Kerry Huang said. "The upbeat mood encouraged many investors to jump into the market and buy."
Trump made the comments on a possible interim deal with China after he said Wednesday that he would hold off on a hike in punitive tariffs on US$250 billion-worth of Chinese goods until Oct. 15 instead of Oct. 1. Amid the eased trade tension, the Dow Jones Industrial Average gained Friday for the eighth consecutive session.
"The global trade issue continued to dictate the financial markets at home and abroad," Huang said. "Judging from today's gains, I think foreign institutional investors stood on the buy side."
According to the TWSE, foreign institutional investors bought a net NT$8.89 billion-worth of shares on the main board Monday.
Among the gaining big tech stocks, TSMC, the most heavily weighted stock in the local market, rose 1.14 percent to close at NT$265.50, with 32.59 million shares changing hands.
TSMC's gains contributed an increase of about 30 points to the Taiex, and pushed up the bellwether electronics sector by 0.50 percent and the semiconductor sub-index by 0.85 percent.
Also in the tech sector, integrated circuit designer MediaTek Inc. added 1.87 percent to close at NT$382.00 and Largan Precision Co., a supplier of smartphone camera lenses to Apple Inc., rose 0.25 percent to end at NT$4,005.00, while iPhone assembler Hon Hai Precision Industry Co. ended unchanged at NT$76.00.
In addition to a higher tech sector, "petrochemical stocks made a significant comeback today in the wake of a spike in international crude oil prices after the drone attacks on oil production facilities in Saudi Arabia, dragging down the country's daily production by about 5.7 million barrels," Huang said.
"The gains posted by these petrochemical stocks also reflected reduced concerns over global demand as trade friction between Washington and Beijing has been eased."
In the wake of the production cut in Saudi Arabia, which sent Brent crude futures about 10 percent higher Monday, Formosa Petrochemical soared 7.44 percent to close at NT$104.00, Formosa Chemicals & Fibre Corp. gained 2.58 percent to end at NT$91.50, Formosa Plastics Corp. added 1.98 percent to close at NT$98.00 and Nan Ya Plastics Corp. rose 1.73 percent to end at NT$70.60.
The higher financial sector boosted the Taiex further, with Shanghai Commercial & Savings Bank up 2.56 percent to close at NT$56.00 and Fubon Financial Holding Co. up 0.67 percent to end at NT$45.30. "Today's gains have paved the way for a further uptrend for the Taiex, as the main board has become technically healthier," Huang said.
He said it is possible that the Taiex will challenge 11,097 points, the closing level of May 3, in the near future.