Industrial production up over 3% in July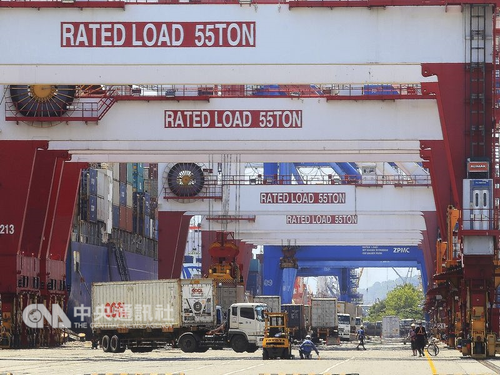 Taipei, Aug. 23 (CNA) Taiwan's industrial production for July rose more than 3 percent from a year earlier as electronic component firms, in particular semiconductor suppliers, were boosted by the peak season effect, the Ministry of Economic Affairs (MOEA) said Friday.
Data compiled by the MOEA showed that the July industrial production index rose 3.03 percent from a year earlier to 112.57, stopping a fall over previous months -- industrial production fell 0.49 percent year-on-year in June and 2.58 percent in May.
The sub-index of the manufacturing sector, which accounted for more than 90 percent of the total industrial production, rose 3.07 percent from a year earlier to 112.20, the data indicated.
On a month-on-month basis, July's industrial production rose 5.29 percent and production of the manufacturing sector also gained 5.22 percent, the MOEA said.
After inflationary adjustments, industrial production rose 1.92 percent, while production in the manufacturing sector grew 2.66 percent from a month earlier, the MOEA added.
Wang Shu-chuan (王淑娟), deputy head of the MOEA's statistics department, said the local semiconductor industry benefited from the traditional peak season that kicked off in the third quarter, adding that demand for high-end semiconductor technology was solid.
In July, production of electronic component makers rose 4.83 percent from a year earlier, the highest growth in nine months, Wang said, with production of the semiconductor industry even up 12.39 percent from a year earlier.
However, Wang said flat panel makers suffered a supply glut at a time when Chinese rivals continued to expand capacity, so production of the flat panel industry fell 14.60 percent from a year earlier in July compromising the growth of the entire electronic component sector.
Amid escalating trade tension between the United States and China, many local manufacturers expanded production capacity at home for their orders placed by U.S. buyers, so the computer, electronics and optoelectronics sector saw production skyrocketing 34.82 percent from a year earlier in July, Wang said. She said efforts to develop 5G technology gave an additional boost to the sector.
August was the 10th consecutive month for the sector to report a double-digit increase, the data showed.
However, the old economy sector felt the pinch of falling demand resulting from the global trade disputes, Wang went on.
In July, production of machinery makers fell 13.98 percent from a year earlier, while the chemical and base metal industries saw their production falling 1.47 percent and 8.84 percent, respectively, the data showed.
However, the auto and auto parts industry registered a 1.19 percent year-on-year increase in production in July, as consumers rushed to buy cars ahead of Ghost Month, which began in August.
In Taiwan, consumers tend not to buy big ticket items such as cars and homes during ghost month in a bid to avoid bad luck.
Wang said that while the global economy is slowing down to cap demand, Taiwan's industrial production is expected to improve down the road with Taiwanese companies returning home for investment and with the debut of new tech gadgets.