CSBC affiliate secures deal for Changhua wind power projects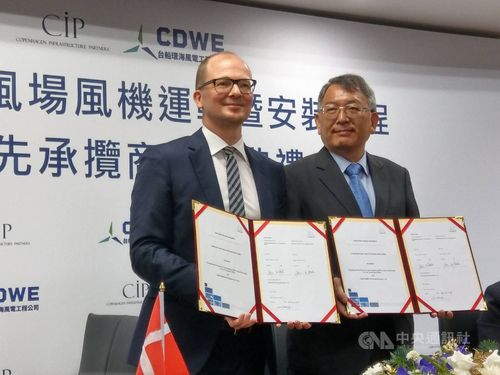 Taipei, May 20 (CNA) A Taipei-based joint venture between Taiwanese shipbuilder CSBC Corp. Taiwan and Belgian offshore solutions company GeoSea on Monday secured a contract to install 62 wind turbines off the coast of Changhua County.
Three months after registration of the joint venture, an official opening ceremony was held for the offshore wind power engineering company CSBC-DEME Wind Engineering Co., Ltd in Taipei.
During the ceremony, CSBC-DEME signed a contract with Copenhagen Infrastructure Partners (CIP) for the installation of 62 wind turbines, with a total installed capacity of 600 MW, at the Changfang and the Xidao wind farms off the coast of Changhua.
Industrial Development Bureau (IDB) Director Yu Chen-wei (游振偉) said that the deal between CSBC-DEME and CIP was of great significance to the development of Taiwan's renewable energy industry, given the country's goal of increasing renewable energy generation from 6 percent to 20 percent by 2025.
In addition, the deal is expected to boost employment in the country's wind power energy and underground engineering industries, Yu said.
Meanwhile, CSBC-DEME Chairman Tseng Kuo-cheng (曾國正) said it was the first major contract awarded to a domestic company in the offshore wind power engineering sector and CSBC-DEME would forge a more robust partnership with CIP in the future.
CSBC-DEME has also signed a letter of intent with an international offshore wind power team Hai Long, a joint venture between Canadian power producer Northland Power Inc. and Singapore-based Yushan Energy Pte. Ltd.
Under the deal, the two teams will collaborate on the Hai Long offshore wind farm project off the Changhua coast by integrating resources in several areas, including underground infrastructure and marine engineering, wind turbines, maritime substations and electricity transmission cables, according to CSBC-DEME.