Taipower, CPC to invest jointly in geothermal power plants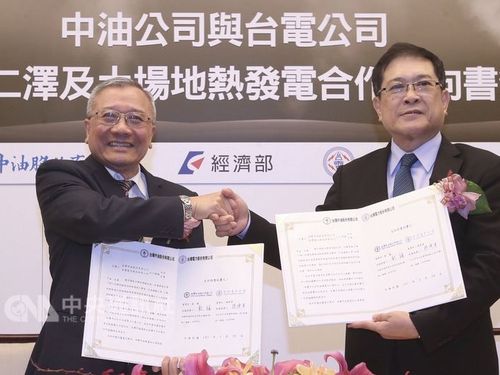 Taipei, March 28 (CNA) State-run utility Taiwan Power Co. (Taipower) and oil refiner CPC Corp. Taiwan (CPC) signed a memorandum of understanding Wednesday to invest in two geothermal power plants in Yilan County, the Ministry of Economic Affairs (MOEA) said.
The project will begin in the county's Renze area with the construction of a 2 MW geothermal power plant that will have the capacity to supply electricity to about 3,000 households for a year after it becomes operational in 2022, the MOEA said.
According to Taipower, the Renze plant will be built at cost of approximately NT$600 million (US$20.57 million), and a second geothermal plant will be set up later in Tuchang.
When both plants are completed, they will have a total capacity of 8 megawatts, Taipower said.
Taipower Chairman Yang Wei-fuu (楊偉甫) said the company has a good relationship with CPC and is looking forward to their joint efforts to develop green energy.
In recent years, the development of renewable energy has been accelerating, and geothermal power generation technology capabilities have also been improving, said Yang, adding that Taiwan has good potential in that field.