Premier expects social enterprises to be signature industry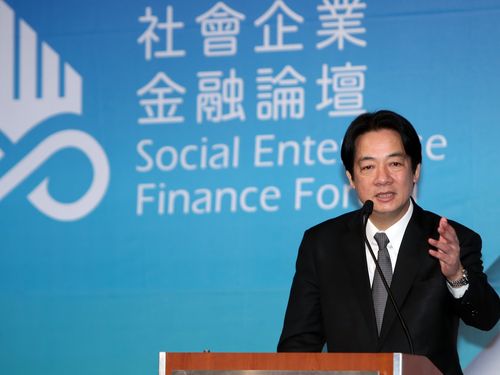 Taipei, Nov. 27 (CNA) Premier Lai Ching-te (賴清德) on Monday encouraged society to nurture social enterprises so that they become a signature industry in Taiwan's economy and contribute to the social good, environmental sustainability, and industrial innovation.
Speaking at the Social Enterprise Financial Forum in Taipei, Lai said he would continue efforts to create a startup-friendly environment, citing a range of measures in place or pending review in the Legislature that can help social entrepreneurs overcome difficulties.
Other keynote speakers at the forum, which focused on strategies for social entrepreneurship development, stressed the important role of social enterprises in achieving the United Nations' sustainable development goals (SDGs) by 2030.
Tristan Ace, global social enterprise partnerships and development manager at the British Council, said the United Kingdom believes social enterprises, social entrepreneurship, and social investments can help deliver the 2030 agenda because the aim of social enterprise is to balance environmental, social and economic dimensions.
Those three dimensions are the major targets of the SDGs.
Ace said social entrepreneurs have been working to reduce the "critical challenge" of inequality in many ways by employing people who otherwise struggle to find work and creating products and services designed to improve the lives of underserved populations.
If the world is to seriously address the challenges it faces, including economic inequality, and hold out any hope of achieving the 2030 agenda, Ace said, "we must fundamentally change the ways in which we do business with each other."
And those businesses will need to generate about US$23 trillion in revenues around the world -- about 30 percent of the 2016 global GDP of US$75.4 trillion -- to have a significant impact on inequality, Ace said.
The economic activity currently generated by charities, corporate social responsibility (CSR) initiatives and aid programs represent only a tiny portion of the global economy and are insufficient in addressing the challenges, he said.
Ace said the U.K. is home to the world's fastest growing social investment market and has the world's largest social investment bank, which were facilitated by a vibrant intermediary sector and a series of groundbreaking policies such as the Social Value Act and the Social Investment Tax Relief scheme.
"We are now starting to look at how we can provide the sort of social enterprise education in schools and universities to ensure that leaders of the future are equipped with the skills required to lead in this new economy," he said.
Naina Batra, chief executive officer of Asian Venture Philanthropy Network (AVPN), a network of investors and funders based in Singapore, said that compared to the U.K. and Europe, Asia is still taking "baby steps" in its journey to establish social enterprises as an integral part of the economy.
One of the reasons is that "Asia by its nature is not risk-taking," but there has been progress made in nurturing social entrepreneurs over the years, she said.
Governments play an important role in this area because risks are high and investors need to be patient in funding early-stage social enterprises, she contended.
"Unless until governments create and enable a policy framework, we are not really going to see investment in social enterprises," she said.
The lack of a clear definition for social enterprises also poses a problem, Batra said, because in nine out of 10 cases grant-making organizations no longer support a social enterprise once it converts from nonprofit to for-profit status.
That's where governments should help social enterprises design a hybrid structure that can be incorporated into a country's business ecosystem, and governments can also encourage the creation of venture philanthropy funds that support early-stage social ventures, she said.