LNG storage issue could disrupt power supply stability: premier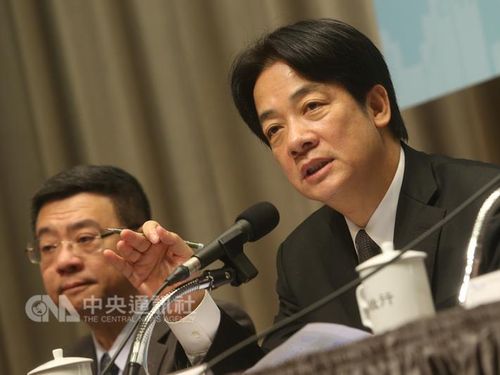 Taipei, Nov. 8 (CNA) The plan to make Taiwan nuclear-free by 2025 without suffering electricity shortages could be disrupted by delays in construction of a controversial liquefied natural gas (LNG) receiving terminal, Premier Lai Ching-te (賴清德) said Wednesday.
State-run energy company CPC Corp. Taiwan wants to build its third LNG receiving terminal in an industrial harbor in Taoyuan's Guantang Industrial Park but has met strong opposition from environmental groups due to concerns it could damage rare algae reefs and coral and other protected marine species.
The terminal is seen as critical to the government's plan to increase the share of electricity in Taiwan generated from natural gas to 50 percent, from 32 percent at present. Construction on the project was originally scheduled to begin in August.
At a press conference on Wednesday, Lai offered a roadmap for decommissioning nuclear power reactors and oil-fired power stations before 2025 and replacing them with natural gas-fired generators, coal-fired power plants and renewable energy from solar, wind and other sources, which will account for 50 percent, 30 percent and 20 percent respectively of Taiwan's energy supply.
Lai said any delay in completion of the third LNG receiving terminal would push back the schedule for installing eighth and ninth 1,000 MW natural gas generators at Tatan Power Plant in 2022 and 2024, respectively.
"That could disrupt power supply in northern Taiwan," Lai said.
The premier urged the Ministry of Economic Affairs to step in to help with any problem either CPC or Taipower faces with regard to the construction of new power plants to ensure construction proceeds on schedule.
Lai added that he will also ask Minister without Portfolio Wu Hong-mo (吳宏謀) to coordinate between government agencies and communicate with the Taoyuan government to find a solution to the issue.
But he did not address the environmental issues raised by critics of the planned LNG receiving terminal.