Taiwan passes law to liberalize green energy supply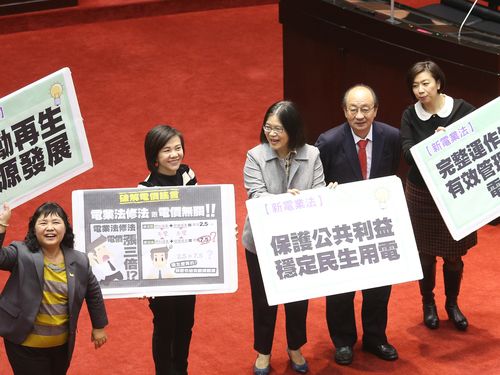 Taipei, Jan. 11 (CNA) Taiwan's Legislature passed an amendment to the Electricity Act on Wednesday, allowing for the supply of green energy directly to consumers and the restructuring of the state-owned Taiwan Power Company (Taipower).
The new law changes the regulation that permitted green energy suppliers to sell electricity only to Taipower and is expected to spur more rapid development of the sector, which currently produces only 4 percent of the electricity generated in Taiwan.
Other suppliers of conventional power will also be allowed to sell electricity directly to consumers, ending Taipower's 70 years of monopoly, according to the amended law.
It also allows for Taipower's operations to be split into two sectors, one for power generation and the other for electricity transmission, distribution and sale.
With the passing of the amended Electricity Act, Minister of Economic Affairs Lee Chih-kung (李世光) was asked during a press conference in the evening if there will be a new Taipower pricing formula for electricity rates, since prices are adjusted every six months in April and October.
Commenting on such concerns, Lee responded that there will not be any foreseeable adjustment in electricity rate in the next six months.
"With the passage of the amended Act, it will take some time before Taipower can come up with a new pricing formula," he said.
(By Huang Li-yun and Ko Lin)ENDITEM/pc