7-Eleven raises price of tea eggs to NT$10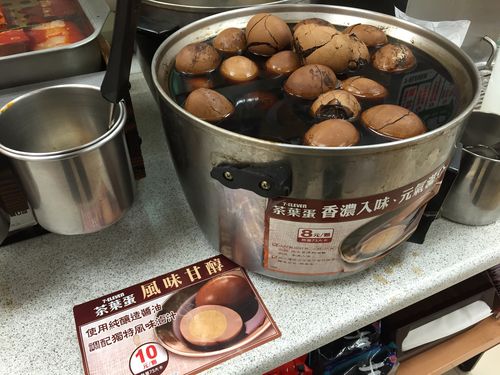 Taipei, Jan. 21 (CNA) President Chain Store Corp., operator of the 7-Eleven chain in Taiwan, has increased the price of its tea eggs, an item unique to Taiwanese convenience stores.
The 7-Eleven convenience store chain, the largest in Taiwan with just over 5,000 stores, on Wednesday hiked the price of its tea eggs from NT$8 (US$0.24) to NT$10 each.
According to 7-Eleven, the decision was made based on the fact that farm prices of eggs have climbed 25 percent in the past five years.
Council of Agriculture statistics showed that in December 2015, farm prices of eggs had reached NT$56.1 per kilogram, up 5.6 percent from a year earlier.
Family Mart, the second-largest of the four major convenience store chains in Taiwan, was the first to raise the price of tea eggs to NT$10 at its nearly 3,000 stores last October.
OK Mart, the smallest of the four chains, followed suit in November, while Hi-Life, which has about 1,300 stores, said it had no immediate plans to increase the price of its tea eggs from NT$8 each.
TVBS news network reported last year that eggs boiled in tea were generating annual sales of NT$150 million for Hi-Life.
(By Chen Cheng-wei and Kay Liu) enditem/pc