More Taiwanese factories report damage from Vietnam riots: MOEA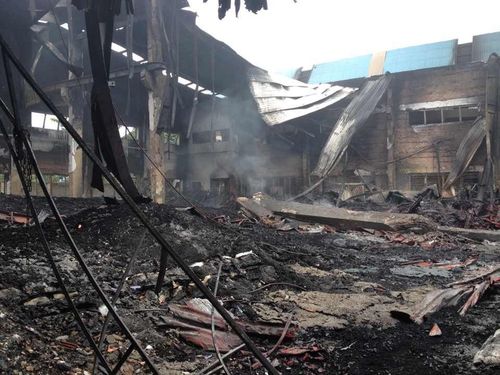 Taipei, May 27 (CNA) The number of Taiwanese factories reporting damage during recent anti-Chinese riots in Vietnam has increased to 358, with 21 having been set on fire, a Ministry of Economic Affairs (MOEA) official said Tuesday.
The companies suffered an estimated US$150 million to US$500 million in losses as of May 25, Vice Economics Minister Shen Jong-chin said in a report to the Cabinet on his visit to Vietnam last week to assess the damage sustained by Taiwanese businesses there.
The ministry had previously reported that 224 companies had fallen victim to the violence, which stemmed from protests against China for deploying an oil drilling rig in South China Sea waters Hanoi considers to be its exclusive economic zone.
Shen said that during the trip, he visited eight Taiwanese companies that suffered damage in Binh Duong and Dong Nai provinces and met with Vietnam's Planning and Investment Minister Bui Quang Vinh in Hanoi.
Shen said he proposed to Bui that the Vietnamese government set up a single window to handle compensation claims from Taiwanese companies and form a bilateral mediation commission with Taiwan to deal with the compensation issue.
The Economics Ministry, meanwhile, said a delegation comprised of accountants, lawyers and insurance experts is currently in Vietnam to assist with the reconstruction efforts of Taiwanese businesses there.
Psychiatrists were also sent to Vietnam with the help of the Ministry of Health and Welfare to offer counseling to Taiwanese nationals who were traumatized by the riots, it said.
When made the report a day after a Vietnamese delegation held talks with Taiwan officials in Taipei in the aftermath of the riots.
In a meeting with Economics Minister Chang Chia-juch on Monday, Vietnam's Minister of Industry and Trade Vu Huy Hoang expressed his regret and apology for the losses Taiwanese businesses in Vietnam suffered during anti-China violence there.
Vu reiterated that measures will be taken to punish the mobs that looted and in some cases set ablaze factories run by Taiwanese businesses operating in Vietnam during protests that turned violent on May 13 and 14, according to an MOEA official.
Vu also promised protection for Taiwanese businesses and said the Vietnamese government will deal with compensation issues responsibly, the official said.
(By Hsieh Chia-chen and Y.F. Low)ENDITEM/ls
Related stories:●May 27: Taiwan reiterates demands to visiting Vietnam officials●May 21: Taiwan, Vietnam discussing losses incurred during rioting
(Click here for developments related to the anti-China protest-turned-riot in Vietnam.)