39th Asian International Stamp Exhibition to kick off on August 11 in Taipei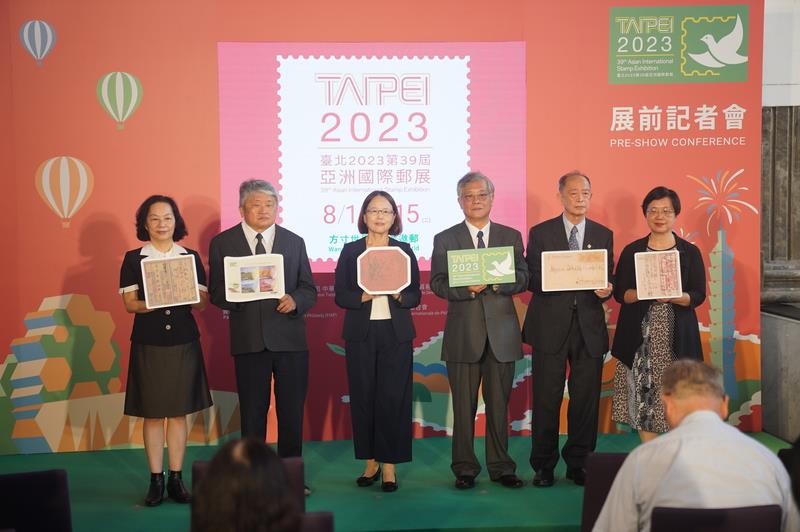 In order to facilitate the growth of the philatelic culture and foster the development of local cultural and creative sectors, Chunghwa Post Co., Ltd. will be organizing the 39th Asian International Stamp Exhibition for the first time in eight years. Under the theme of "Wandering in the Stamp World," the exhibition will be held at the Taipei World Trade Center Exhibition Hall 1 (Area A) from Aug. 11 to 15, with an aim to promote philatelic culture through postal competition, appreciation of stamps and event experience. Exhibitors from 26 countries and territories, who are also members of the Federation of Inter-Asian Philately, are invited to participate in the exhibition.
The exhibition will showcase about 1,050 frames of precious stamp collections from both Taiwan and overseas, while 89 postal administrators and stamp dealers from various nations will set up booths in the hall to display and sell a wide range of philatelic items. The pre-exhibition press conference was held on Aug. 8 at the Beimen Post Office by Chunghwa Post.
According to the Chunghwa Post Co., Ltd., some of the most valuable philatelic items that hold great significance will be on display. The highlights of the exhibition are as follows:1. The British Guiana One-Cent Magenta, which is the most valuable stamp in the world worth NT$260 million, will be on display.2. Classic postage stamps such as the "Earliest Known Cover with Imperial China Stamps," "Taiwan Commercial Postage Stamp," and "Taiwan Stamp."3. Selected stamps such as "London Print Coiling Dragon, Jumping Carp, and Flying Goose Issue," "Provisional Neutrality Issue," "Republic of China & Provisional Neutrality Issue," and "Republic of China Issue."4. 21 sets of collections that have received the Grand Prix award.
During the pre-exhibition press conference, Chunghwa Post also showcased commemorative stamp folio and pictorials that are specially issued to mark the occasion, a series of souvenir sheets featuring Sanrio Characters as well as philatelic products such as the "Pure Gold Art of Gathering of Auspicious Signs" by Lang Shining and the "Auspicious Dragon Fine Silver Ingot" set. A wide range of products is available for purchase at the exhibition, post offices, or on the website of Postal Stamps Mall (https://stamp.post.gov.tw).
Besides philatelic merchandise, the exhibition hall will also feature immersive multimedia and interactive experience as well as a variety of activities on stage, such as music performances, dance, juggling shows, lectures on stamps, and expert sharing sessions. In addition, the exhibition will incorporate the use of AR face filters, offering a fun and memorable way for visitors to capture their special moments.
This exhibition aims to promote stamp-collecting activities and at the same time fulfill corporate social responsibility by inviting charity organizations and foundations to visit the exhibition such as the Taipei Children's Welfare Center, Taiwan Public Welfare League, the Single Parent Educational Foundation, Autism Cultural and Creative Office and others, so as to provide more opportunities for disadvantaged groups to participate in social activities and promote the culture of philately.
Contact:Zheng Li-huaDeputy Director, Dept. of Philately02-23921310 (ext. 2452)