Ironman who sparked 'lucky cap' craze visits Changhua temple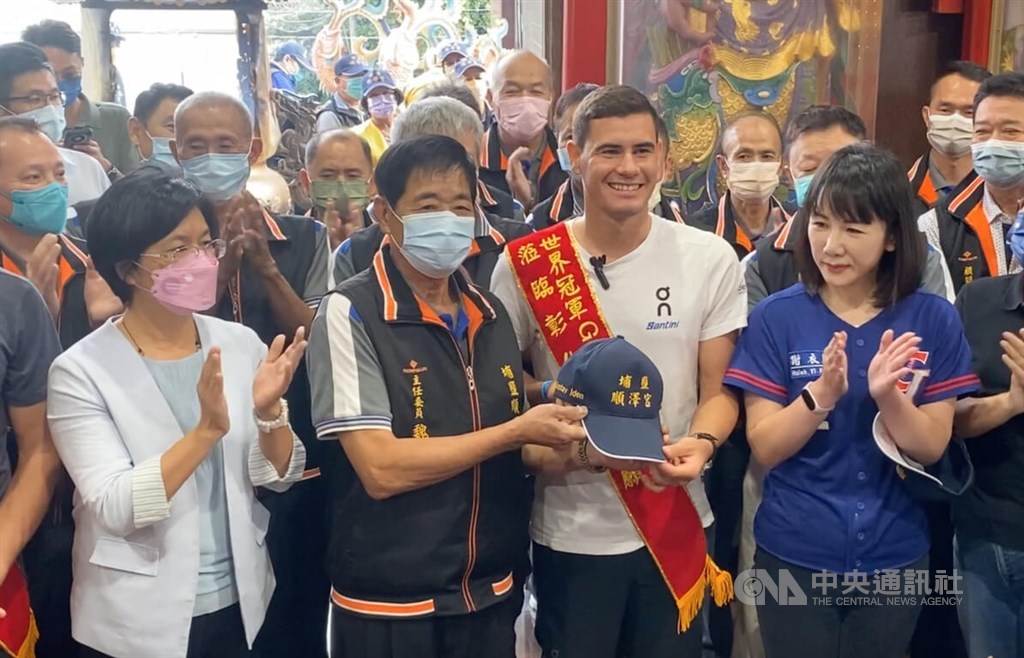 Taipei, Dec. 4 (CNA) A Norwegian ironman who set off a craze in Taiwan for a "lucky" baseball cap revisited Shunze Temple in Changhua County on Sunday, thanking the deity there for bringing him good luck since winning a breakthrough world championship in 2019.
"Coming to Taiwan is always something special," Gustav Iden told a large crowd that flooded into the central Taiwan temple to greet him.
Describing the enthusiasm as "insane," Iden said he was happy that the hat had created a strong bond between him and Taiwan, and indicated that he had had a wonderful time enjoying the local food and culture during his second visit to the country.
Iden and his training partner Kristian Blummenfelt, who won Olympic gold in the triathlon at the 2021 Tokyo Olympics, are currently visiting Taiwan at the invitation of Iden's sponsor, Taiwan-based bicycle designer and maker Giant Manufacturing.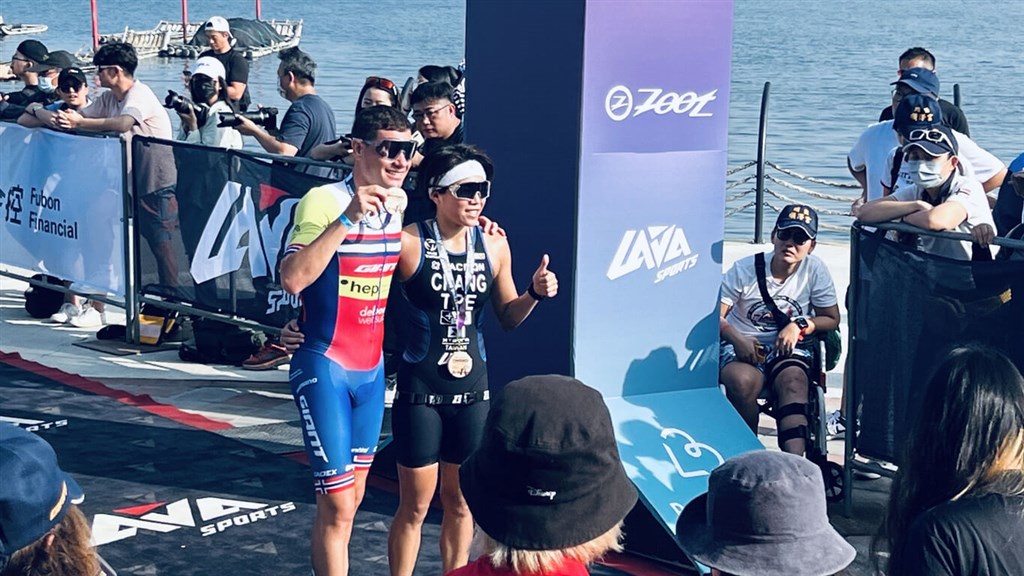 Earlier Sunday, the two athletes visited Pingtung as special guests for an ironman race before visiting the temple, which honors Xuantian Shangdi, one of the higher-ranking Taoist deities.
Born in 1996, Iden became a household name in Taiwan after he won the Ironman 70.3-kilometer World Championship held in Nice, France in September 2019, finishing the race in time of 3 hours, 52 minutes, and 35 seconds and earning US$45,000 in his first major victory.
It was not the win that brought him fame, however, but rather that he was wearing a cap from the temple as he crossed the finish line of the race in France.
That cap has since gained a huge following in Taiwan as a lucky charm, because Iden has worn it in 10 races starting with his win in Nice, and won them all.
His success has triggered a flood of requests from thousands of Taiwanese for the "lucky cap," which the temple has been handing out for free.
According to Iden, he found the cap on the ground in Japan before an Tokyo Olympic test event there earlier in 2019, and although he was not aware of what the Chinese characters on the cap meant, he started wearing it because he thought it "looked cool."
After his breakout win in Nice, Iden came to Taiwan for the first time later in 2019 at the invitation of Changhua County Magistrate Wang Hui-mei (王惠美), when he also visited the temple to thank the deity.
Related News
Dec. 3: Norwegian ironman behind 'lucky cap' craze hopes to inspire people's superpower