Troy Williams to stay with Taoyuan Leopards for next basketball season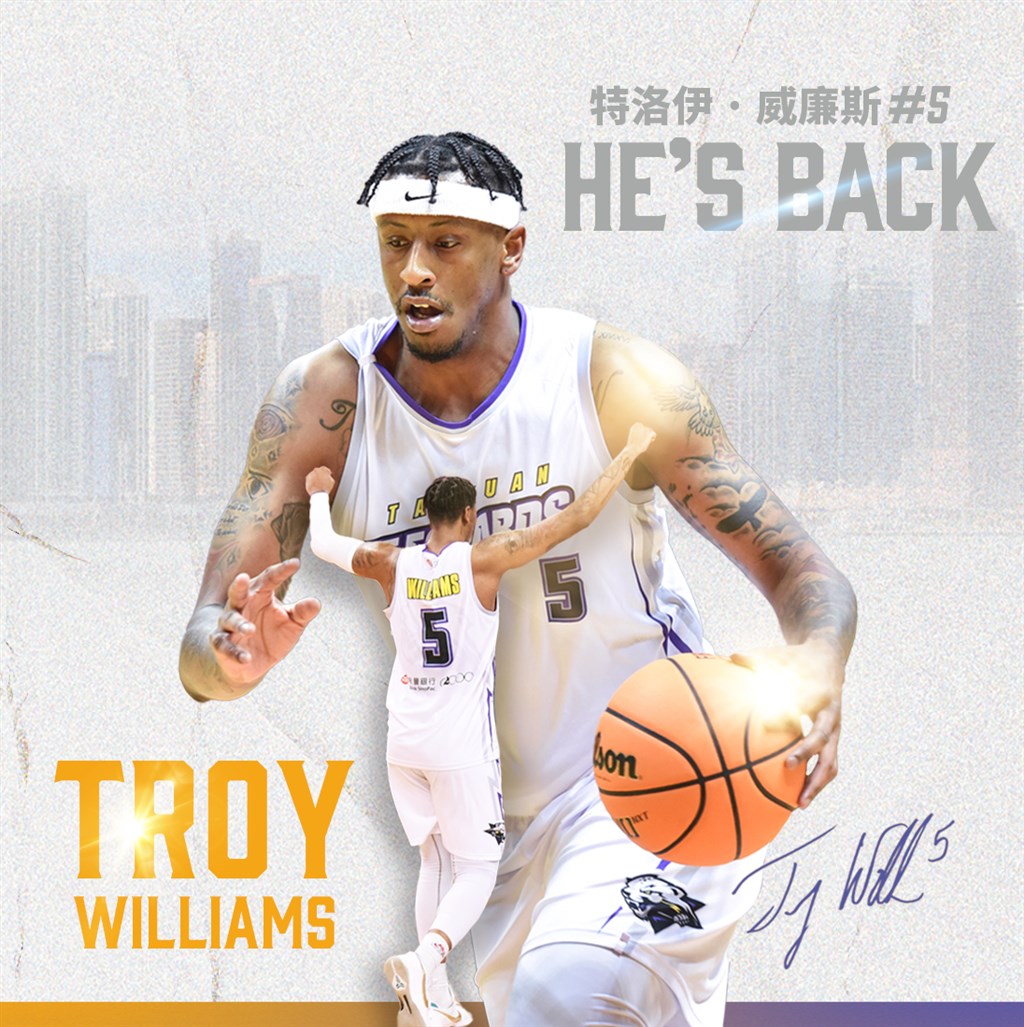 Taipei, June 27 (CNA) Former American NBA forward Troy Williams has extended his stay with the Taoyuan Leopards to help improve the club's performance in the professional T1 LEAGUE next season, the team said Monday.
Williams, who played 19 games with the Leopards in the T1 LEAGUE's inaugural season 2021-2022, recorded an average of 25.8 points, 10 rebounds, and two steals per game. He also posted an explosive 50 points in a 136-124 home game win against the New Taipei CTBC DEA at Taoyuan Arena on May 18.
Known for his jaw-dropping attacks on the rim, the 2.01-meter-tall American forward was named the T1 LEAGUE's import player of the month in April and May.
"Undoubtedly, he is one of the strongest import players in Taiwan professional basketball," the Leopards said in a statement.
Towards the end of the 2021-2022 season, Williams was averaging more than 35 points per game.
He is a player who understands what needs to be done on the court to help him teammates, Leopards head coach Bobo Liu (劉嘉發) said.
"I think he will only get better, and I hope he will take a leadership role in the Leopards team to inspire local and import players," Liu said.
In response, Williams said it was a honor to be "wanted" for the next season, and his aim was to give more to the team.
"Try to come in with the same mentality, try to give advice and listen to advice, and try to give even more for the team and be better than I was last year," Williams said, listing some of his goals for the next season.
As a rookie in the NBA 2016-2017 season, Williams averaged 6.2 points and 2.3 rebounds per game, in over 30 games with Memphis and Houston.
He later played for the New York Knicks and the Houston Rockets in the 2017-2018 season, recording 6.3 points and 3.0 rebounds, before joining the Sacramento Kings in the 2018-2019 season.
The six-team T1 LEAGUE is one of two professional basketball leagues in Taiwan, the other being the P. LEAGUE+, which also has six teams.