Taiwan marathon held as planned despite positive COVID-19 case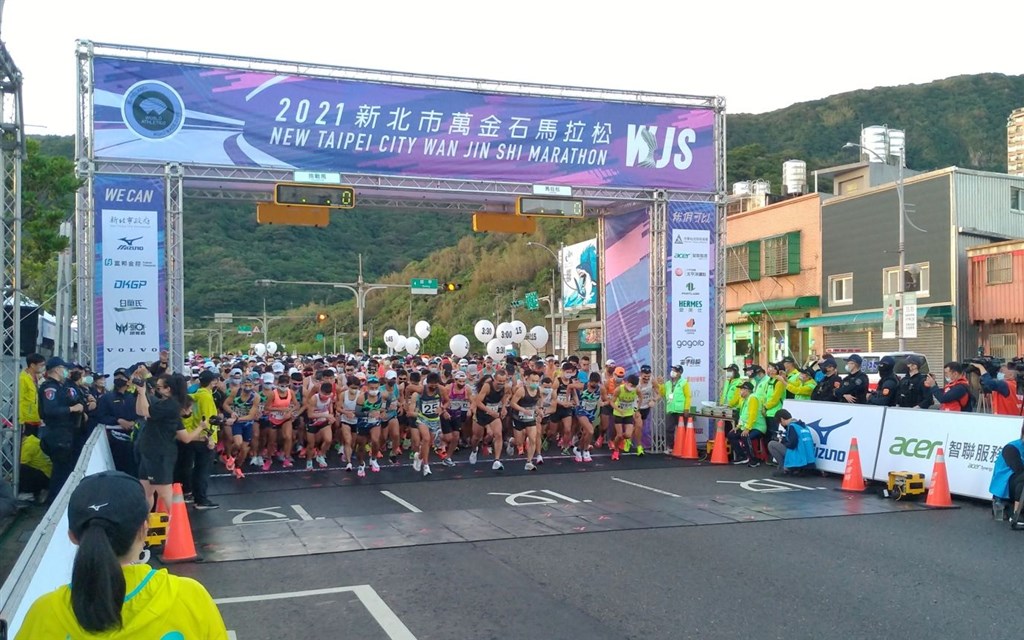 Taipei, Nov. 21 (CNA) The 2021 New Taipei City Wan Jin Shi Marathon kicked off early Sunday morning as scheduled, even though a Kenyan national slated to take part tested positive for COVID-19 a day earlier.
The Kenyan runner, a woman in her 20s, was one of 12 foreign nationals from Kenya, Ethiopia, and Belarus invited by the city government to take part in the marathon, the New Taipei Sports Office said in a statement on Saturday.
Although Taiwan currently bans entry of all non-resident foreign nationals, the athletes were given special permission to enter Taiwan in late October by the Central Epidemic Command Center (CECC), the office said.
They had to quarantine for 14 days upon arrival and receive two COVID-19 tests during that period, as is required of all travelers to Taiwan. The test results all came back negative, the office said.
When they were tested a third time on Saturday, however, one of the Kenyan runners tested positive, and she was sent to a hospital to be treated.
She had not taken part in activities besides training after she finished the quarantine, the office said, but because the 11 other athletes invited to Taiwan were all listed as contacts of the COVID-19-positive runner, they had to go into quarantine again, according to New Taipei Sports Office Director Hung Yu-ling (洪玉玲).
The athletes had all been staying at the same hotel and trained together outside, but they did not visit the actual race course, Hung said.
The Central Epidemic Command Center (CECC) said Saturday evening that the Kenyan national who tested positive had previously been confirmed with COVID-19 in her home country.
The CECC will release more details about the case in its daily COVID-19 update on Sunday, it said.
This year's New Taipei City Wan Jin Shi Marathon required all of its 7,500 plus participants to submit either a negative COVID-19 test result taken within three days of the race or proof that they had received at least one vaccine shot at least 14 days prior to the race.
The race route stretches along the coast of Wanli, Jinshan, and Shimen districts in New Taipei.