Taiwanese weightlifter breaks two world records, wins Olympic berth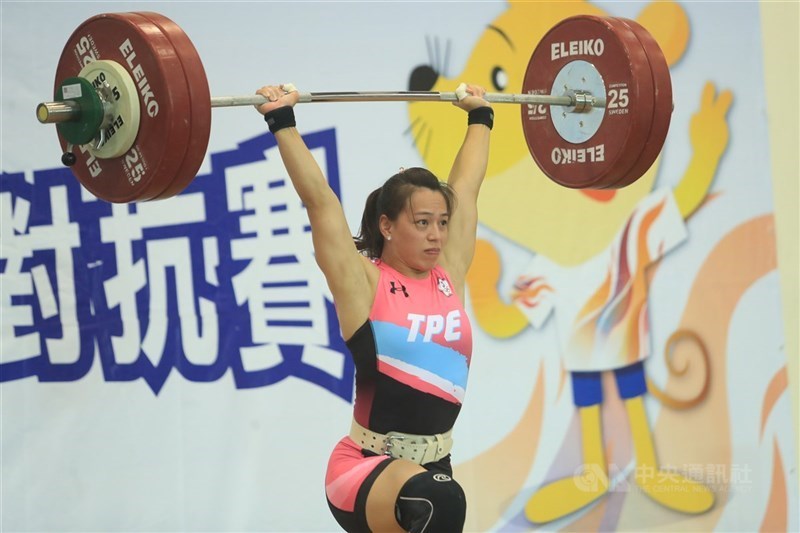 Taipei, April 19 (CNA) Taiwan's top female weightlifter Kuo Hsing-chun (郭婞淳) broke two world records and won three gold medals at the Asian Weightlifting Championships in Uzbekistan on Monday while booking her place at the Tokyo Olympics.
Kuo, who competed in the women's 59 kg. division, won gold in the snatch with a lift of 110 kgs., breaking the previous world record of 107 kgs. set by North Korean Choe Hyo-sim.
The quadruple world champion and double world record holder then won gold in the clean and jerk with a lift of 137 kgs.
The two lifts combined totaled 247 kgs., earning her another gold. It also broke her previous world record for the combined lifts of 246 kgs.
Kuo's participation in the championships also guaranteed her a berth at the Tokyo Olympics to be held this summer.
Before the Tashkent event, Kuo already ranked No. 1 in the world in her weight class and had enough ranking points to qualify for the Olympics, but she still needed to compete in a sixth International Weightlifting Federation (IWF) to book her spot in Tokyo.
The IWF organized a qualification period -- from November 2018 to this month -- so that athletes could meet participation requirements to qualify for the Tokyo games.
Weightlifters had to participate in six IWF events during that time and at least once in three separate time periods during the 30 months. Kuo had only taken part in five events since November 2018 prior to the world championships, being held until April 25.
Kuo is one of five Taiwanese national team weightlifters competing in the tournament.