Taiwan team wins opening game in ASEAN Basketball League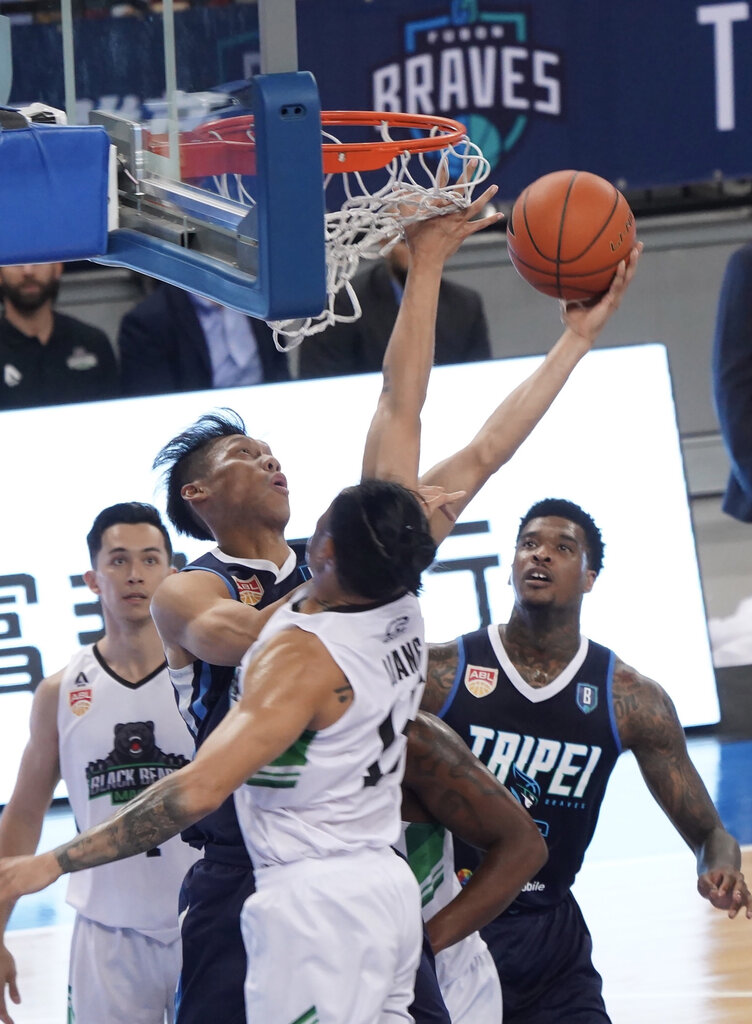 Taipei, Nov. 16 (CNA) Taiwan's Fubon Braves fought back a strong challenge from the Macau Black Bears to clinch their debut game 95-91 on the first day of the new ASEAN Basketball League (ABL) season that tipped off in Taipei Saturday.
The braves, led by national team guard Lin Chih-chieh (林志傑) and forward Tseng Wen-ting (曾文鼎), as well as NBA veteran shooting guard O.J. Mayo, took advantage of height and speed to take a 10-0 lead just minutes into the first period.
Lin's double cross over dribble created space down the lane for Tseng to create a mismatch in the paint. Mayo and teammate American import forward Charles Garcia rocked the home crowd at Taipei Heping Basketball Gymnasium with a combination of powerful drives and fast breaks to the basket.
Lin Chih-chieh (林志傑, back)
The Black Bears answered with stellar performances from American forward Kenny Manigault, who led the scoreboard in the first half with 23 points to tie the game 48-48.
In the second half, in which neither team ever held a double-digit lead, Garcia made himself an offensive weapon through a series of dunks, including an alley oop that was assisted by Lin at around five minutes left of the third period.
To further keep the Black Bear offensive at bay, Fubon's former NBA player Canadian Gursimran-Sing Bhullar, who stands at 7'5" made it a challenge for the Black Bears vying for the boards in the paint in the fourth period.
Charles Garcia
Gursimran-Sing Bhullar (center)
With Fubon leading 95-91 in the last 20 seconds of the game, the Black Bears made a final offensive only to have the ball stolen by Fubon guard Tsai Wen-cheng (蔡文誠) who passed it to Garcia to run down the clock.
Manigault led the scoreboard with 31 points, followed by Garcia and Black Bears American guard Mikhael Mckinney with 23 points each.
The Fubon Braves, which won its first championship trophy in May in Taiwan's semi-professional SBL, is one of two Taiwanese teams in the ABL this season, the other being the Formosa Dreamers. The Dreamers have played in the ABL since 2017.
The ABL 2019-2020 season began Saturday with 10 teams from East and Southeast Asia competing for the title.
Fubon Angels cheerleading squad
Fubon Braves in blue and Macau Black Bears in white
Taipei Heping Basketball Gymnasium