Taiwanese swimmer wins two medals at Asian Open Water Championships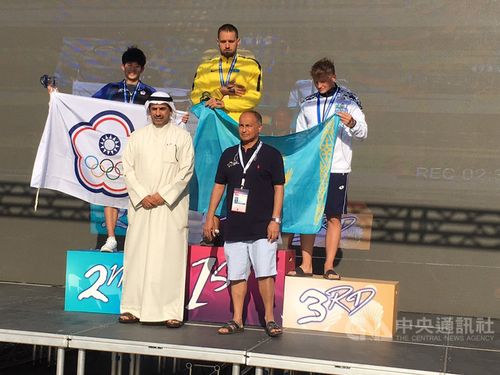 Taipei, April 22 (CNA) A young Taiwanese swimmer won a silver and bronze medal at the 9th Asian Open Water Swimming Championship and aims to become the first person to represent Taiwan in both the Olympic pool and open-water events in 2020.
Cho Cheng-chi (卓承齊), 20, claimed third place in the men's 5km open water swim on Friday and won silver in the 10km open water event Sunday at the tournament held in Kuwait.
Competing first as a pool swimmer and representing Taiwan at the 18th Asian Games last year, Cho said he started swimming in open water events four years ago.
"Swimming in open water is quite interesting," Cho told CNA. "You compete with other swimmers but also need to fight against the waves."
This was especially true on Sunday as the 10km swim race was postponed for an hour due to difficult swimming conditions off the coast of Kuwait in the Persian Gulf.
Although following the leading group closely from the start, Cho lost track of the route on the fourth lap and missed the marker, as a result of which he was forced to go back.
He was then caught by the chasing pack and only made it back into the leading group after rallying on the sixth lap.
Completing the race in a time of 2 hours, 47 minutes and 7.3 seconds, Cho said he could have done better.
"My strategy was to follow the title-winning Kazakh swimmer as close as possible," said Cho. "Were it not for my mistake, I could have beaten him."
The 9th Asian Open Water Swimming Championship was Cho's third open water tournament and the first at which he won two medals. He will return to Taiwan on Monday evening and rush to the south for the National Intercollegiate Athletic Games.
"I will do my best in the pool and open-water events at future tournaments and hopefully I can book my ticket to the 2020 Summer Olympics in both categories," Cho said.
Cho's coach Liu Yao-chang (劉曜彰) said if Cho manages to finish as one of the top 10 swimmers in the upcoming World Aquatics Championships, slated for July in Gwangju, South Korea, he will automatically qualify for the Olympics.
If Cho fails to do so, he will have one more chance to do so at the Olympic qualifiers next year, Liu added.