GOLDEN HORSE: Kara Wai fulfills best leading actress dream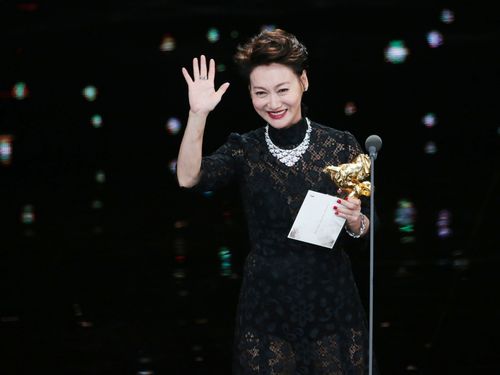 Taipei, Nov. 25 (CNA) Hong Kong actress Kara Wai (惠英紅) nabbed her first best leading actress award at the 54th Golden Horse Awards in Taipei on Saturday.
Wai was streaming tears as she accepted her award for her leading role in "The Bold, The Corrupt, and The Beautiful" as the family matriarch Madame Tang.
During her speech, she recounted the first time she was nominated for a Golden Horse award back in 2003 as a supporting actress in the film "Night Corridor."
Wai said she was crushed when she did not win, but the defeat made her determined to win a best actress award.
As of Saturday, she is now the owner of two Golden Horse trophies, one for best actress and one for best supporting actress.
She thanked director Yang Ya-che (楊雅喆) for letting her "deceive him into giving me the role (of Madame Tang)."
Wai said she was determined to land the role after reading the script because she really liked the character of Madame Tang, the matron of a powerful family who must deal with the consequences of her actions after a land development project goes terribly wrong.
In closing, she thanked her two on-screen daughters, played by Vicky Chen (文淇) and Wu Ke-xi (吳可熙), without whom she said she would not have been that good of a Madame Tang.
Chen won the best supporting actress award for her role in "The Bold, The Corrupt, and The Beautiful" as Madame Tang's daughter.
Wai is truly an Asian film superstar with a career that dates back to 1976. Her kung fu roles in Shaw Brother Studio films allowed her to gain international recognition early on in the 70s and 80s. Since then, she has collected a number of awards.
Wai has been nominated three times for best supporting actress at the Golden Horse Awards, winning one for her role in "At the End of Daybreak." This is her first nomination and win in the category of best leading actress.
The other best actress nominees were Taiwan's Shu Qi for "The Village of No Return," Sylvia Chang for "Love Education," Vicky Chen for "Angels Wear White," and Yin Shin for "The Island that All Flow By."