Foreign Ministry to promote Taiwanese-invented sport of woodball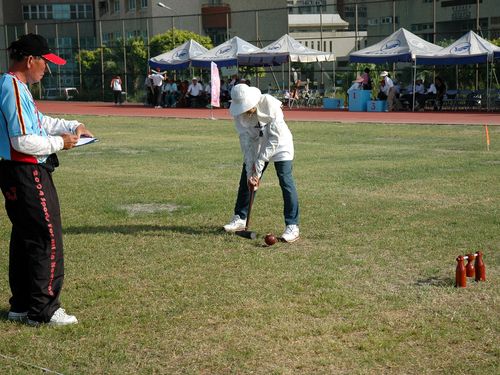 Taipei, Oct. 15 (CNA) The Ministry of Foreign Affairs will organize a game of woodball later this month that will be attended by the foreign diplomatic corps, in an effort to promote the Taiwanese-invented game, derived from golf and croquet.
The Diplomatic Woodball Friendship Tournament, slated for Oct. 31 in Taipei, is aimed at facilitating sports exchanges and promoting the sport, said Shen Wen-chiang (沈文強), deputy director-general of the ministry's Department of NGO International Affairs, at a news briefing.
"We've invited foreign diplomats based in Taiwan, members of international chambers of commerce, local politicians and woodball players," Shen told reporters.
The sport, which requires players to hit balls through narrow gates with wooden mallets, was invented by Weng Ming-hui (翁明輝) in 1990 when he attempted to reinvent the game of golf in his private garden to avoid hefty green fees.
Weng, who has been promoting the sport internationally, is currently president of the International Woodball Federation, which is based in Taipei.
The sport has since been introduced to 44 countries in Asia, Europe, the Middle East, Africa, South and Central America.
(By Elaine Hou)ENDITEM/J