Baseball legend Sadaharu Oh says CPBL opening unforgettable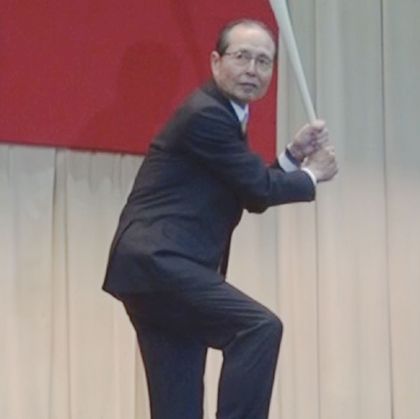 Taipei, Nov. 7 (CNA) Baseball legend Sadaharu Oh, who officially opened the inaugural 21U Baseball World Cup in central Taiwan Friday, said his experience playing in the first game of Taiwan's professional baseball league in 1990 was the most unforgettable of all his opening games in Taiwan.
Oh, a retired baseball great who is seen as one of the best hitters in the Japanese leagues, batted Friday after Vice President Wu Den-yih threw the first pitch at the opening ceremony of the new biennial tournament for players under age 21.
During an interview with the media earlier Friday, the Japanese-Taiwanese legend said he was happy to participate in the opening of the new sports event. He also expressed hope that Japan, Taiwan and South Korea will cooperate in fostering the development of baseball in Asia.
The 74-year-old said he does not remember how many times he has opened a baseball game in Taiwan because there have simply been too many, but his experience batting in the opening of the first-ever game in the Chinese Professional Baseball League (CPBL) -- Taiwan's national league -- in 1990 was the most unforgettable.
Oh, currently the chairman of the Board of Japanese professional baseball team Fukuoka SoftBank HAWKS, meanwhile said his team has no plans to visit Taiwan for bilateral exchanges for now because it is focusing on practice.
Asked about the resignation of Taiwan's Kuo Tai-yuan from his position as Fukuoka SoftBank HAWKS' pitching coach, Oh said Kuo expressed his intention to "go back to Taiwan" and that he respects the decision.
Oh also said that his team has no plan to recruit Taiwanese pitcher Chien-ming Wang despite rumors to that effect, as the quota of foreign players on his team has been filled.
(By Lin Hung-han and Elaine Hou)ENDITEM/WH