ATP threatens Lu with 3-year ban over conflict with Asian Games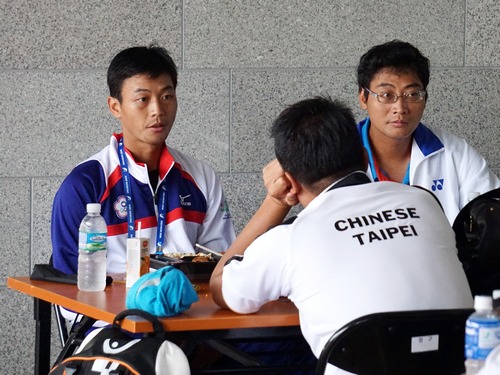 Taipei, Sept. 24 (CNA) The Association of Tennis Professionals (ATP), the main body governing men's professional tennis, has threatened to slap a three-year ban on players who have registered to play in the China Open but instead compete in the Asian Games.
That has put players like Taiwan's Lu Yen-hsun, who is a legitimate contender for gold in the Asian Games men's singles event, in a bind.
Lu hoped to compete in the China Open, a tournament being jointly organized by both the ATP and WTA (Women's Tennis Association) that begins play on Sept. 29, but the Asian Games singles finals will not be held until Sept. 30.
Had Lu reached the Asian Games final, he could have opted to drop out of the China Open or try to have his opening round match rescheduled for Oct. 1.
But the ATP decided to take a hard line on the issue, and issued an ultimatum to the world No. 43 that if he did not report for the China Open on Sept. 29, he would be banned from ATP events for three years and fined US$100,000, according to Lu and his team.
Others said to receive similar ultimatums, such as Denis Istomin and Farrukh Dustov of Uzbekistan and Andrey Golubev and Alekstandr Nedovyesov of Kazakhstan, have pulled out of the Asian Games to avoid the sanction and were not included in the men's singles draw.
But Lu decided to compete and has been made the top seed in the singles draw, knowing that if he reaches the men's singles semifinals on Sept. 28 and wins it, he might have to forfeit a shot at the gold medal on Sept. 30.
"I can deal with the fine, that doesn't matter. But I can't accept the ban," Lu was quoted as saying by the Apple Daily. "We were shocked when we received the notification. It came just an hour before registration for individual events (at the Asian Games). Now all that can be done is to play until I can't play anymore."
The ATP's threatened ban seemed excessive considering that previous bans for doping or betting on tennis have not exceeded two years.
Also, facing the same situation, the WTA has taken a much more open position than the ATP, allowing players competing at the Asian Games flexibility on when to report to the China Open or pulling out of the competition, according to Lu's team and Taiwan's tennis federation.
enditem/ls