LGBTQ RIGHTS
/
Taiwan Trans March set for Oct. 27 in bustling shopping area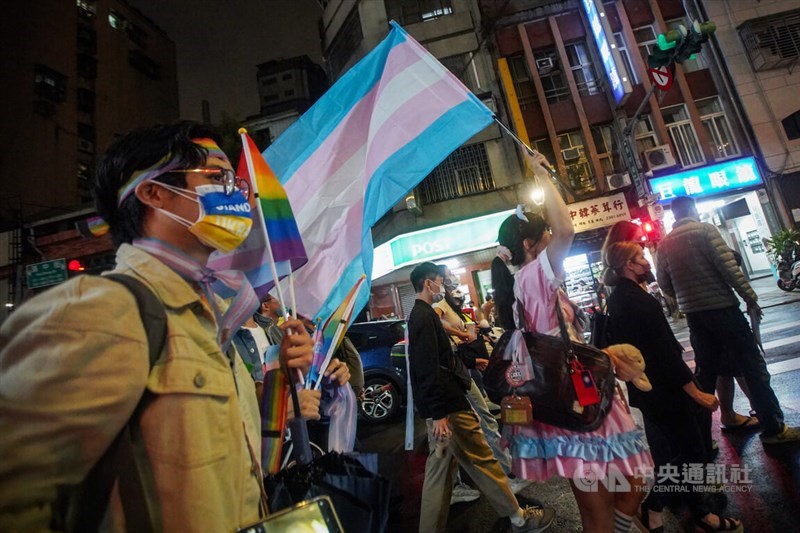 Taipei, Sept. 30 (CNA) The annual Taiwan Trans March will be held in downtown Taipei on Oct. 27 to raise public awareness of diversity in the society, according to the organizers.
The participants will parade though the popular Ximending shopping district during the evening of that Friday, the Taiwan Tongzhi (LGBTQ+) Hotline Association said earlier this week.
The following day, on Oct. 28, the larger Taiwan Pride Parade will be held in a different area of Taipei, with six LGBTQ+ subgroups expected to participate, the association said.
According to the American Psychological Association, trans is an umbrella term for individuals whose gender identity, gender expression or behavior does not conform to what is typically associated with the sex to which they were assigned at birth.
The Taiwan Tongzhi Hotline Association said that the Trans March on Oct. 27 is aimed at helping to raise public awareness of diversity in a society where everyone is free to chose one or more gender identity but sometimes face restrictions.
People are often expected to dress and act in accordance with their gender at birth, the association said, adding that those frameworks were established mainly for convenience.
The reality is that some women simply do not favor skirts and dresses, and some men prefer feminine wear, it said.
Those people simply do not want to be framed in a certain way, so it is important that binary gender limitations be removed to allow them to be themselves, the association said.
Participants in the Taiwan Trans March are invited to dress as they please, so they can feel at ease walking down the street, in a world that they hope will become more accommodative and beautiful, the association said.
The Taiwan Trans March has been held by the association every year since 2018, except in 2021 during the COVID-19 pandemic.
Last year, a record 3,000 people joined the trans march in Ximending, advocating for greater understanding and respect for the transgender community in Taiwan. The Taiwan Pride Parade, meanwhile, has been an event in Taiwan for the past 20 years.
Internationally, LGBTQ+ stands for lesbian, gay, bisexual, transgender and queer, with the "plus" representing other sexual identities such as asexual, pansexual and intersex.
View All