CORONAVIRUS
/
Taiwan to roll out updated Moderna COVID vaccine starting Sept. 26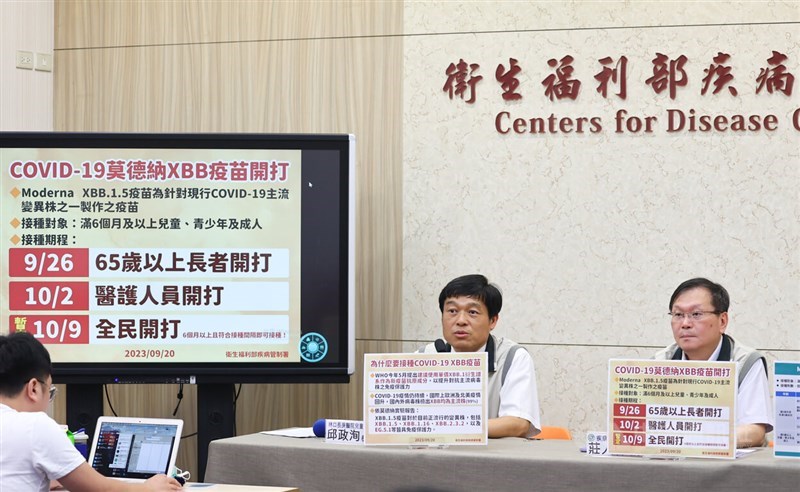 Taipei, Sept. 20 (CNA) Taiwan will roll out Moderna's COVID-19 vaccine against the Omicron subvariant XBB starting Sept. 26, according to Centers for Disease Control (CDC) Director General Chuang Jen-hsiang (莊人祥) at a press conference on Wednesday.
The vaccine, which the government granted emergency use authorization (EUA) on Sept. 13, will be first offered to people aged 65 years or older starting Sept. 26, followed by medical staff from Oct. 2, then members of the public from Oct. 9, Chuang said.
However, after the first two groups receive the vaccine, health officials will take at least a week to inspect and label the shots before making them available to the public, Chuang said.
Around 1.32 million XBB.1.5 vaccines doses are scheduled to arrive before Sept. 26, and the government will have a total of 6 million doses before 2024, Chuang said.
In addition, Chuang said people aged 65 and older will receive 10 COVID-19 rapid test kits and gifts valued at NT$500 (US$15.6) when they receive the vaccine shot.
The government said earlier that the updated vaccine is based on similar technology to Moderna's previous shots, and offers strong protection against the Omicron XBB sublineage, which is currently the dominant strain in Taiwan.
In terms of safety, Chiu Cheng-hsun (邱政洵), an attending physician in the Division of Pediatric Infectious Diseases at Linkou Chang Gung Memorial Hospital, said that adverse reactions to the vaccine are generally mild to moderate in severity, and similar to those of Moderna's previous COVID-19 shots.
COVID-19 cases and deaths have remained low in Taiwan in recent weeks, with an average of 40 local infections and 6 deaths from the disease reported per day between Sept. 12-18, according to CDC data.
View All