Rights groups call for live-in carer reform over expansion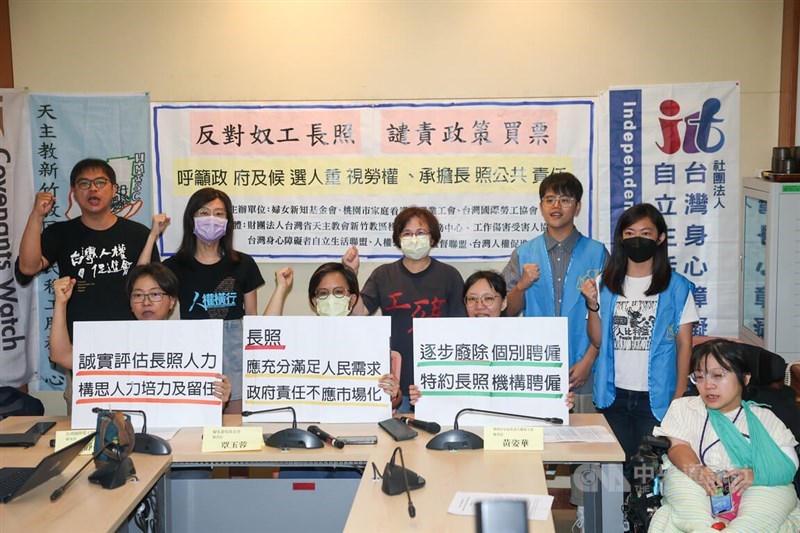 Taipei, Sept. 18 (CNA) Labor groups on Monday urged Taiwan's government to resist "underwriting existing human rights violations" and instead integrate live-in migrant caregivers into a better-regulated long-term care system.
The Taiwan International Workers' Association (TIWA), a local NGO, made the call in response to a Ministry of Health and Welfare (MOHW) proposal made last week, which would expand eligibility for hiring of live-in migrant caregivers.
Under the MOHW's proposed new policy, an additional three categories of people will be eligible to hire migrant caregivers without being required to undergo and pass an assessment using the Barthel Index, which measures the ability of those receiving care to function independently.
Among those covered by the MOHW's reformed rules are those who have already used long-term care services for no less than six months, and those who have been diagnosed with mild dementia and mild physical disabilities.
According to the ministry, the eased hiring criteria could benefit around 600,000 people, which Chyn Yu-rung (覃玉蓉) of the Awakening Foundation said is about 72.29 percent of the 830,000 individuals in need of long-term care in Taiwan.
However, the TIWA slammed the reforms as a fundamental departure from the government's existing long-term care policies.
TIWA member Wu Ching-ju (吳靜如) said the expansion to include about 300,000 people "who have already used long-term care services for no less than six months" was particularly disturbing, as it indicated that the government planned to abandon its current long-term care policy.
It is sending out the wrong signal that using long-term care services provided by the government is actually not essential in the country's long-term care policy, Wu added.
Employing live-in migrant caregivers, who almost all work under labor-rights-violating conditions, has always been only an expedient measure, rather than an integral part of a country's long-term care service system, in response to the heightened need for long-term care services, according to TIWA, which pointed out that Japan and South Korea have been extremely careful in introducing migrants as domestic caregivers.
"While former premier Su Tseng-chang (蘇貞昌) boasted last July that the government's Long-Term Care (LTC) Plan 2.0 has a coverage rate of 67.5 percent, we're asking why this sudden change of policy direction without proper explanations or impact assessments," Chyn said.
The TIWA called on the government not to be easily swayed by opposition presidential candidates' campaign promises, referring to Kuomintang (KMT) nominee Hou Yu-ih's (侯友宜) announcement last month that he would seek to eliminate Barthel Index requirements for a wider group of senior citizens.
Sept. 12: Taiwan to ease restrictions on migrant caregiver employment
Grace Huang (黃姿華), secretary-general of the Domestic Caretakers' Union Taoyuan, said employing round-the-clock migrant caregivers had been a disconcerting yet legal practice for at least 30 years.
"As early as in 2003, we demanded the government implement a 'household service act' to govern the employment of live-in migrant workers, who literally live with their employers without proper rest or day offs," Huang said.
The number of live-in migrant caregivers in the country was about 100,000 then, and we have more than 210,000 now, but still migrant caregivers are not properly protected by any labor rights law now, she added.
The TIWA called on the government to integrate long-term care services, including the employment of migrant caregivers, into a public or public-certified institutions-based system, which would allow for more systematic and coordinated use of the services and long-term care workforce.
Migrant caregivers should all instead be employed by government-contracted institutions and provide their service on a many-to-many basis, rather than on a one-on-one basis in the employers' private homes, the association stressed.
(By Alison Hsiao) Editem/ASG