Taiwanese NGOs rally against release of Fukushima nuclear wastewater
Taipei, Sept. 6 (CNA) A coalition of non-governmental organizations in Taiwan held a press conference in Taipei on Wednesday to voice their strong opposition to the Japanese government's decision to release treated radioactive water into the ocean from the disabled Fukushima nuclear power plant.
Starting on Aug. 24, the Japanese government initiated the discharge of treated radioactive water, despite protests in South Korea and China, with Beijing introducing a total ban on Japanese seafood products in response.
Meanwhile in Taiwan, the cabinet said on the same day that it would take 1 to 2 years for wastewater to reach the Taiwan Strait.
The radioactive substance tritium is projected to reach its maximum concentration in nearby waters in 4 years, Cabinet spokesman Lin Tze-luen (林子倫) said, adding that the expected level is lower than the standard concentration of tritium in the waters around Taiwan.
As such, the impact on radiation-related safety near Taiwan is considered to "negligible," he concluded.
Speaking in front of the Japan-Taiwan Exchange Association, which represents Japanese interests in the absence of formal diplomatic ties, Tsui Shu-hsin (崔愫欣), General Secretary of the anti-nuclear organization Green Citizens' Action Alliance, described Japan's decision as a "merely cost-effective solution" to the 2011 nuclear disaster.
Tsui argued that discharging the wastewater into the sea is not the only option available to Tokyo, suggesting that it could also be stored in larger tanks by consolidating the sludge or soil particles, though to do so would be more expensive.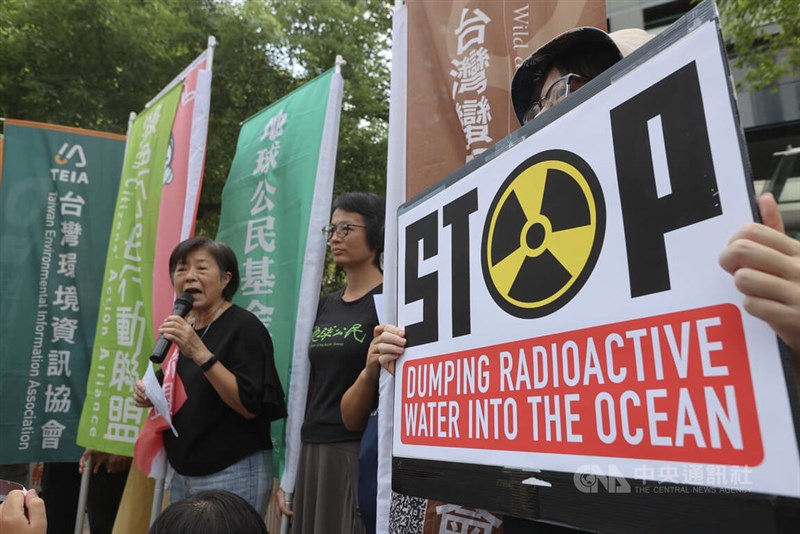 Another representative from a non-governmental organization, Tsai Hui-hsun (蔡卉荀), Director of Citizen of the Earth, pointed out that all four presidential candidates in Taiwan share the view that Japan's discharge of nuclear wastewater is acceptable as long as it passes scientific scrutiny and adheres to safety standards.
However, she noted, "assessment studies presented by the Fukushima plant operator, Tokyo Electric Power Co. (TEPCO), are inadequate to support the idea of releasing radioactive wastewater."
Tsai also raised concerns about marine species migrating in the warm currents between Taiwan and Japan, citing a TEPCO report that confirmed between May 2022 and May 2023, a total of 44 fish found in the port near the Fukushima nuclear power plant contained levels of radioactive cesium exceeding Japan's safety limits by a factor of 10 to 180.
Hsieh Pei-yi(謝蓓宜), a researcher at the Environmental Jurists Association, emphasized that Fukushima's offshore area is a crucial distant fishing ground for Taiwan fishermen, encompassing vital fishing grounds for swordfish, lancetfish, and North Pacific flying squid.
In addition, although Taiwan's government has launched an "Ocean Radioactive Information System" to provide information regarding radioactive levels in the waters around Taiwan, the available information is not in real-time, she said.
"If radiation levels in the waters around Taiwan surpass safety standards, it could take days for the public to become aware of it," Hsieh cautioned.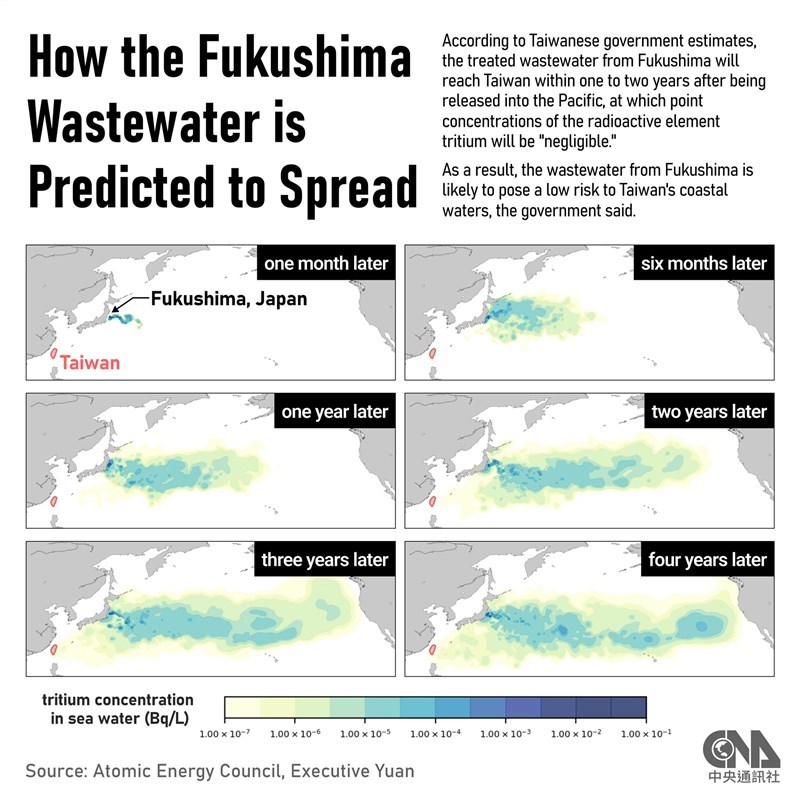 On Aug. 24, Taiwan's Atomic Energy Council (AEC) announced its collaboration with related government agencies to test radiation levels in marine products caught in waters around Taiwan and the high seas of the North Pacific.
They are also conducting additional checks on food products imported from Japan, the AEC said.
According to the council, it is stepping up inspections and plans to conduct 3,000 tests on marine products from nearby waters this year.
Related News
Q&A/Japan's release of treated Fukushima wastewater
Sept. 7: Taiwan lays down terms for halting Japan's radioactive water release: diplomat
Aug. 23: Taiwan's biggest salt producer urges against Fukushima panic buying
Aug. 22: Taiwan to keep close watch as Japan prepares to release nuclear wastewater