LGBTQ RIGHTS
/
Japanese politician, Taiwanese partner register same-sex marriage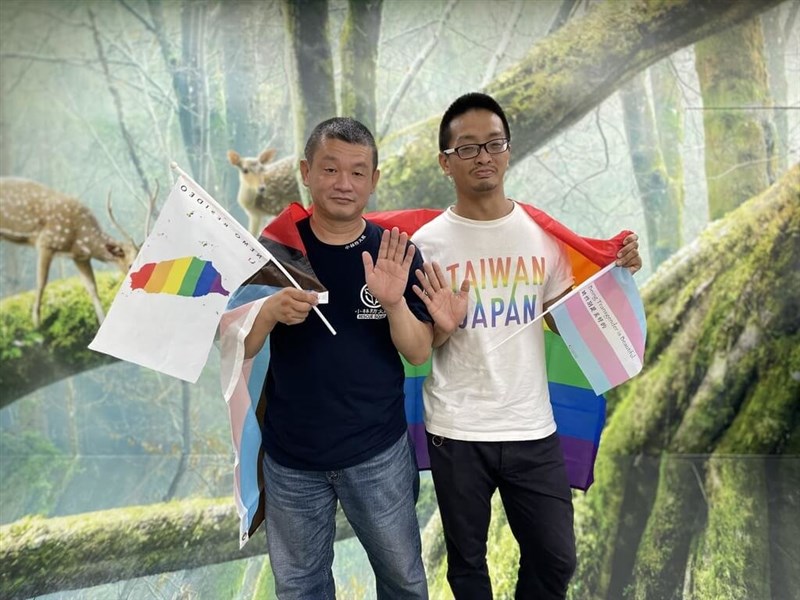 Taipei, Aug. 21 (CNA) A Japanese assemblyman and his Taiwanese partner recently registered their marriage at a household registration office in Taipei, after Taiwan began allowing cross-national gay couples marry earlier this year.
According to the Datong District household office, Masahiro Shibaguchi, a Takahama City assemblyman representing the Japanese Communist Party, and his partner Ariel Liu (劉靈均) tied the knot on Aug. 11.
The couple dressed simply for the occasion, an employee of Datong office told CNA Monday.
The employee, who asked not to be named, said although the two did not say much, one could see the affection between them as they constantly looked at one another and smiled.
While there, the office staff also loaned them a large rainbow flag so they could take a picture with it to mark the special day, instead of the small handheld ones that they came with, the employee said.
News of the marriage was subsequently posted by the Datong office the same day and the Taiwan Alliance to Promote Civil Partnership Rights (TAPCPR) on Aug. 18, on their respective Facebook pages.
The TAPCPR described Liu as a strong advocate of the LGBTI movement in Japan, and since Shibaguchi has been elected an assembly member, he will be able to further promote the issue of equality there.
The Japanese politician was elected in April this year. Liu, who was born in Miaoli County and grew up in Taipei, has lived in Japan for many years. He is an adjunct lecturer at a university and also a gender movement activist.
In 2019, Taiwan became the first country in Asia to legalize same-sex marriage, although at the time same-sex couples in which one of the partners is Taiwanese and the other comes from a country or region where same-sex marriage is outlawed were barred from officially tying the knot in Taiwan.
However, in January 2023, Taiwan decided to permit cross-national gay couple marriages, saying the previous rule on the matter was discriminatory and contradicted the law that guarantees same-sex marriage in Taiwan.
In a telephone interview with CNA, Liu said he felt the change in Taiwan since the legalization of same-sex marriage, in that there seems to be less discrimination against gays in general.
In his partner's eyes, it is refreshing to see gay couples, whether men or women, hold hands in public in Taiwan, Liu said.
Despite having tied the knot in Taiwan, he said the Japanese government does not recognize same-sex marriage, and as such, it does not guarantee his right to abode or inheritance in the country.
He said Shibaguchi does not currently intend to move to Taiwan, as he has to serve the people of Takahama, but will continue to contribute more to the gay community in Japan while sharing Taiwan's experience.
View All