ROAD SAFETY
/
Protesters in Taipei demand urgent action to improve road safety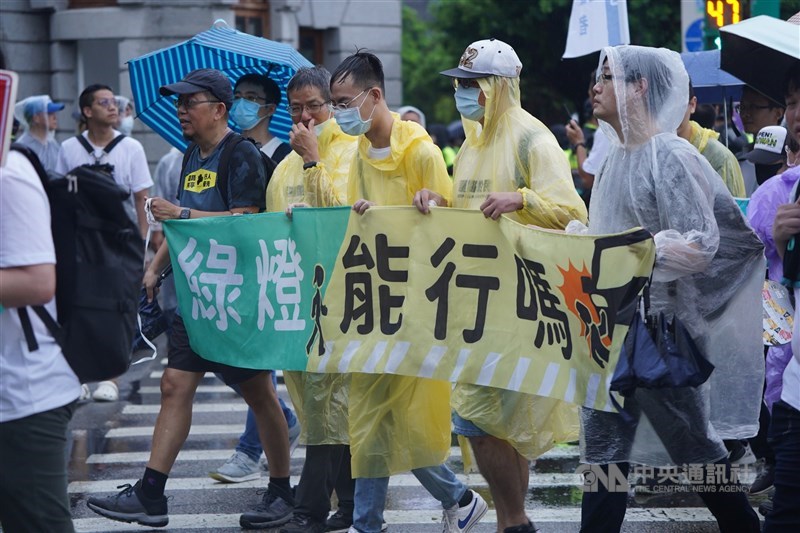 Taipei, Aug. 20 (CNA) Tens of thousands of people took to the streets of Taipei Sunday to demand immediate action be taken to stop further loss of life on the roads and to prevent traffic incidents that have led to the country being criticized as a 'living hell' for pedestrians.
The "Stop Killing Pedestrians" march, that started from Ketagalan Boulevard in front of the Presidential Office, came in the wake of a series of fatal collisions, with the most recent incident occurring just one day prior and resulting in the death of an 82-year-old man.
According to official data, Taiwan, with an estimated population of 23.3 million people, saw 3,085 people die in traffic accidents last year, including 394 pedestrian fatalities.
The event organizer Zero Pedestrian Death Promotion Alliance said via its posters that it is demanding concrete steps be taken, including systematic upgrading of pedestrian infrastructure, improvements to driver education, and an overhaul of Taiwan's traffic laws to protect vulnerable road users.
The organization is also calling on local governments to work toward halving pedestrian casualties by 2030 and achieving zero pedestrian deaths by 2040 -- in line with the European Union's goal of zero fatalities in road transport by 2050 (Vision Zero).
Before the marchers kicked off their walk in the rain, a man surnamed Yu (余), who lost his three-year-old daughter in a car accident in May this year, told the crowd that "no resignation of any officials can bring back my girl."
Holding back tears, Yu said good road designs can prevent numerous accidents and that increasing fines should not be the main approach to improving road safety as it offers more of a temporary remedy rather than a lasting cure.
During Sunday's march, people were seen holding placards which read "stop killing pedestrians" and "reclaiming roads for pedestrians (還路於民)," referring to the prevalent scenario in Taiwan where pedestrians are forced to compete with vehicles for space on the roads.
Among the participants, Sharon Wang (王玫文) told CNA that she wanted to take part in the march out of concern for her six-year-old son and for the future generations, as well as to express her wish that authorities would regulate the number of vehicles on the roads.
Wang argued that the pedestrian-unfriendly situation stemmed from roads in Taiwan being primarily designed for the requirements of vehicles and thus neglecting the needs of pedestrians, cyclists, and individuals using wheelchairs.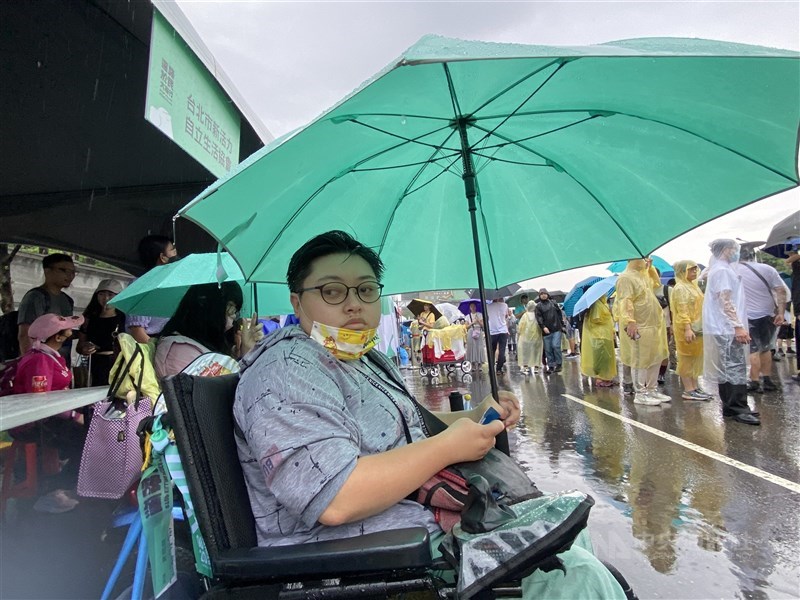 Another marcher Wu Yu-ting (吳雨庭), who took shelter from the rain under a tent, said, "we [wheelchair users] often encounter many obstacles on the sidewalk, so we have to go into the road."
Wu said she hopes that the government will ensure sidewalks are cleared to help wheelchair users and to eliminate steep slopes that pose potential danger for individuals like her.
Meanwhile, American software engineer Jonathan Levin, who has lived in Taiwan for two years, said there is room for improvement regarding traffic infrastructure and traffic control. "It's much more dangerous than any other country I've lived in," he added.
A woman surnamed Lee (李) in her 70s urged the government to extend the crossing time for pedestrians, particularly for seniors like herself, so that they wouldn't feel as much pressure to hurry across the road.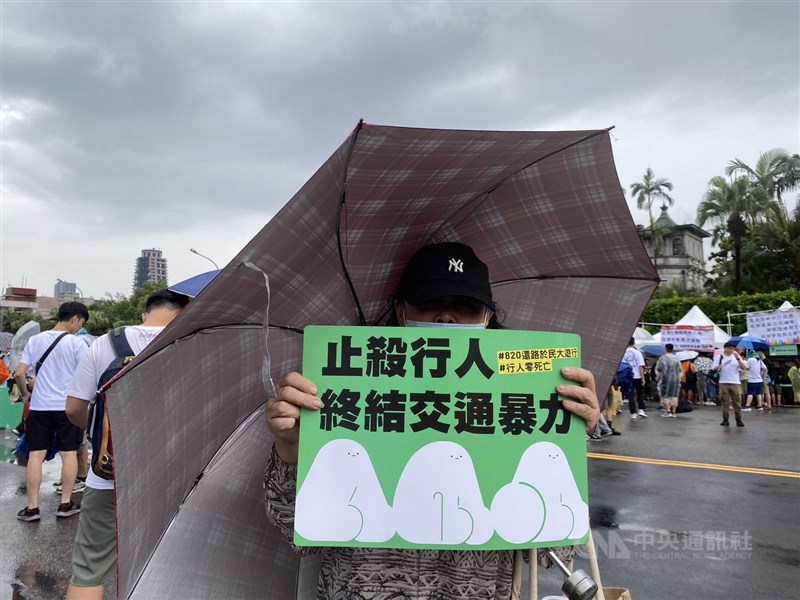 Also attending the event were the presidential candidates -- Lai Ching-te (賴清德) of the ruling Democratic Progressive Party's (DPP), Ko Wen-je (柯文哲) of the Taiwan People's Party (TPP) and Hou Yu-ih (侯友宜) of the Kuomintang (KMT).
In response, the Ministry of Transportation and Communications (MOTC) said earlier Sunday that it had been working to enhance pedestrian safety through a multifaceted approach, including road engineering, educational campaigns, strengthening the driver licensing system, and enhancing enforcement efforts.
It said that a total of 1,218 intersections in Taiwan had needed upgraded safety equipment, adding that all necessary work on 524 intersections had been completed so far, with the rest set to be finished by the end of the year.
Related News
Aug. 20: Presidential candidates, Gou show support for road safety rally
Aug. 19: Senior run over by bus while crossing road dies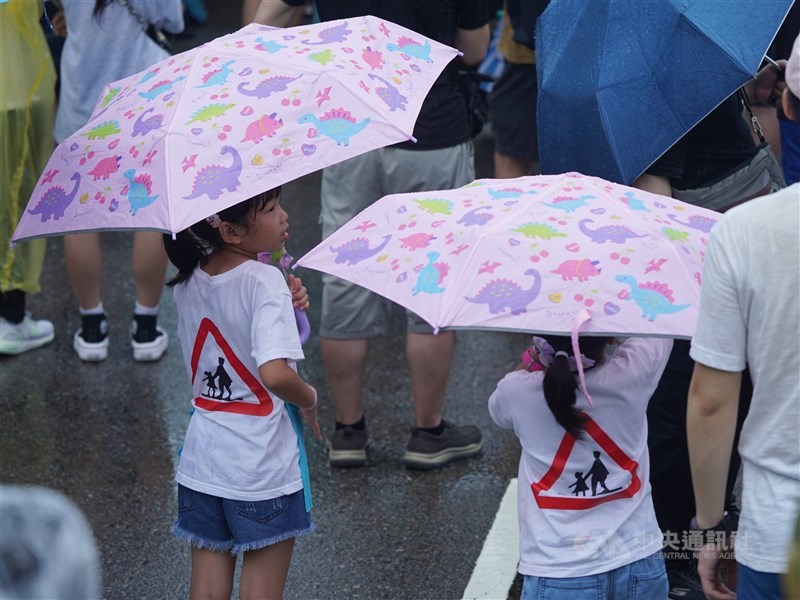 View All