MPOX
/
Taiwan to expand vaccination to combat mpox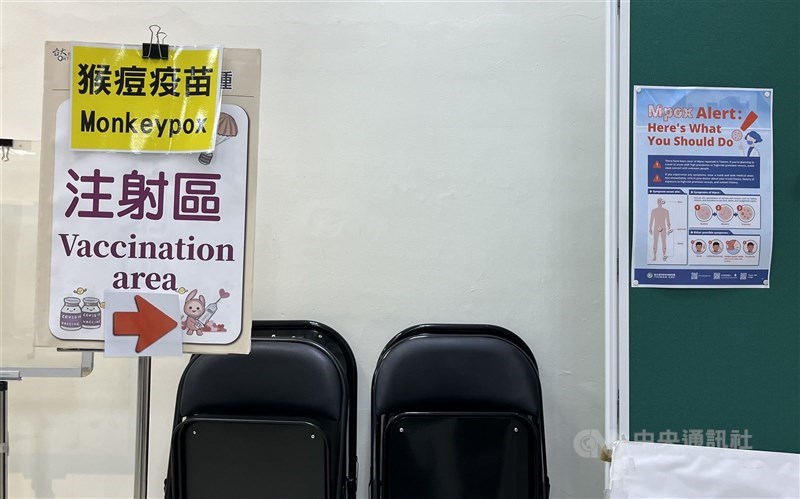 Taipei, June 28 (CNA) Taiwan's Centers for Disease Control (CDC) on Wednesday announced it would expand the mpox (monkeypox) vaccination eligibility criteria in order to include more high-risk groups across the country, in a push to combat the current outbreak.
The CDC will expand the criteria to include those who have had unsafe sexual relations in the last year, have a history of sexually transmitted diseases, or have had sexual contact with a partner who falls into either of those categories, following a recommendation made by the Advisory Committee on Immunization Practices (ACIP), a unit under the Ministry of Health and Welfare, CDC said in a press release.
The original vaccination criteria since mass inoculation began in March only included those who participated in unsafe sexual activities in the last six months, as well as those with sexually transmitted diseases.
The disease has now been present in Taiwan for just over a year, after the first imported case was reported on June 24, 2022. Overall 198 people have been infected, and 17 new cases were reported in the last week.
June 20: Taiwan reports 1st mpox case in local woman
June 7: Taiwan reports 1st mpox case in a child
The new policy will go into effect in early July, but an exact date has not been specified because it will depend on how long it takes to prepare the vaccines and the immunization sites, which will include 104 hospitals, clinics and public health centers, CDC Deputy Director-General Lo Yi-chun (羅一鈞) said in a press conference on Wednesday.
The expansion aims to boost vaccination among those at risk, enhance disease control and protect the public, the press release added.
The decision to expand eligibility criteria came following an ACIP investigation into mpox infection data across Taiwan, and American and British experiences of combating the epidemic in their own countries, the press release said.
There are currently enough doses of mpox vaccine in Taiwan to fully immunize 50,000 people, Lo said.
Related News
March 21: Mpox jabs booked up in under 10 minutes as Taiwan sees 4 new cases
View All