Migrant caregivers call for law to ensure their rights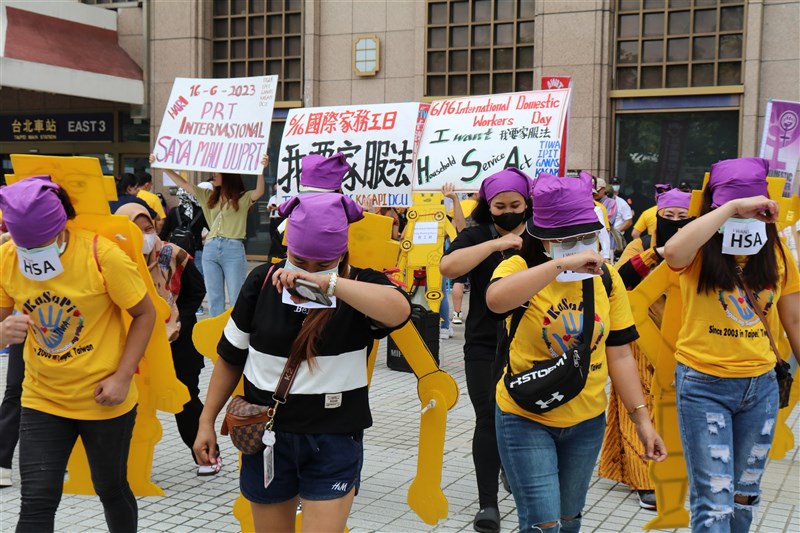 Taipei, June 18 (CNA) Scores of Filipino and Indonesian migrant caretakers gathered in Taipei on Sunday, urging the Taiwan government to enact a law to protect their rights, in the wake of International Domestic Workers' Day two days earlier.
"Long work hours, low salary, no [regular] days off," the participants shouted at the gathering outside Taipei Main Station's East Gate 2, listing their grievances during their performance of a skit that ended with them collapsing to ground to symbolize exhaustion.
They called on the Taiwan government to enact a "household service act" that would ensure the rights of the approximately 220,000 migrant live-in caregivers and domestic helpers in the country, as enshrined in the Domestic Workers Convention that was adopted by the International Labor Organization in June 2011.
"We are a minority in Taiwan, but we are the ones taking care of the lives of every sick elderly Taiwanese and their households," said a worker identified only as Junemarie, who represents a Filipino caregivers' advocacy group called Domestic Caretakers Union.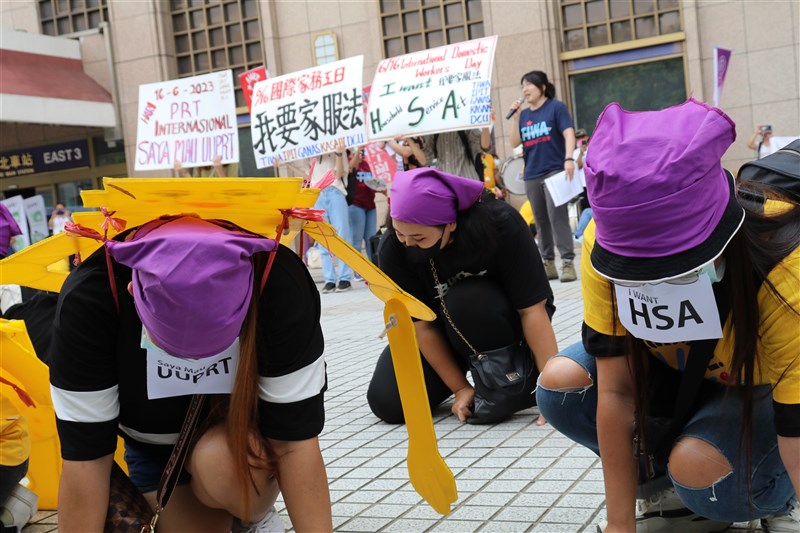 Live-in migrant workers in Taiwan are not covered by the Labor Standards Act and thus are not entitled to the current minimum monthly wage of NT$26,400 (US$860) or two regular days off every seven days, despite repeated calls by labor rights groups since 1992, when the country opened up to foreign domestic caregivers.
"How can Taiwan's government say that they are protecting us if we are not protected under the Labor Standards Act," said Junemarie, who has been working in Taiwan for six years. "We are a minority, but we are part of your society."
When the government decided to raise the minimum monthly wage in Taiwan last year, it also increased the minimum salary of newly employed migrant domestic workers and those whose contracts were being renewed to NT$20,000 per month, after a seven-year freeze at NT$17,000.
Meanwhile, a member of an Indonesian migrant workers' group called GANAS urged the Taiwan government Sunday to ensure that employers are adhering to the terms of the contracts signed with migrant workers, which mandate one full day off -- 24 hours -- every seven days.
"We take care of the elderly, and they wake up at night, so we have to get up to look after them," the woman, who identified herself only as Anna, told CNA. "Our working hours are about 20 hours each day."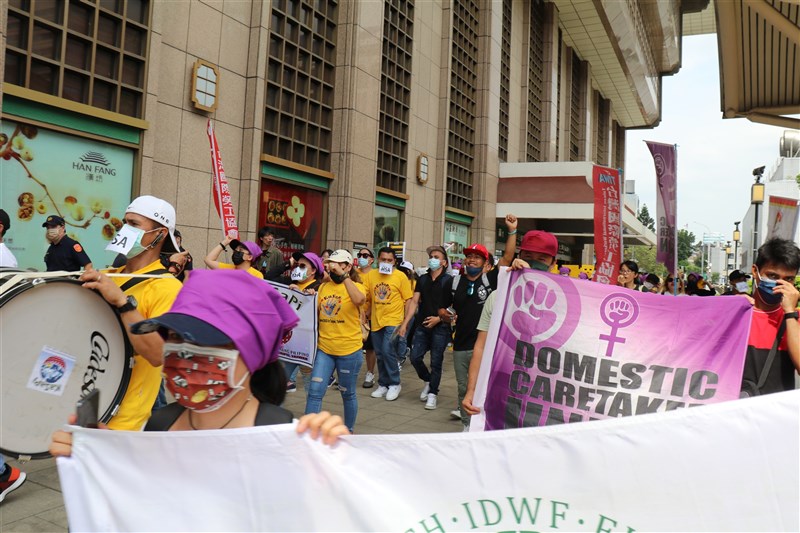 She said that without a law to ensure the rights of migrant domestic workers, it is left up to the employers to decide when their employees can take break from their "round-the-clock" work.
"We wish to be able to have one day off per week," Anna said.
As the scores of workers marched around Taipei Main Station to conclude their peaceful protest, they called loudly for a law to make regular time off mandatory.
"We want a household service act! We want a household service act!" they chanted.
The gathering, held in observance of June 16 International Domestic Workers' Day, was also organized by the Indonesian Workers in Taiwan Association (IPIT), the Filipino Migrant Workers in Taiwan (KASAPI) and Taiwan International Worker's Association (TIWA).
Related News
June 16: Taiwan remains in top tier in U.S. human trafficking report
June 16: Labor ministry increases migrant worker hiring quota in 4 industries
May 30: Labor rights groups slam MOL plan to hire more migrant workers
May 23: Three people indicted over mistreatment of Indonesian caregiver