#METOO
/
Man sues Wang Dan over alleged sexual assault (update)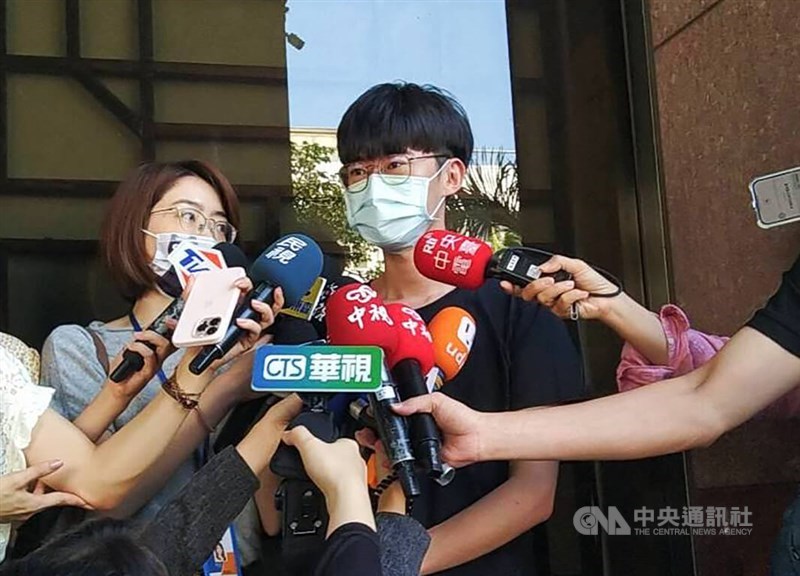 Taipei, June 7 (CNA) A man who has accused exiled Chinese political activist Wang Dan (王丹) of attempted rape back in 2014 filed a lawsuit against him on Wednesday.
The plaintiff, former Taiwanese political worker Lee Yuan-chun (李援軍), told reporters at the Taipei District Prosecutors' Office that he had not expected to have to take the matter to court just to press Wang for an apology.
Asked if he had any evidence to back up his claim, Lee said he had presented it to prosecutors.
In a social media post on June 2, Lee accused Wang of attempting to rape him in a New York City hotel room back in 2014, and asked Wang to apologize by Wednesday.
According to Lee, Wang kissed him against his will, before pinning him down on a bed and attempting to rape him.
Lee said that he had managed to push Wang away and asked him to stop.
Lee added that he has been approached by several individuals who also said they were the targets of sexual misconduct perpetrated by Wang.
The gender equality education committee at National Tsing Hua University (NTHU), where Wang served as an adjunct assistant professor until 2017, has launched a probe into the allegations, Lee said, calling on former students at the school and others to come forward if they have been sexually harassed or assaulted.
NTHU on June 4 said that if its investigation found the sexual misconduct claims against Wang were true, Wang would be barred from teaching at any university in Taiwan.
Wang said in a social media post Wednesday that he had returned to Taiwan from the United States, where he has permanent residency, to cooperate with the legal proceedings.
He added that he had cut short a visit to the Hoover Institution at Stanford University and returned to Taiwan earlier than scheduled.
"I will not shy away. I ask only that the judiciary handle this case in a fair and just manner so that the truth can be known," Wang said.
On June 2, Wang denied he had attempted to rape Lee, saying that Lee's claim differed greatly from his memories and understanding.
Wang added that at the time he had found it difficult to craft a response to Lee's one-sided story.
Meanwhile, in a statement Wednesday, NTHU said the Institute of Sociology recently has decided to revoke the appointment of Wang as an adjunct assistant professor, which began in September 2022 and would have allowed him to teach a course on China starting this September.
NTHU also received a letter from Wang stating that he wanted the university to discontinue the appointment, according to the statement.
Related News
June 7: Man sues Wang Dan over alleged sexual assault
June 3: Chinese dissident Wang Dan denies sexual harassment accusation by Taiwanese man

June 3: TV writer accuses exiled Chinese poet Bei Ling of sexual assault
June 7: Tsai pledges reforms amid wave of #MeToo cases in Taiwanese politics
June 6: National policy adviser quits after sexual harassment accusation
June 6: KMT lawmaker ordered to pay NT$80,000 over sexual harassment
June 4: KMT pledges to probe sexual harassment allegation against its lawmaker
June 3: Tsai apologizes for DPP's mishandling of sexual misconduct complaints
June 2: DPP's Lai outlines new rules to combat sexual harassment
June 1: DPP deputy secretary-general resigns over sexual harassment case
View All