Japanese blueberries, grapes rejected for banned pesticides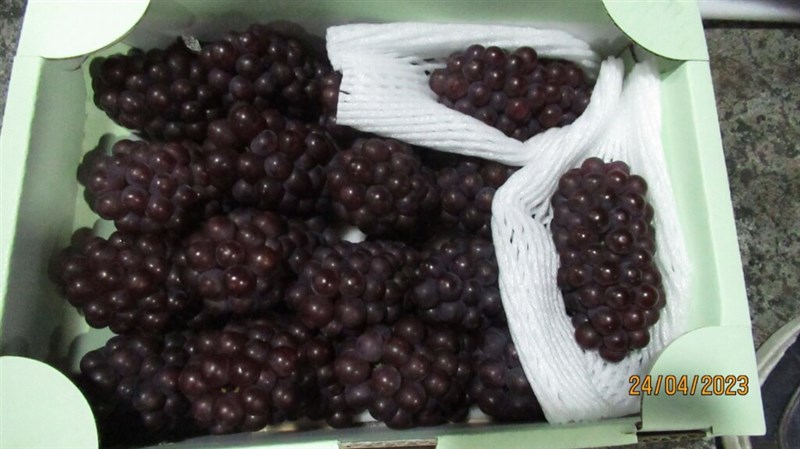 Taipei, May 23 (CNA) Shipments of fresh blueberries and grapes from Japan were seized at Taiwan's border after they were found to contain banned pesticides, the Taiwan Food and Drug Administration (FDA) said Tuesday.
A total of 9 kilograms of blueberries supplied by the Japanese firm Toyomarusyouzi Co. were confiscated after sample testing on April 28 detected flubendiamide, a type of synthetic petrochemical pesticide that is banned in Taiwan from being used on blueberries.
FDA Deputy Director Lin Chin-fu (林金富) said the fruit was found to contain 0.07 parts per million (ppm) of the pesticide.
This is the second time in six months that Japanese blueberries have failed the safety inspection, Lin said, but he explained that random tests on the fruit would remain at a rate of 20-50 percent because it was the first time blueberries exported by this company had failed.
Meanwhile, the 45kg shipment of Japanese grapes were found to contain the pesticide cyclaniliprole, also banned in Taiwan from being used on grapes.
The shipments will be returned to the country of origin or destroyed, according to the FDA.
The FDA also published a list of nine other imported items that recently failed safety inspections, including fresh Chinese cabbage from Vietnam, mushroom powder from China, and corn from the United States.
Lin said the imported corn supplied by Delong Co. were found to contain excessive levels of vomitoxin, a type of mycotoxin found predominantly in grains. The FDA says it will also be returned to the country of origin or destroyed.