Magnitude 3.8 earthquake hits southeastern Taiwan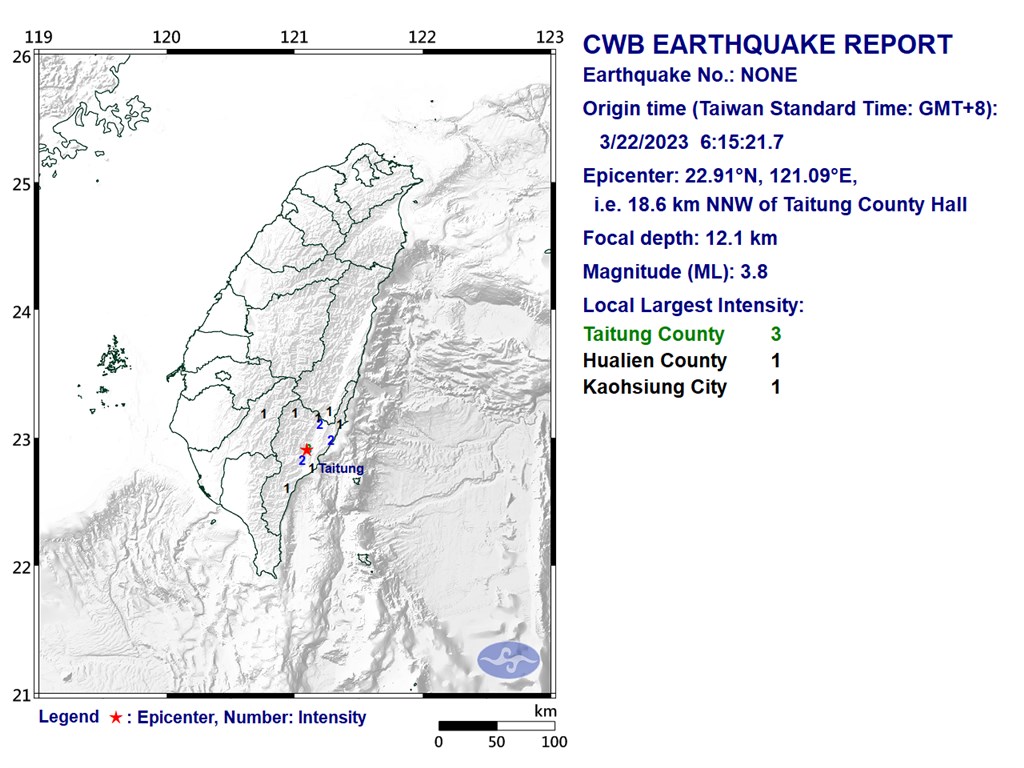 Taipei, March 22 (CNA) A magnitude 3.8 earthquake struck Taitung County, southeastern Taiwan, at 6:15 a.m. Wednesday, according to the Central Weather Bureau (CWB).
The epicenter of the earthquake was located 18.6 kilometers west-northwest of Taitung County Hall at a depth of 12.1 km, according to the bureau's Seismology Center.
On Taiwan's 7-tier intensity scale, which gauges the actual effect of a seismic event, the temblor measured 3 in Taitung's Luye Township, 2 in the county's Beinan, Donghe and Chishang townships, and 1 in Hualien County in the east and Kaohsiung City in the south, the CWB said.
There were no immediate reports of damage or injuries after the earthquake.
On Tuesday, four earthquakes ranging from 3.7 to 5.3 in magnitude struck Wanrung Township in Hualien 14 minutes apart.
The magnitude 5.3 temblor occurred at 9:45 a.m. Tuesday, followed by a magnitude 4.4 quake at 9:46 a.m., a magnitude 3.9 quake at 9:54 a.m. and a magnitude 3.7 quake at 9:59 a.m.
No immediate damage or injuries were reported after the four earthquakes.