2nd Taiwan search and rescue team Turkey bound following earthquake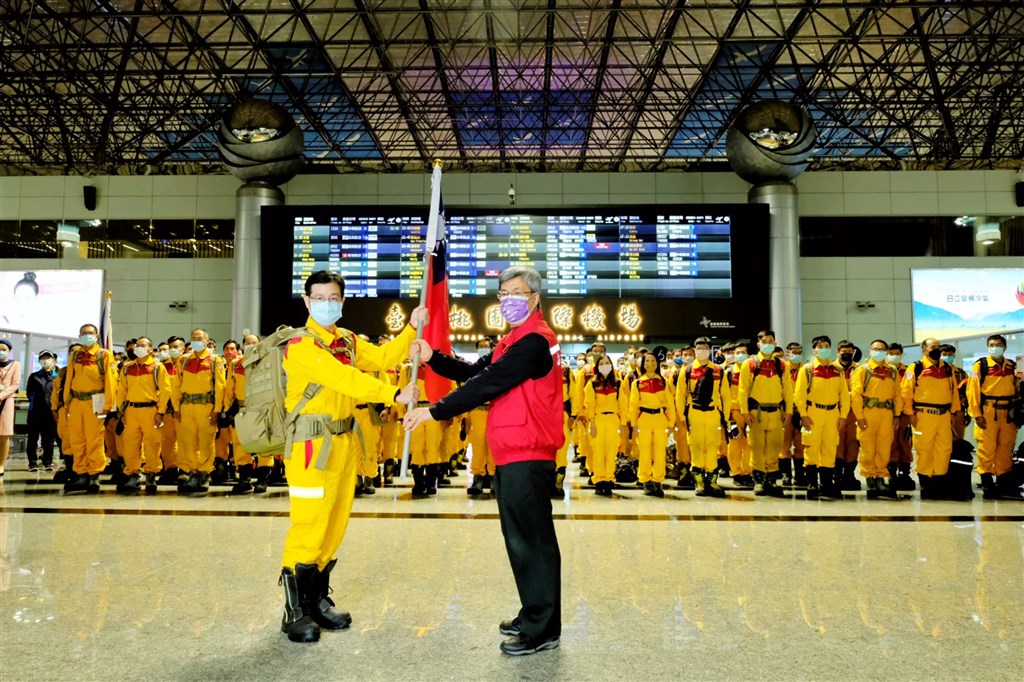 Taipei, Feb. 7 (CNA) Taiwan dispatched a second search and rescue team to Turkey late Tuesday evening to help find those trapped in buildings damaged by a deadly magnitude-7.8 earthquake, which struck the country and neighboring Syria early Monday.
A 90-member team along with two search and rescue dogs departed at around 10:30 p.m. Tuesday, on board an EVA Airways flight, the National Fire Agency (NFA) said.
Premier Chen Chien-jen (陳建仁) sent off the team at Taiwan Taoyuan International Airport.
The first team of 40 personnel and three search and rescue dogs dispatched by Taiwan has arrived at the airport in the southern Turkish province of Adana, one of the worst hit places by the quake, Tuesday.
In a post on social media Tuesday evening, President Tsai ing-wen (蔡英文) expressed her deepest condolences for the lives lost in the earthquake.
When Taiwan was hit by the 921 earthquake in 1999, Turkey was the first to send a search and rescue team to Taiwan to assist Taiwan; at this moment, Taiwan is bound to join hands with Turkey to help it tide over the difficulties, Tsai said.
"We will continue to provide necessary assistance to Turkey. We hope that Turkey will recover soon and the Taiwan search and rescue team will return home safely," Tsai added.
The government of the Republic of China (Taiwan) on Tuesday increased its donation to Turkey to US$2 million in humanitarian aid to support relief efforts, from the previous pledge of US$200,000, according to the Ministry of Foreign Affairs.
The epicenter of the magnitude 7.8 earthquake, which struck at 4:17 a.m. Monday local time, was located in Gaziantep near the Turkish-Syrian border.
The earthquake is the largest quake to hit Turkey since 1939, according to Turkish President Recip Erdogan.
More than 3,419 people have been reported dead, with another 20,534 injured, and the confirmed death toll on the Syrian side rose to 1,602, bringing the death toll in both countries to 5,021, Reuters reported Tuesday evening.
Meanwhile, Turkish authorities have received 11,342 reports of collapsed buildings, of which 5,775 have been confirmed.
Related News
Feb. 8: Taiwan search and rescue team deployed to Turkey's Adiyaman Province
Feb. 7: Donations of winter clothes, necessities sought after Turkey quake
Feb. 7: Taiwan increases donation to Turkey to US$2 million
● Taiwan govt, Turkish office, private sector collecting donations for Turkey, Syria