CORONAVIRUS
/
Taiwan reports 31,514 new COVID-19 cases, 45 deaths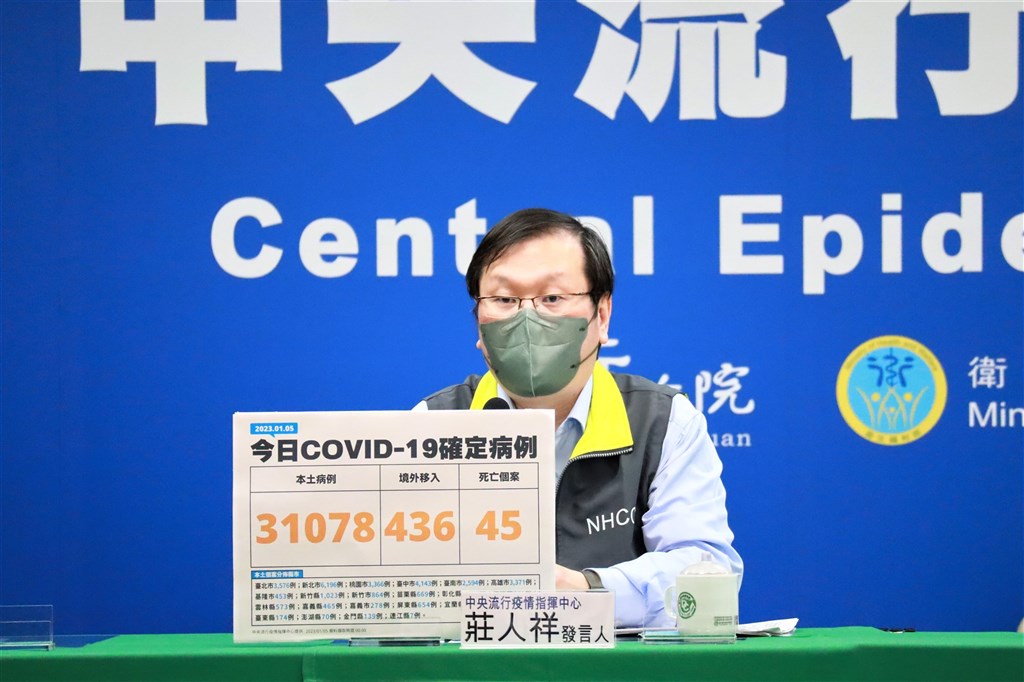 Taipei, Jan. 5 (CNA) Taiwan reported 31,514 new COVID-19 infections and 45 deaths from the disease on Thursday, according to the Central Epidemic Command Center (CECC).
The new cases represented an 11.8-percent increase from the same day one week earlier, CECC data showed.
The deceased ranged in age from their 20s to their 90s. All but three had underlying health conditions, while 20 of them were unvaccinated against COVID-19, the CECC said.
Also on Thursday, the CECC reported 130 new cases classified as moderate and 38 as severe.
Regional breakdown
Regionally, New Taipei recorded the highest number of new cases with 6,196, followed by Taichung with 4,143 and Taipei with 3,576.
Kaohsiung reported 3,371 new cases, Taoyuan 3,366, Tainan 2,594, Changhua 1,355, Hsinchu County 1,023, Hsinchu City 864, Miaoli 669, Pingtung 654 and Yunlin 573.
Chiayi County had 465 cases, Keelung 453, Nantou 437, Yilan 427, Chiayi City 278, Hualien 244, Taitung 174, Kinmen 139, Penghu 70 and the Matsu Islands seven, the CECC said.
To date, Taiwan has recorded 8,979,699 COVID-19 cases since the pandemic began in early 2020, including 41,642 classified as imported.
With the 45 deaths reported on Thursday, the number of confirmed COVID-19 fatalities in the country rose to 15,383.
Related News
Jan. 3: Transit passengers from China to undergo tighter COVID controls
Jan. 2: 28% of travelers from China COVID-positive on first day of border testing
Jan. 1: President Tsai offers to help China curb COVID surge in New Year address
Dec. 31: Ministry to pay family NT$300,000 for COVID-19 vaccine death
Dec. 28: Travelers from China to be subjected to saliva PCR tests at border
Dec. 23: Taiwan to relax quarantine regulations for incoming migrant caretakers 
Recent cases
Jan. 4: Taiwan reports 33,871 new COVID-19 cases, 17 deaths
Jan. 3: Taiwan reports 25,009 COVID-19 cases, 22 deaths
Jan. 2: Taiwan reports 16,602 new COVID-19 cases, 26 deaths
Jan. 1: Taiwan reports 25,270 new COVID-19 cases, 20 deaths
Dec. 31: Taiwan reports 25,755 new COVID-19 cases, 38 deaths
Dec. 30: Taiwan reports 27,413 new COVID-19 cases, 34 deaths
Dec. 29: Taiwan reports 27,413 new COVID-19 cases, 34 deaths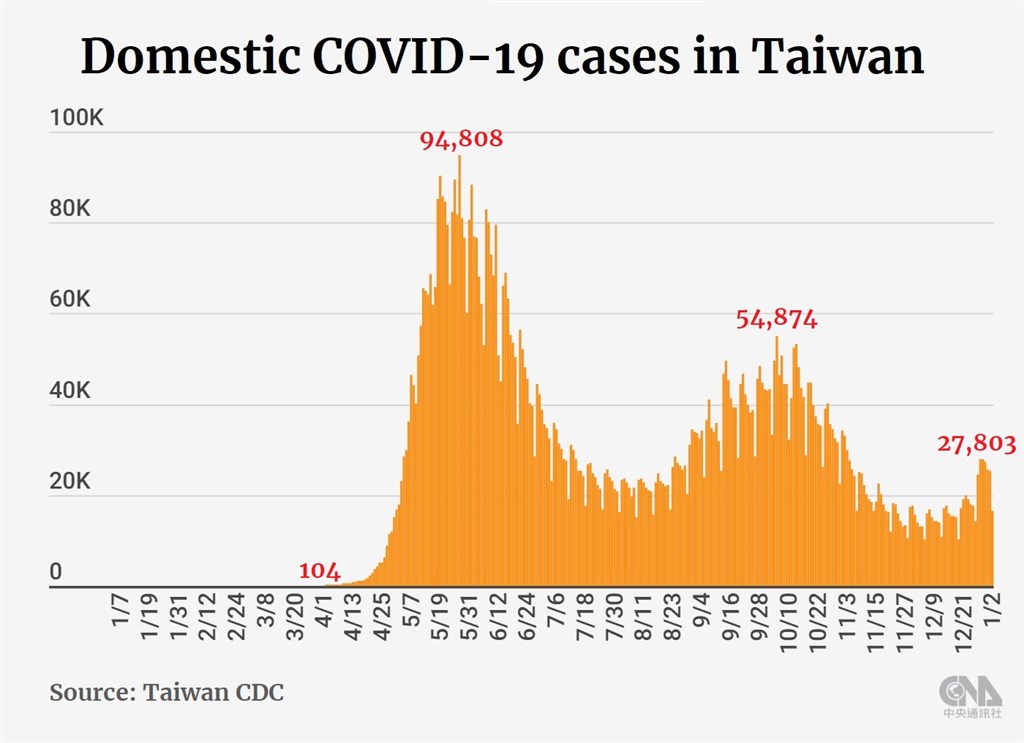 Latest COVID-19 rules
● Taiwan begins testing travelers from China for COVID-19
● Revised protocol for hospital visits from Dec. 10

● Taiwan to stop paying COVID medical fees for certain foreign nationals
● Taiwan to remove weekly arrival cap on Dec. 10
● Taiwan's eased mask mandate takes effect on Dec. 1
● Taiwan cuts COVID isolation to 5 days, lifts workplace vaccine mandates (Nov. 14)
● Taiwan to further ease border rules for China, Hong Kong, Macau residents
● Taiwan's new COVID-19 regulations taking effect Nov. 7
● Taiwan's updated COVID-19 protocols for arriving travelers from Oct. 13
View All