CORONAVIRUS
/
Taiwan reports 18,179 new COVID-19 cases, 38 deaths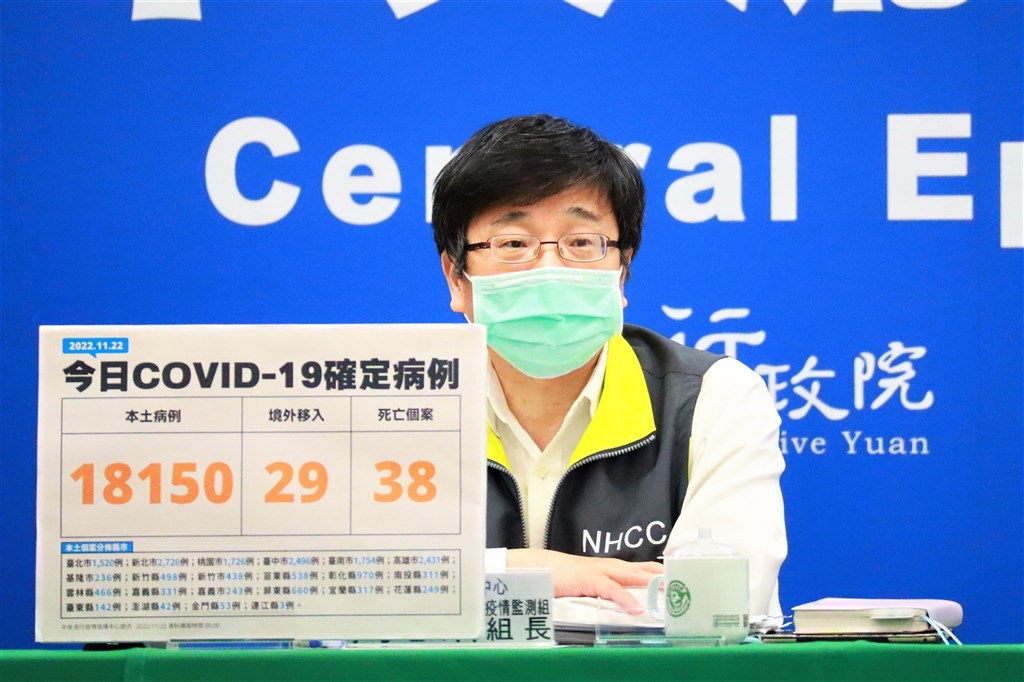 Taipei, Nov. 22 (CNA) Taiwan's Central Epidemic Command Center (CECC) reported 18,179 new COVID-19 infections, all but 29 of which were locally transmitted, and 38 deaths from the disease on Tuesday.
The deceased ranged in age from their 20s to 90s, and all but one had underlying health issues, while 13 were unvaccinated against COVID-19, the CECC said.
The youngest was a man in his 20s who had received four doses of a COVID-19 vaccine, Lo Yi-chun (羅一鈞), head of the CECC's Medical Response Division, said at a press briefing.
The man tested positive for COVID-19 after coming down with respiratory problems on Oct. 29, and he died on Nov. 4, Lo said, adding that the cause of death was COVID-19 combined with respiratory failure.
According to the CECC official, the man had a congenital disease and was a resident at a healthcare institution.
Moderate and severe cases
Meanwhile, the CECC also reported 34 new COVID-19 cases classified as moderate and 32 as severe, which included a 3-year-old boy who has a chronic nervous system disease.
The child was rushed to the emergency room on Nov. 14 with a fever, convulsions and vomiting, but he has since improved, although he is still in intensive care in hospital, Lo said.
According to the CECC, the 18,150 domestic infections reported Tuesday represented a 1.9-percent drop from a week earlier.
Regional breakdown
Regionally, New Taipei had the highest number of new cases Tuesday, with 2,726, followed by Taichung with 2,496, and Kaohsiung with 2,431.
Tainan reported 1,754 cases, Taoyuan 1,726, Taipei 1,520, Changhua County 970, Pingtung County 660, Miaoli County 538, Hsinchu County 498, Yunlin County 466, Hsinchu City 438, Chiayi County 331, Yilan County 317, and Nantou County 311.
Hualien County had 249 cases, Chiayi City 243, Keelung 236, Taitung County 142, Kinmen 53, Penghu 42 and the Matsu islands three, the CECC said.
To date, Taiwan has recorded 8,193,072 COVID-19 cases since the pandemic began in early 2020, including 37,315 classified as imported.
With the 38 deaths reported Tuesday, the total number of confirmed COVID-19 fatalities in the country rose to 14,029.
Latest COVID-19 rules
● Taiwan cuts COVID isolation to 5 days, lifts workplace vaccine mandates (Nov. 14)
● Taiwan to further ease border rules for China, Hong Kong, Macau residents
● People with fever will be advised against taking high speed trains
● Taiwan's new COVID-19 regulations taking effect Nov. 7
● Taiwan lifts ban on international cruises
● Taiwan's updated COVID-19 protocols for arriving travelers from Oct. 13  
Recent cases
Nov. 21: Taiwan's domestic COVID-19 cases drop to lowest in 207 days
Nov. 20: Taiwan reports 16,236 new COVID-19 cases, 43 deaths
Nov. 19: Taiwan reports 16,571 new COVID-19 cases, 59 deaths
Nov. 18: Taiwan reports 18,003 new COVID-19 cases, 58 deaths
Nov. 17: Taiwan reports 20,127 new COVID-19 cases, 77 deaths
Nov. 16: Taiwan reports 22,692 new COVID-19 cases, 69 deaths
Nov. 15: Taiwan reports 18,558 new COVID-19 cases, 43 deaths
View All