CORONAVIRUS
/
Taiwan reports 43,505 new COVID-19 cases, 50 deaths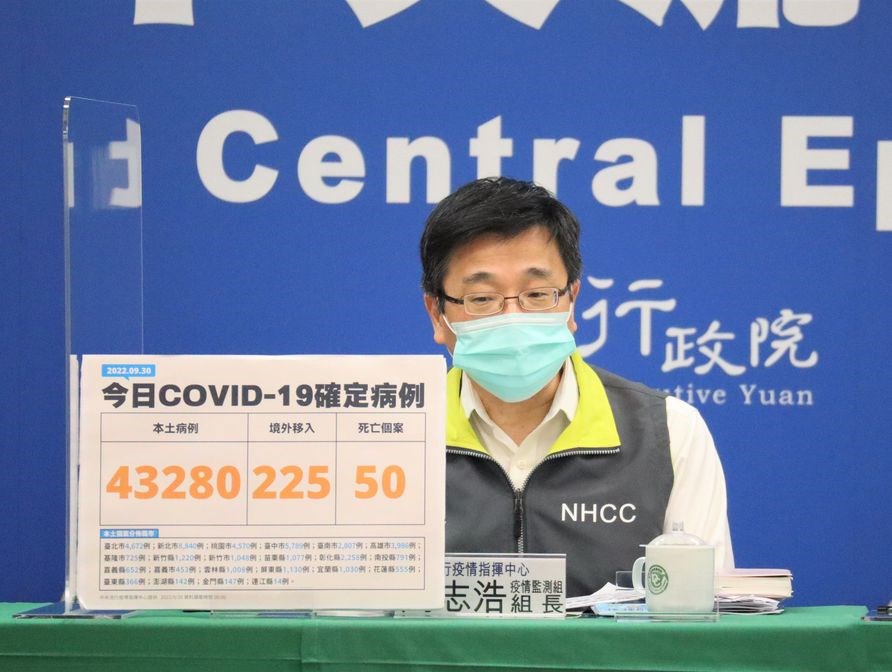 Taipei, Sept. 30 (CNA) Taiwan reported 43,505 new infections of COVID-19 and 50 deaths from the disease Friday, according to the Central Epidemic Command Center (CECC).
Those who died ranged in age from their 40s to their 90s, and 46 of them had underlying health issues, the CECC said.
Twenty-one of them were not vaccinated against COVID-19, while five had received one dose of a COVID-19 vaccine, eight had gotten two shots, and 15 had received three doses, the CECC said.
The 50 newly recorded deaths brought the total in Taiwan to 11,053 since the pandemic began.
Including Friday's figures, total cases and total deaths for the first five days of this week were up 4.5 percent and 10.8 percent, respectively, from the same five-day period last week.
Severe cases
Also on Friday, the CECC reported 51 cases that were newly classified as severe, and 98 newly categorized as moderate.
Among the severe cases was a girl aged 2 years old who had no history of chronic disease, Centers for Disease Control (CDC) official Lo Yi-chun (羅一鈞) said.
She was later diagnosed with multisystem inflammatory syndrome in children (MIS-C), but her condition has since improved and she will soon be discharged from the hospital, Lo said.
Regional breakdown
Regionally, New Taipei reported the highest number of new cases Friday, with 8,840, Taichung had 5,789, Taipei 4,672, Taoyuan 4,570, Kaohsiung 3,986 and Tainan 2,807, the CECC said in a statement.
Changhua County had 2,258 new cases, Hsinchu County 1,220, Pingtung County 1,130, Miaoli County 1,077, Hsinchu City 1,048, Yilan County 1,030, Yunlin County 1,008, Nantou County 791 and Keelung 725.
Chiayi County had 652 cases, Hualien County 555, Chiayi City 453, Taitung County 366, Kinmen County 147, Penghu County 142 and the Matsu Islands 14, the CECC said.
To date, Taiwan has recorded 6,461,400 COVID-19 cases since the pandemic began in early 2020, including 34,879 cases classified as "imported" because they were deemed to have originated abroad.
Also on Friday
Sept. 30: Moderna establishes Taiwan unit to enhance cooperation
Latest COVID-19 rules
Sept. 29: Taiwan's new COVID-19 protocols for arriving passengers
Sept. 8: Taiwan to ease COVID-19 in-person class suspension rules
Sept. 5: Taiwan to resume visa-free entry for multiple countries from Sept. 12
Sept. 1: Taiwan's new COVID-19 protcols, '3+4' policy taking effect Sept. 1
Related News
Sept. 29: Taiwan to lift entry quarantine, reopen to all visitors Oct. 13
Sept. 28: Taiwan to expand new Moderna vaccine eligibility
Sept. 26: Taiwan's weekly COVID-19 infections down 3%, mostly BA.5
Sept. 24: Taipei starts rollout of second-generation Moderna vaccine
Sept. 22: Taiwan receives second batch of Novavax vaccine
Sept. 20: CECC cautions of dual threat from COVID-19, flu this winter
Aug. 28: Taiwan begins rollout of Pfizer-BNT vaccines for young children
Recent cases
Sept. 29: Taiwan reports 44,880 new COVID-19 cases, 53 deaths
Sept. 28: Taiwan reports 48,613 new COVID-19 cases, 38 deaths
Sept. 27: Taiwan reports 45,850 new COVID-19 cases, 28 deaths
Sept. 26: Taiwan reports 28,785 new COVID-19 cases, 56 deaths
Sept. 25: Taiwan reports 38,980 new COVID-19 cases, 34 deaths
View All