CORONAVIRUS
/
Taiwan reports 28,785 new COVID-19 cases, 56 deaths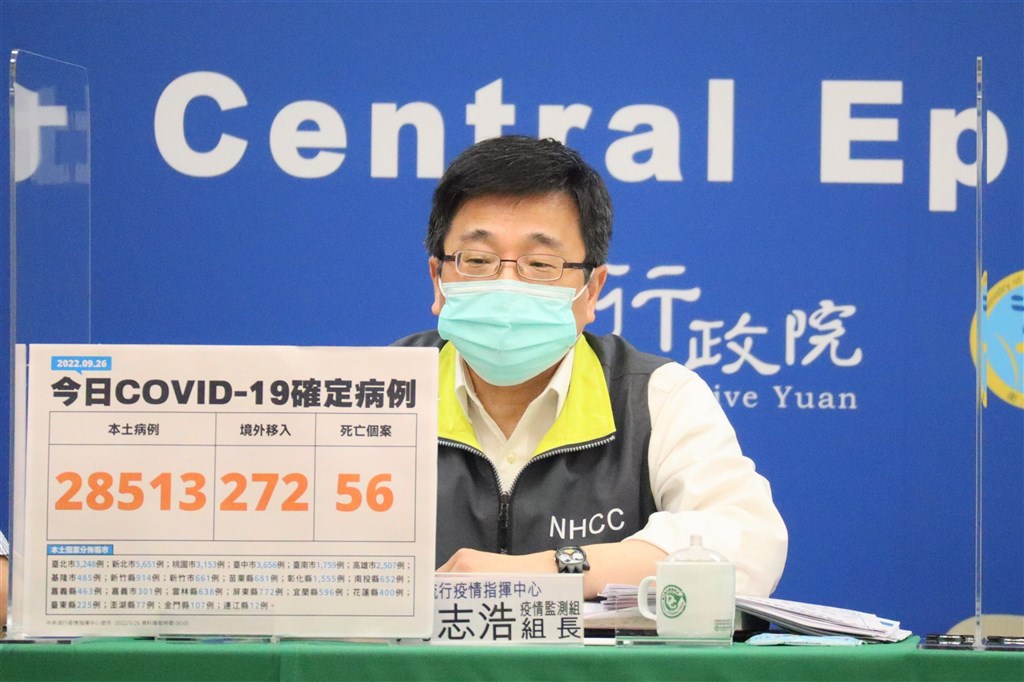 Taipei, Sept. 26 (CNA) Taiwan reported 28,785 new COVID-19 infections and 56 deaths from the disease Monday, according to the Central Epidemic Command Center (CECC).
The 56 deaths, which brought the total in Taiwan since the pandemic began to 10,884, ranged in age from 7 months old to their 90s, with all but three having underlying health issues such as cardiovascular diseases and hypertension, the CECC said.
The youngest death was a baby girl with nervous system and metabolic disease who remained confined to bed, Centers for Disease Control (CDC) official Lo Yi-chun (羅一鈞) said.
The girl was rushed to an emergency room on Sept. 18 after developing a fever and experiencing trouble breathing, she was later moved to an intensive care unit, Lo said.
The baby was placed on a respirator and treated with Remdesivir and antibiotics to alleviate her breathing difficulty and treat pneumonia, but passed away on Sept. 21, with upper gastrointestinal bleeding and septic shock as complications, Lo said.
The girl's death was caused by COVID-19 in conjunction with acute respiratory distress syndrome and septic shock, he added.
Overall, 21 of the newly added deaths were not vaccinated against COVID-19, while seven had received one dose of a COVID-19 vaccine, seven had gotten two shots, 18 had received three doses, and three had received four shots, the CECC data indicated.
New MIS-C case 
Also on Monday, the CECC reported 55 cases newly classified as "severe" and 67 newly categorized as "moderate."
Among the severe cases was a boy who developed multisystem inflammatory syndrome in children (MIS-C), Lo said.
The 5-year-old boy who had one vaccine shot and no chronic diseases was confirmed with the disease on Aug. 15. He then experienced muscle aches and developed fever, pink eye and cervical lymphadenopathy on the left of his neck beginning Sept. 12, Lo said.
After being hospitalized on Sept. 18, the boy was diagnosed with MIS-C and an echocardiogram showed a minor augmentation in his left coronary artery. He improved after being treated with immunoglobulin, leaving hospital on Sept. 23, Lo noted.
Regional breakdown
Regionally, New Taipei reported the highest number of new cases Monday, with 5,651, Taichung had 3,656, Taipei 3,248, Taoyuan 3,153, Kaohsiung 2,507, and Tainan 1,759, the CECC said in a statement.
Changhua County had 1,555 new cases, Hsinchu County 914, Pingtung County 772, Miaoli County 681, Hsinchu City 661, Nantou County 652, Yunlin County 638, Yilan County 596, and Keelung 485.
Chiayi County had 463 cases, Hualien County 400, Chiayi City 301, Taitung County 225, Kinmen County 107, Penghu County 77 and the Matsu Islands 12, the CECC said.
To date, Taiwan has recorded 6,278,794 COVID-19 cases since the pandemic began in early 2020, including 34,032 cases classified as "imported" because they were deemed to have originated abroad.
Also on Monday
Sept. 26: Taiwan's weekly COVID-19 infections down 3%, mostly BA.5
Sept. 26: Next round of rapid test rationing plan to start Oct. 1
Related News
Sept. 24: Taipei starts rollout of second-generation Moderna vaccine
Sept. 23: Taiwan's mask mandate to be lifted gradually: CECC
Sept. 22: Taiwan to conditionally scrap 3-day quarantine for arriving travelers
Sept. 22: Taiwan receives second batch of Novavax vaccine
Sept. 20: CECC cautions of dual threat from COVID-19, flu this winter
Aug. 28: Taiwan begins rollout of Pfizer-BNT vaccines for young children
Aug. 24: Omicron subvariant-induced outbreak forecast to peak earlier: CECC
Recent cases
Sept. 25: Taiwan reports 38,980 new COVID-19 cases, 34 deaths
Sept. 24: Taiwan reports 38,371 new COVID-19 cases, 51 deaths
Sept. 23: Taiwan reports 40,025 new COVID-19 cases, 41 deaths
Sept. 22: Taiwan reports 42,470 new COVID-19 cases, 59 deaths
Sept. 21: Taiwan records 46,902 new COVID-19 cases, 39 deaths
Latest COVID-19 rules
Sept. 29: Taiwan's new COVID-19 protocols for arriving passengers
Sept. 8: Taiwan to ease COVID-19 in-person class suspension rules
Sept. 5: Taiwan to resume visa-free entry for multiple countries from Sept. 12
Sept. 1: Taiwan's new COVID-19 protcols, '3+4' policy taking effect Sept. 1
View All