CORONAVIRUS
/
Taiwan approaches 10,000 COVID-19 deaths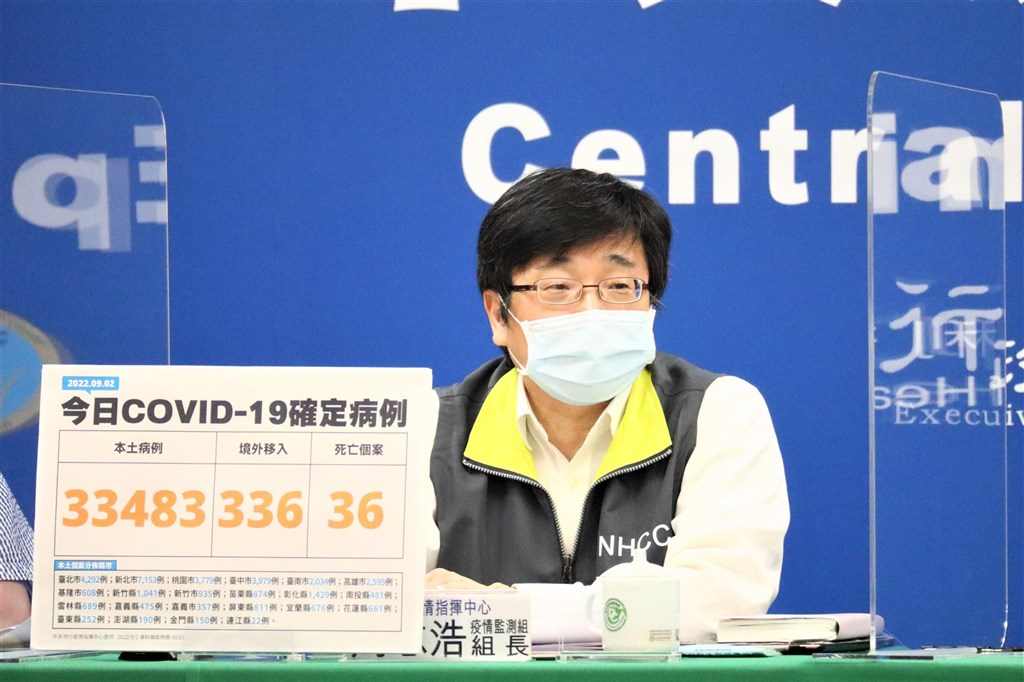 Taipei, Sept. 2 (CNA) Taiwan reported more than 30,000 new cases of COVID-19 for a fourth consecutive day Friday, and the 36 deaths from the disease brought the total since the pandemic began to 9,986, according to the Central Epidemic Command Center (CECC).
The deceased ranged in age from their 40s to their 90s. All but three suffered from chronic illnesses or other severe diseases, and 20 had either received one or no doses of a COVID-19 vaccine, the CECC said.
Of the 9,986 deaths to date, the vast majority of deaths have occurred this year as Omicron spread in Taiwan, pushing the death rate per capita higher than in Singapore, Japan and New Zealand, which have been among the best performers in the Asia-Pacific region.
Severe, moderate cases
The CECC reported 33,819 new COVID-19 cases Friday, with 40 cases newly classified as severe and 97 newly classified as moderate.
Among the severe cases were two young patients, one aged below five while the other was over 10. They were diagnosed with multisystem inflammatory syndrome in children (MIS-C), the CECC said.
One of the two has a history of allergic rhinitis while the other without chronic illnesses had recently been discharged from the hospital after her conditions improved, the CECC said.
So far this year, the cases of 198 children younger than 12 years old have been classified as severe, with 124 of them being diagnosed with MIS-C and 29 dying.
Of the 5,299,388 domestically transmitted cases recorded in Taiwan this year, 10,615 have been classified as severe infections and 13,564 as moderate, accounting for 0.20 percent and 0.26 percent of the total, respectively, according to CECC data as of Sept. 2.
Regional breakdown
Regionally, New Taipei reported the highest number of new cases Friday, with 7,153, followed by Taipei with 4,292 and Taichung with 3,979.
Taoyuan had 3,779 new cases, Kaohsiung 2,595, Tainan 2,034, Changhua 1,429, Hsinchu County 1,041, Hsinchu City 935, Miaoli 874, Pingtung 811, Yunlin 689 and Yilan 676.
Hualien had 661 cases, Keelung 608, Nantou 481, Chiayi County 475, Chiayi City 357, Taitung 252, Penghu 190, Kinmen 150, and the Matsu Islands 22, the CECC said.
To date, Taiwan has recorded 5,375,883 COVID-19 cases since the pandemic began in early 2020, including 5,347,435 domestic cases.
Latest COVID-19 rules
Sept. 29: Taiwan's new COVID-19 protocols for arriving passengers
Sept. 8: Taiwan to ease COVID-19 in-person class suspension rules
Sept. 5: Taiwan to resume visa-free entry for multiple countries from Sept. 12
Sept. 1: Taiwan's new COVID-19 policies taking effect Sept. 1
Sept. 1: Taiwan's new COVID-19 screening rules for hospital admission
Related News
Aug. 28: Taiwan begins rollout of Pfizer-BNT vaccines for young children
Aug. 26: Border controls likely to be further relaxed in October: CECC
Aug. 24: Omicron subvariant-induced outbreak forecast to peak earlier: CECC
Aug. 21: Taiwan rolls out Moderna second shots for young children
Aug. 10: Taiwan to lift pre-flight PCR test requirement for all arriving travelers
July 26: Revision of border rules depends on vaccination rate among kids: CECC
Recent cases
Sept. 1: Taiwan reports new 34,118 COVID-19 cases, 36 deaths
Aug. 31: Taiwan reports new 34,623 COVID-19 cases, 21 deaths
Aug. 30: Taiwan reports 31,488 new COVID-19 cases, 27 deaths
Aug. 29: Taiwan reports 20,448 new COVID-19 cases, 22 deaths
Aug. 28: Taiwan reports 26,765 new COVID-19 cases, 31 deaths
View All