JOB SCAM
/
Taiwanese being lured to Cambodia for illegal work: Taipei councilor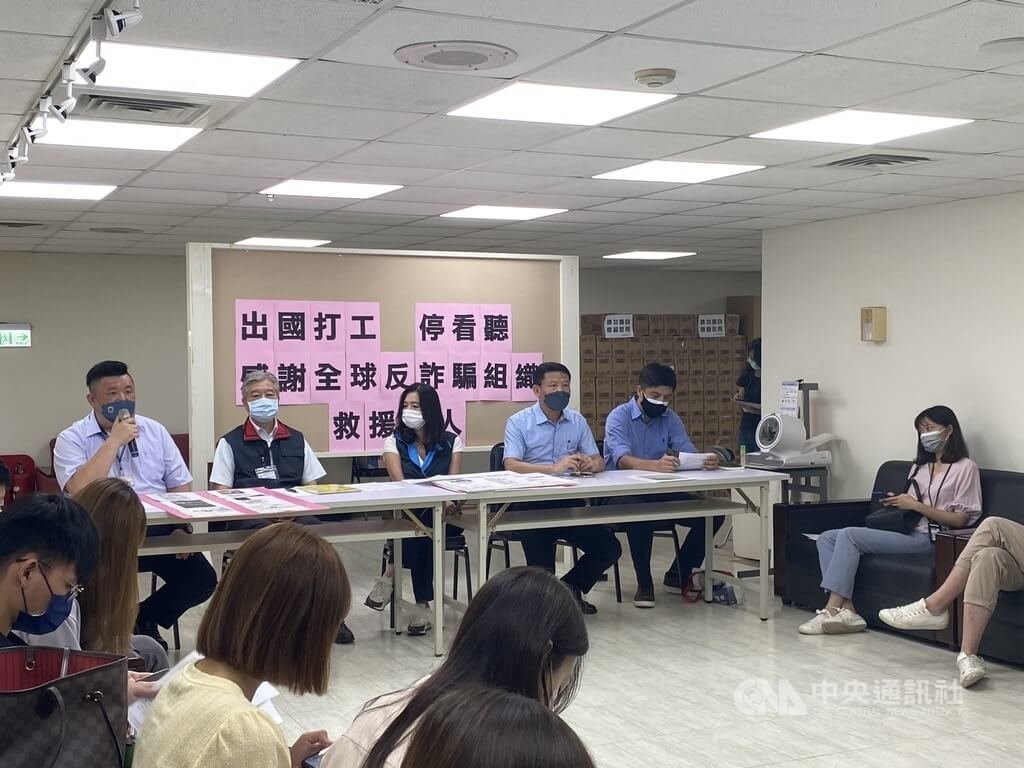 Taipei, Aug. 9 (CNA) Taipei City Councilor Angela Ying (應曉薇) on Tuesday alerted the public to a spate of recent incidents in which Taiwanese have been lured to Cambodia with promises of high-paying jobs, only to be forced into illegal work and held in the country against their will.
At a press conference, Ying said that since late June, her office has received requests for help from 10 Taiwanese nationals in Cambodia, many of whom said they were being prevented from leaving the country until they paid fines for breaking their employment contracts.
After reporting the matter to police on July 5, at least one of the Taiwan-based leaders of the scams has been caught, but a broader investigation into the organizations has been held up by the lack of formal diplomatic ties between Cambodia and Taiwan, she said.
According to Ying, the fraud rings often invite applicants to interviews at expensive venues in Taiwan and after gaining their trust, persuade them to sign exploitative employment contracts. It is only after the prospective employees arrive in Cambodia that they realize it is a scam, she added.
At the press conference, Ying lamented that the government had mainly focused its efforts on dissuading potential trafficking victims at the airport from going to Cambodia, but had yet to put forward plans for rescuing Taiwanese who are already being held in Cambodia.
At the same time, she said that she "understood" the decision by the NGO Global Anti-Scam Org to stop undertaking rescue operations for Taiwanese and Malaysian nationals that arrived in Cambodia after Aug. 3.
While some of the victims of the scams may be innocent, others likely have prior fraud or drug convictions, making them less willing to report their ordeal to the authorities, she said, calling the situation "a test" for the National Police Agency.
Meanwhile, the Taipei Economic and Cultural Office (TECO) in Thailand on Tuesday cautioned that fraud rings had been using Thailand as a transit point to evade suspicion, before smuggling their victims into Cambodia or Myanmar.
The office shared the story of a 17-year-old boy whom it said had been lured to the Cambodian city of Sihanoukville in April, but had managed to escape his captors and recently returned to Taiwan.
According to the office, upon arrival in Cambodia, the young man's passport was confiscated by his "company," which forced him to use messaging apps to recruit people for fraudulent investment schemes.
If an employee refused to work or performed poorly, managers would punish them with beatings or even electric shocks from a taser, the office said.
After being transferred several times to other organizations in Cambodia, the boy was "sold" to a group in Myanmar, the office said. While being driven through Thailand on the way to that country, it said, the boy and a friend were able to flee, and with assistance from an international NGO, he was able to get in contact with Taiwan's representative office.
On Monday, Taiwan's National Police Agency said that based on flight records, there are likely around 2,000 Taiwanese trafficking victims currently in Cambodia against their will, though the number could be as high as 5,000.
Update
Aug. 18: 333 Taiwanese job scam victims remain trapped in Cambodia: Cabinet
Aug. 17: Woman detained in NT$100,000-per victim Cambodia fraud ring case
Aug. 16: Alarmed by job scams, job bank removes 179 overseas job postings
Aug. 15: 9 Taiwanese victims of Cambodia job scam brought home
Aug. 13: Two arrested over trafficking individuals for Cambodia telecoms scams
Aug. 11: Taiwan forms task force to help Taiwanese trafficking victims in Cambodia
View All