CORONAVIRUS
/
Taiwan reports 34,827 new COVID-19 cases, 96 deaths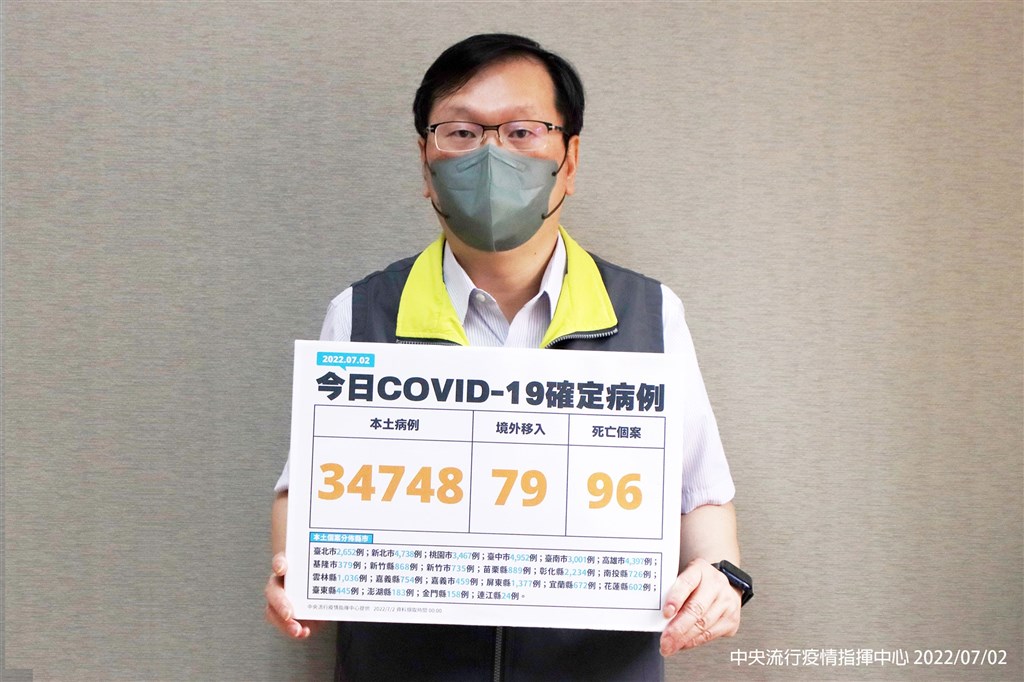 Taipei, July 2 (CNA) Taiwan reported 34,827 new COVID-19 cases on Saturday, with all but 79 being domestic infections, and 96 deaths from the disease, according to the Central Epidemic Command Center (CECC).
The patients whose deaths were reported Saturday ranged in age from 40 to over 90. They included 90 individuals who had chronic illnesses or other severe diseases and 41 who had not received any doses of a COVID-19 vaccine, the CECC said.
The other deaths include 55 people who had been vaccinated, including 35 who got at least three doses, and six people who did not have a chronic or serious illness. Of those who died, four had received three doses of vaccine and did not have any prior chronic or serious illness.
Severe, moderate infections
Of the 3,773,671 domestic cases reported in Taiwan this year, 7,018 have been classified as severe infections and 9,319 as moderate, accounting for 0.19 percent and 0.25 percent of the total, respectively, according to CECC data as of July 1.
In all other cases, the infected individuals were either asymptomatic or had mild symptoms, the CECC said.
Among the 250 new moderate cases added Saturday are seven children and one teenager, the CECC said.
Regional breakdown
On Saturday, Taichung reported the highest number of domestic cases, with 4,952, followed by New Taipei with 4,738, and Kaohsiung with 4,397.
Taoyuan recorded 3,467 cases, Tainan 3,001, Taipei 2,652, Changhua County 2,234, Pingtung County 1,377, Yunlin County 1,036, Miaoli County 889, Hsinchu County 868, Chiayi County 754, Hsinchu City 735, Nantou County 726, and Yilan County 672.
Hualien County reported 602 cases, Chiayi City 459, Taitung County 445, Keelung 379, Penghu County 183, Kinmen County 158, and the Matsu Islands 24.
To date, Taiwan has recorded 3,837,856 COVID-19 cases since the pandemic began in early 2020, including 3,823,003 domestic infections.
With the 96 deaths reported Saturday, the number of confirmed COVID-19 fatalities in the country rose to 6,868 since the pandemic began.
Recent cases
July 1: Taiwan reports 35,800 new COVID-19 cases, 121 deaths
June 30: Taiwan reports 38,942 new COVID-19 cases, 118 deaths
June 29: Taiwan reports 42,204 new COVID-19 cases, 85 deaths
June 28: Taiwan reports 44,428 new COVID-19 cases, 103 deaths
June 27: Taiwan reports 28,580 new COVID-19 cases, 91 deaths
View All