CORONAVIRUS
/
Taiwan reports 42,204 new COVID-19 cases, 85 deaths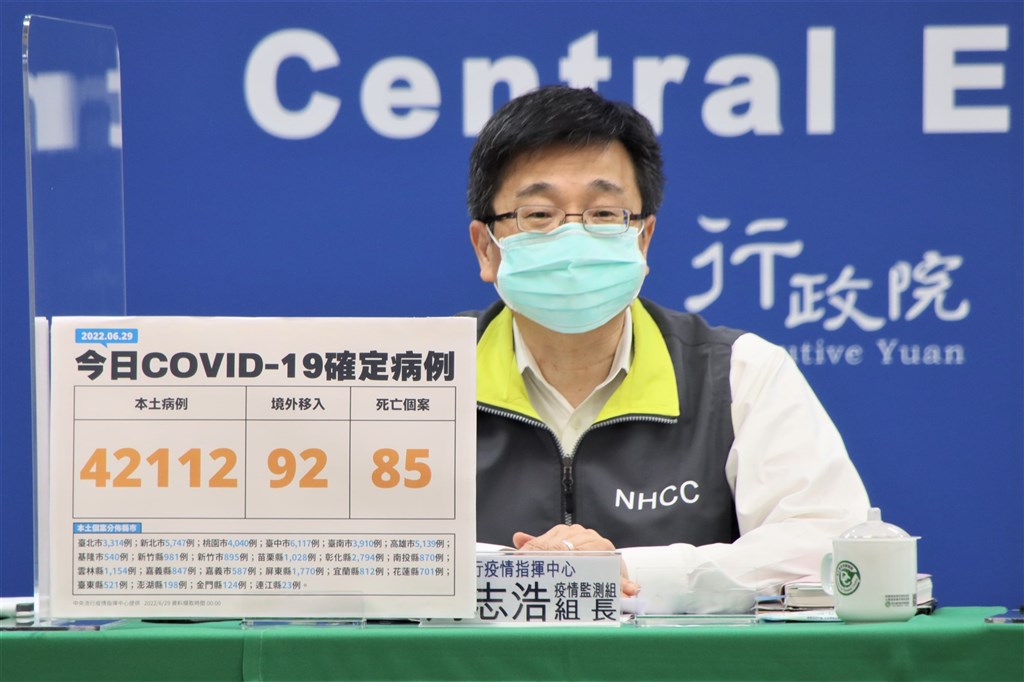 Taipei, June 29 (CNA) Taiwan reported 42,204 new COVID-19 cases on Wednesday, all but 92 of which were domestic infections, and 85 deaths from the disease, according to the Central Epidemic Command Center (CECC).
It was the second time in June that daily deaths fell below 100, CECC data showed.
The 85 patients whose deaths were reported Wednesday ranged in age from their 30s to 90s. They included 81 individuals who had chronic illnesses or other severe diseases and 35 who were unvaccinated, the CECC said.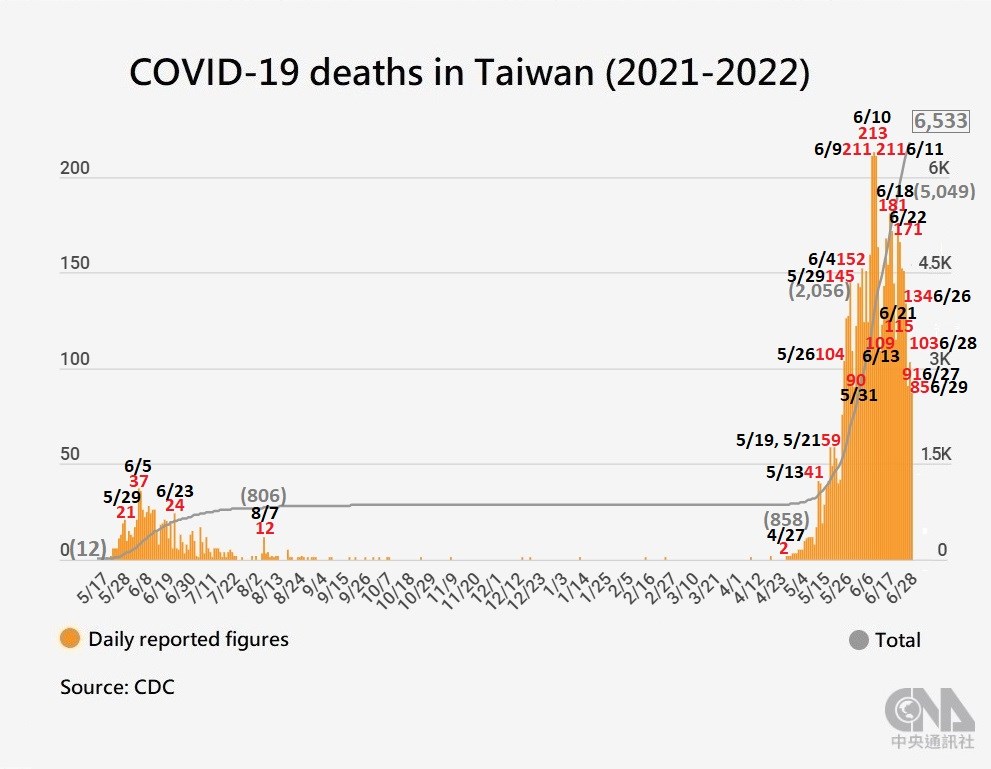 Severe, moderate infections
The CECC also said that 80 previously reported COVID-19 cases had become severe, while 147 other individuals had developed moderate symptoms.
Of the 3,657,252 domestic cases reported in Taiwan this year, 6,638 have been classified as severe infections and 8,855 as moderate, accounting for 0.18 percent and 0.24 percent of the total, respectively, according to CECC data as of June 28.
In all other cases, the infected individuals were either asymptomatic or had mild symptoms, the CECC said.
Regional breakdown
On Wednesday, Taichung recorded the highest number of domestic cases, with 6,117, followed by New Taipei with 5,747, and Kaohsiung with 5,139.
Taoyuan reported 4,040 cases, Tainan 3,910, Taipei 3,314, Changhua County 2,794, Pingtung County 1,770, Yunlin County 1,154, and Miaoli County 1,028.
Hsinchu County recorded 981 cases, Hsinchu City 895, Nantou County 870, Chiayi County 847, Yilan County 812, Hualien County 701, Chiayi City 587, Keelung 540, Taitung County 521, Penghu County 198, Kinmen County 124, and the Matsu Islands 23.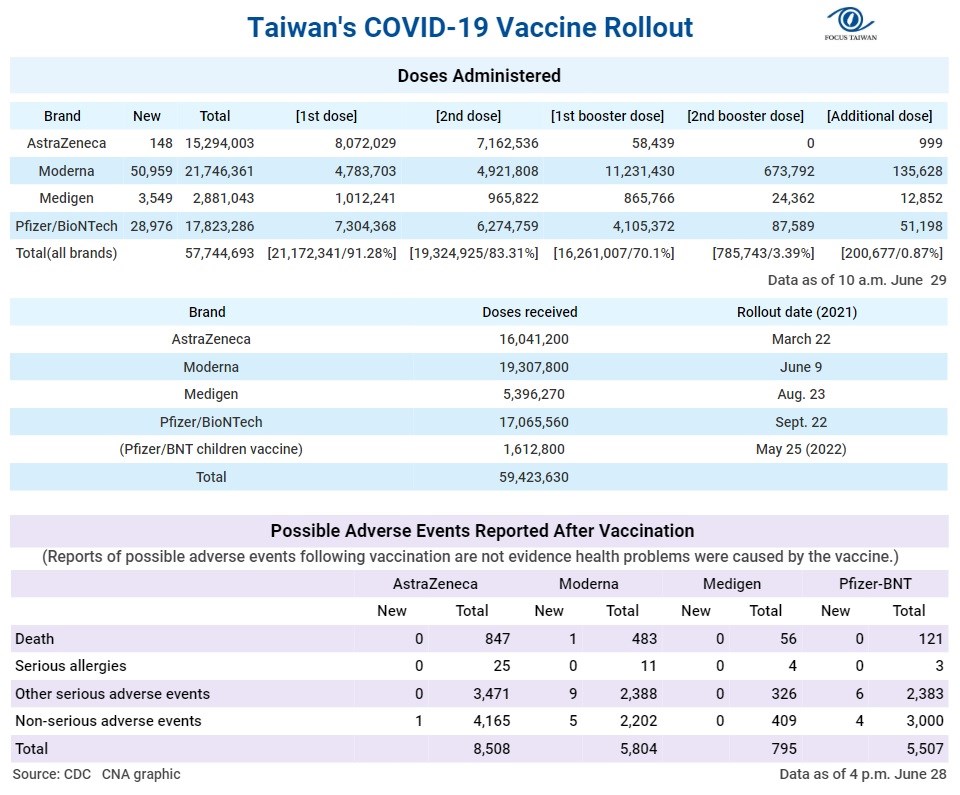 To date, Taiwan has recorded 3,728,363 COVID-19 cases since the pandemic began in early 2020, including 3,713,788 domestic infections.
With the 85 deaths reported Wednesday, the number of confirmed COVID-19 fatalities in the country rose to 6,533.
Also on Wednesday
June 29: Taiwan to maintain mask mandate through July
June 29: Preparations underway for COVID-19 vaccination of young children: CECC
June 29: Taiwan to take delivery of Novavax vaccine shipment Thursday
Recent cases
June 28: Taiwan reports 44,428 new COVID-19 cases, 103 deaths
June 27: Taiwan reports 28,580 new COVID-19 cases, 91 deaths
June 26: Taiwan reports 39,646 new COVID-19 cases, 134 deaths
June 25: Taiwan reports over 100 COVID-19 deaths for 25th consecutive day
June 24: Taiwan reports 45,767 new COVID-19 cases, 152 deaths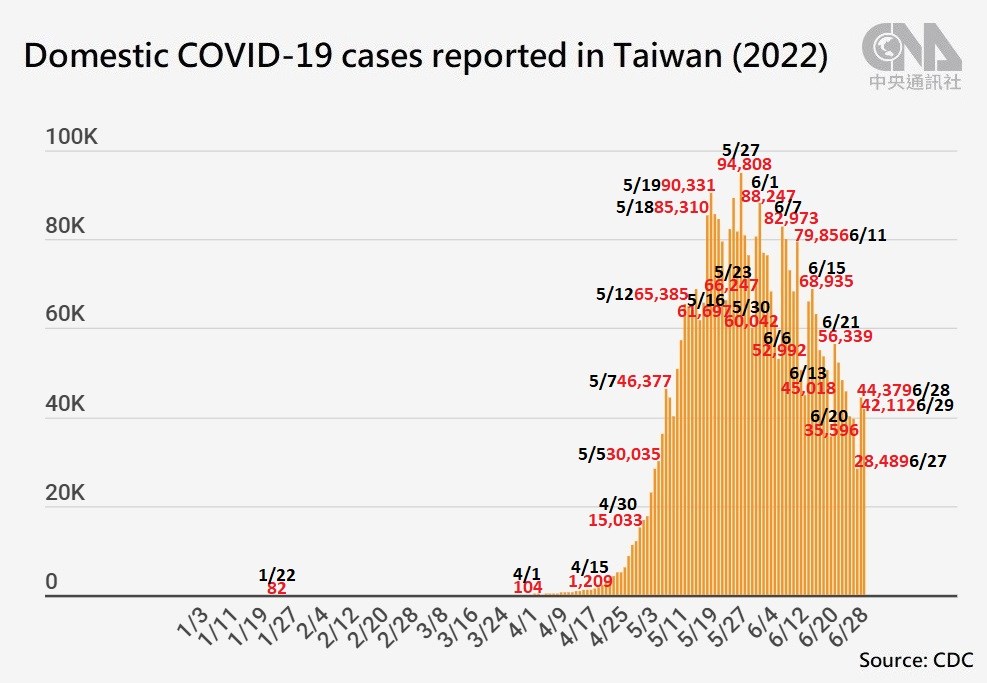 View All