CORONAVIRUS
/
7-day average of domestic COVID-19 cases falling: health minister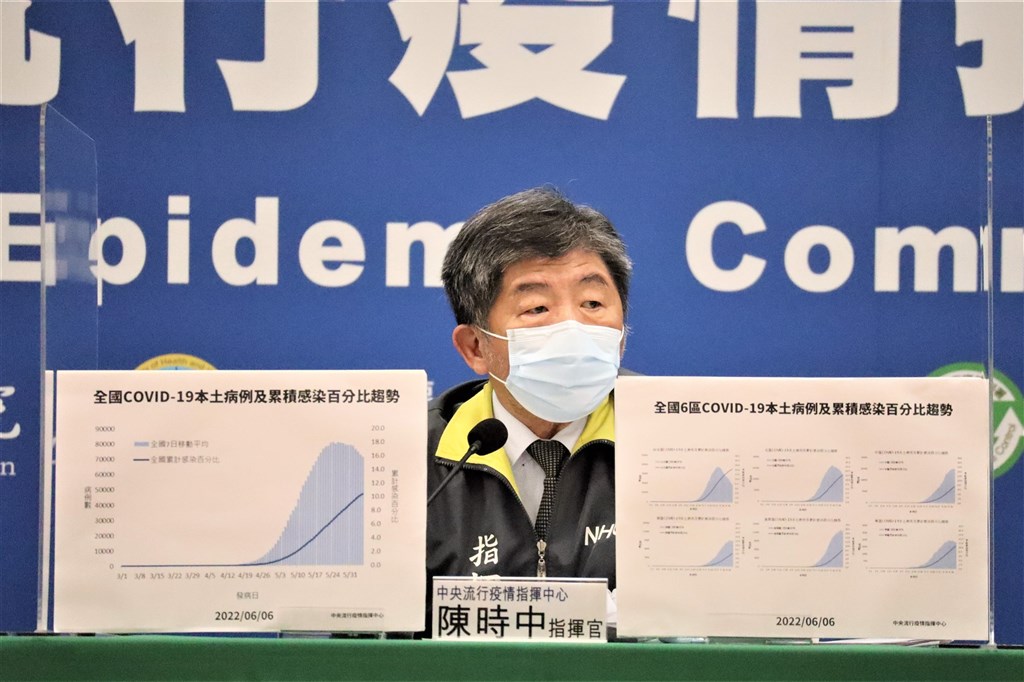 Taipei, June 6 (CNA) The seven-day moving average of domestic COVID-19 cases in Taiwan is falling, as the numbers continue to decline in northern areas of the country, Minister of Health and Welfare Chen Shih-chung (陳時中) said Monday.
The daily domestic case numbers have been ranging between 50,000 and 100,000 since May 10, and they peaked at 94,808 on May 27, according to the Central Epidemic Command Center (CECC).
At the CECC's daily press briefing, Chen said the seven-day moving average of domestic infections has been steadily declining over the past two weeks and the infection rate in Taiwan is now around 10 percent of the population.
Northern Taiwan, which recorded the highest number of cases in the earlier stages of the current COVID-19 wave, is now seeing a clear drop in infections, while the numbers are falling slightly in eastern parts of the country, he said.
The case numbers remain at a plateau in central Taiwan and are still rising in the south, Chen said.
Meanwhile, the 52,992 domestic cases reported nationwide Monday were the lowest since May 10, Chen said.
That, however, may have been a reflection of fewer tests conducted over the Dragon Boat Festival holiday this past weekend, he said, adding that further observation will be needed to see whether that trend continues.
At present, Taiwan's hospital bed vacancy for COVID-19 patients is 42.4 percent, according to Chen.
View All