CORONAVIRUS
/
Taiwan reports 76,605 new COVID-19 cases, 145 deaths
Taipei, May 29 (CNA) Taiwan on Sunday recorded 76,605 new COVID-19 cases and another single-day high of 145 deaths, according to the Central Epidemic Command Center (CECC).
The country's previous daily record for COVID-19 deaths was 127 on Saturday, according to CECC data.
The 145 people reported Sunday to have died of COVID-19 complications ranged in age from their 30s to 90s and included 136 who had chronic illnesses or other severe diseases, the CECC said.
Ninety-five of the new COVID-19-related deaths were among people aged 80 and over, while 70 were people who had not been vaccinated against COVID-19, according to the CECC.
The youngest fatality reported Sunday was a man in his 30s, who suffered from chronic lung and kidney diseases. He died of pneumonia and sepsis after contracting COVID-19, the CECC said.
The CECC also said Sunday that 168 previously-reported COVID-19 cases had developed into severe infections, while 210 other patients had developed moderate symptoms of the disease.
The newly reported severe cases included 1-year-old girl and a 6-year-old boy, both of whom had developed encephalitis but have since improved with medical treatment and are no longer on ventilators, the CECC said.
Of the 1,788,230 domestic cases recorded in Taiwan this year, 1,454 have been classified as severe infections and 3,363 as moderate, accounting for 0.08 percent and 0.19 percent of the total, respectively, according to CECC data valid as of May 29.
In all other cases, the patients were either asymptomatic or had mild infections, the CECC said.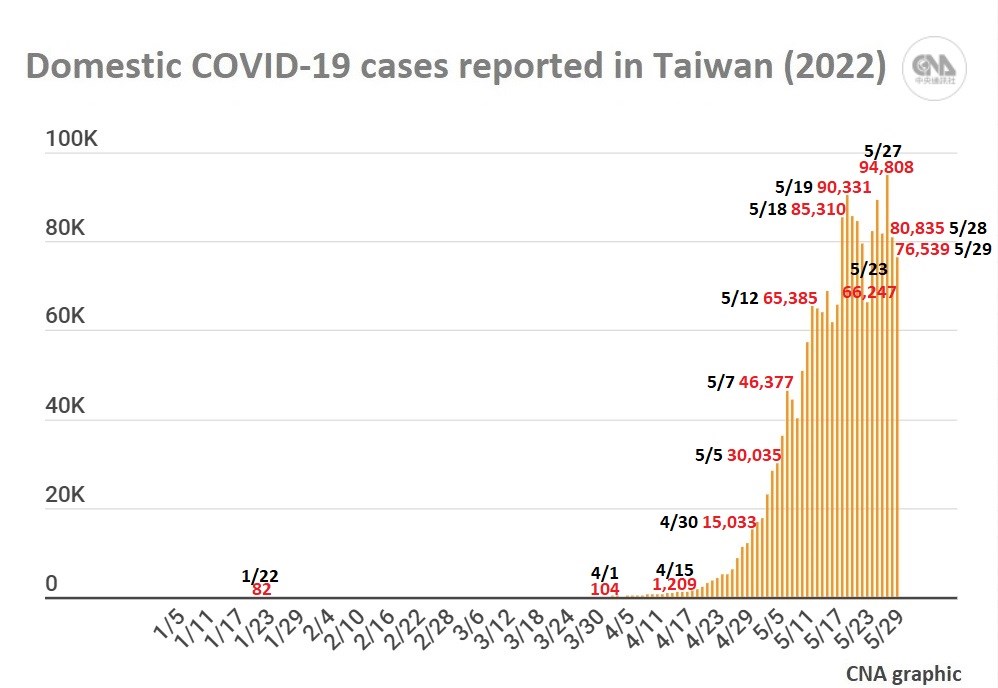 On Sunday, New Taipei reported the highest number of domestic cases, with 14,848, followed by Kaohsiung with 9,563, Taoyuan 9,379 and Taichung 8,959.
Taipei reported 7,402 cases, Tainan 5,913, Changhua 3,882, Pingtung 2,554, Hsinchu County 1,976, Hsinchu City 1,699, Miaoli 1,667, Yilan 1,558, Keelung 1,216, Hualien 1,112, Yunlin 1,059, Nantou 999, Chiayi County 955, Taitung 858, and Chiayi City 527.
Penghu reported 204 cases, Kinmen 179 and the Matsu Islands 30, the CECC said.
Meanwhile, of Sunday's 76,605 new COVID-19 cases, 66 were imported, including 37 travelers who had tested positive on arrival in Taiwan, according to the CECC.
To date, Taiwan has recorded 1,892,272 COVID-19 cases since the pandemic began in early 2020, including 1,879,336 domestic infections.
With the 145 deaths reported Sunday, the number of confirmed COVID-19 fatalities in the country rose to 2,056, CECC data showed.
Also on Sunday
● Taiwan COVID-19 News Briefs: May 29
May 29: Doctors mull factors for acute encephalitis in child COVID-19 cases
Related News
May 28: Border control easing depends on health system capacity: CECC
May 27: COVID to remain at 'high but stable plateau' for 2 weeks: health minister
May 27: Legislature approves one-year extension of COVID-19 relief act
Recent cases
May 28: Taiwan reports 80,881 COVID-19 cases, 127 deaths
May 27: Taiwan reports 94,855 new COVID-19 cases, 126 deaths
May 26: Taiwan reports 81,907 new COVID-19 cases, 104 deaths
May 25: Taiwan reports 89,389 new COVID-19 cases, 76 deaths
View All