CORONAVIRUS
/
Taiwan reports 81,907 new COVID-19 cases, 104 deaths
Taipei, May 26 (CNA) Taiwan recorded 81,907 new COVID-19 cases on Thursday -- 81,852 domestic infections and 55 imported -- and a single-day high of 104 deaths from the disease, according to the Central Epidemic Command Center (CECC).
The country's previous daily record for COVID-19 deaths was 76 on Wednesday, according to CECC data.
The 104 people reported Thursday to have died of COVID-19 complications ranged in age from 1 year old to over 90, including 97 who had chronic illnesses or other severe diseases, the CECC said.
Among the fatalities were two girls under the age of 5 years -- a 1-year-old who died of septic shock after contracting COVID-19, and a 4-year-old who had developed encephalitis, or inflammation of the brain, and multiple organ failure, according to the CECC said.
The CECC also said Thursday that 91 people who had previously been reported as COVID-19 cases had developed severe infections, while 242 others had developed moderate symptoms of the disease.
One of the patients, a 7-year-old boy who has cancer, was hospitalized when he was diagnosed with bacterial pneumonia after testing positive for COVID-19, and he is now in an intensive care unit, the CECC said.
Of the 1,531,055 domestic cases recorded in Taiwan this year, 995 have been classified as severe infections and 2,693 as moderate, accounting for 0.06 percent and 0.18 percent of the total, respectively, according to CECC data valid as of May 25.
In all other cases, the patients were either asymptomatic or had mild infections, the CECC said.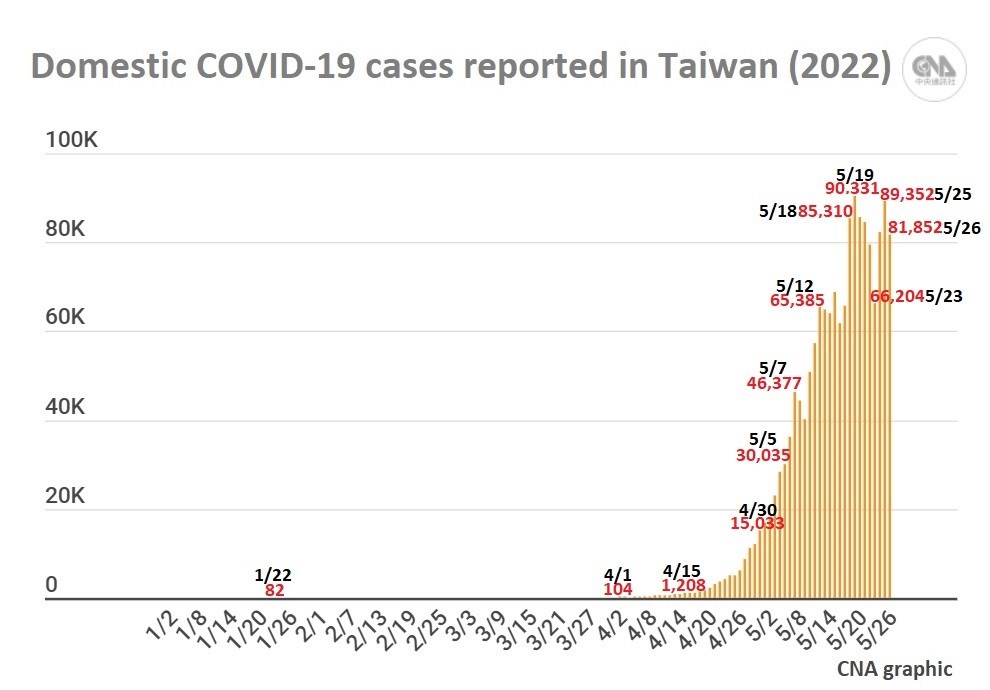 New Taipei reported the highest number of domestic cases Thursday, with 17,632, followed by Taichung with 9,944, Taoyuan with 9,484, and Taipei with 9,062.
Kaohsiung reported 8,566 cases, Tainan 5,871, Changhua County 3,281, Pingtung County 2,623, Hsinchu County 2,282, Yilan County 2,041, Miaoli County 1,700, Keelung City 1,690, and Hsinchu City 1,679.
Hualien County reported 1,291 cases, Yunlin County 1,105, Nantou County 1,004, Chiayi County 920, Taitung County 749, Chiayi City 552, Penghu County 206, Kinmen County 182, and the Matsu Islands 18.
To date, Taiwan has confirmed 1,640,271 COVID-19 cases since the pandemic began in early 2020, including 1,627,494 domestic infections.
With the 104 deaths reported Thursday, the number of confirmed COVID-19 fatalities in the country rose to 1,658, with 805 recorded this year.
Also on Thursday
● Taiwan COVID-19 News Briefs: May 26
May 26: Self-health management rule for migrant workers to be relaxed from Friday
May 26: COVID-19 death rate exceeding 0.1 percent a warning: health minister
May 26: Two children under 5 die from COVID-19 complications
May 26: Economically disadvantaged groups to receive free COVID rapid tests: official
Related News
May 25: Rapid test positives to be counted as COVID-19 cases from May 26
May 24: COVID-19 outbreak could peak by early June: CECC
May 23: Paxlovid treatment now eligible for postpartum women with COVID-19
Recent cases
May 25: Taiwan reports 89,389 new COVID-19 cases, 76 deaths
May 24: Taiwan reports 82,435 new COVID-19 cases, 42 deaths
May 23: Taiwan reports 66,283 new COVID-19 cases, 40 deaths
May 22: Taiwan reports 79,487 new COVID-19 cases, 53 deaths
View All