CORONAVIRUS
/
Taiwan reports 85,761 new COVID-19 cases, 49 deaths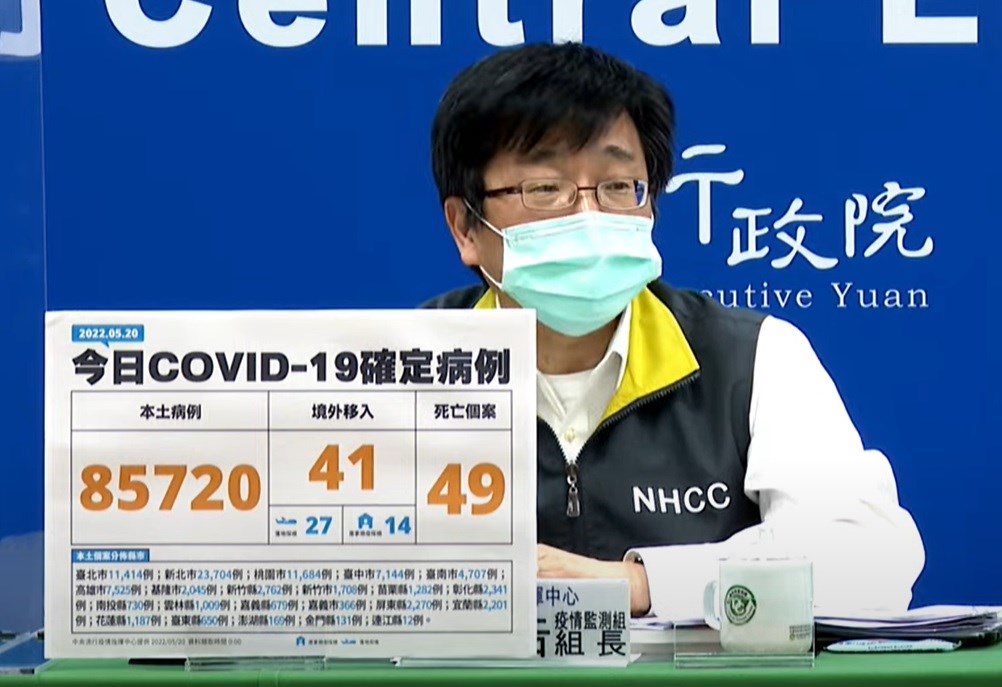 Taipei, May 20 (CNA) Taiwan recorded 85,761 new COVID-19 cases and 49 deaths Friday, down slightly from the 90,378 new COVID-19 infections and 59 deaths from the disease reported a day earlier, according to the Central Epidemic Command Center (CECC).
The new cases consisted of 85,720 domestic infections and 41 that were contracted abroad, the CECC said.
The 49 people who died were in their 30s to 90s, the CECC said, and 21 of the 49 were unvaccinated, while 14 had received three vaccine jabs. A total of 48 of 49 of those who died had chronic illnesses or suffered from severe diseases such as cancer, it said.
The youngest people who died were two men and a woman in their 30s who were all unvaccinated and had a history of underlying diseases, according to CECC data.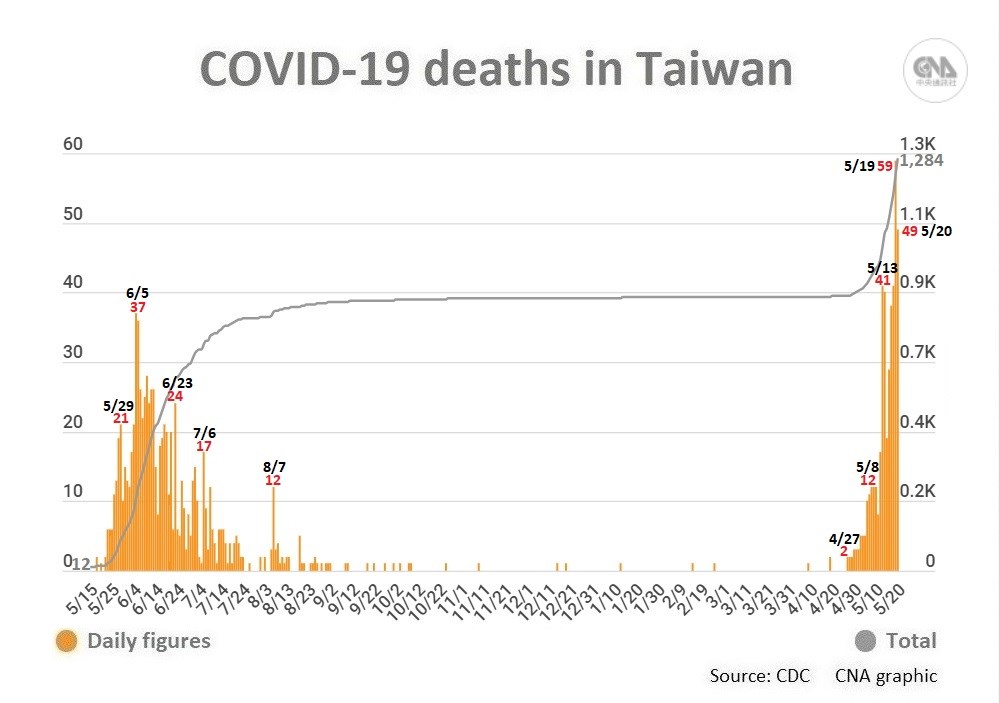 The CECC also reported Friday that 198 more people had developed moderate COVID-19 symptoms and 39 more people had developed severe symptoms.
Of the 1,043,512 domestic cases recorded in Taiwan from Jan. 1 to May 19, 1,726 have been classified as moderate infections and 535 as severe, accounting for 0.17 percent and 0.05 percent of the total, respectively, according to CECC data.
In all the other cases, the patients were either asymptomatic or had only mild symptoms, the CECC said.
On Friday, New Taipei reported the highest number of domestic cases -- 23,704 -- followed by Taoyuan with 11,684, Taipei with 11,414, Kaohsiung with 7,525, and Taichung with 7,144.
Tainan reported 4,707 cases, Hsinchu County 2,762, Changhua County 2,341, Pingtung County 2,270, Yilan County 2,201, Keelung 2,045, Hsinchu City 1,708, Miaoli County 1,282, Hualien County 1,187, Yunlin County 1,009, Nantou County 730, Chiayi County 679, Taitung County 650, and Chiayi City 366.
Penghu County reported 169 cases, Kinmen County 131, and the Matsu Islands 12.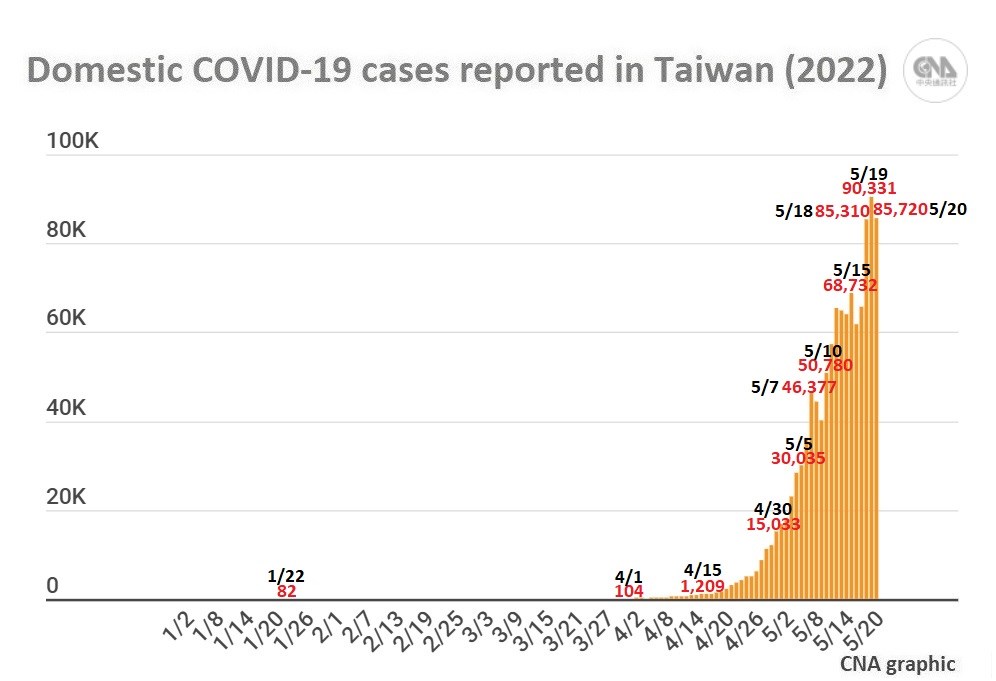 Meanwhile, of the 41 new imported cases, 27 were travelers who tested positive on arrival in Taiwan, according to the CECC.
To date, Taiwan has confirmed 1,156,291 COVID-19 cases since the pandemic began in early 2020, with all but 12,432 domestically transmitted.
With the 49 deaths reported Friday, the number of confirmed COVID-19 fatalities in the country reached 1,284, with 431 recorded this year.
Taiwan recorded 90,378 new COVID-19 infections and 59 deaths from the disease on Thursday, topping 90,000 daily cases for the first time and bringing the total number of domestic cases to over 1 million since the start of the pandemic.
Also on Friday
● Taiwan COVID-19 News Brief: May 20
May 20: Ministry hoping digital tools will help ease quarantine notice chaos
Related News
May 19: COVID-19 outbreak in 'mass spread' stage, to peak in late May: MOHW
May 17: CECC further tightens COVID-19 hospital admissions policy
May 16: CECC revokes isolation rule for boosted housemates of COVID-19 patients
May 15: Taiwan receives first shipment of Pfizer-BNT vaccines for children
April 20: Taiwan approves Moderna vaccine for children aged 6-11
Recent cases
May 19: Taiwan's daily COVID-19 cases top 90,000; total number exceeds 1 million
May 18: Taiwan's daily COVID-19 cases top 80,000 for first time
May 17: Taiwan reports 65,833 new COVID-19 cases, 38 deaths
May 16: Taiwan reports 61,754 new COVID-19 cases, 29 deaths
May 15: Taiwan reports 68,769 new COVID-19 cases, 19 deaths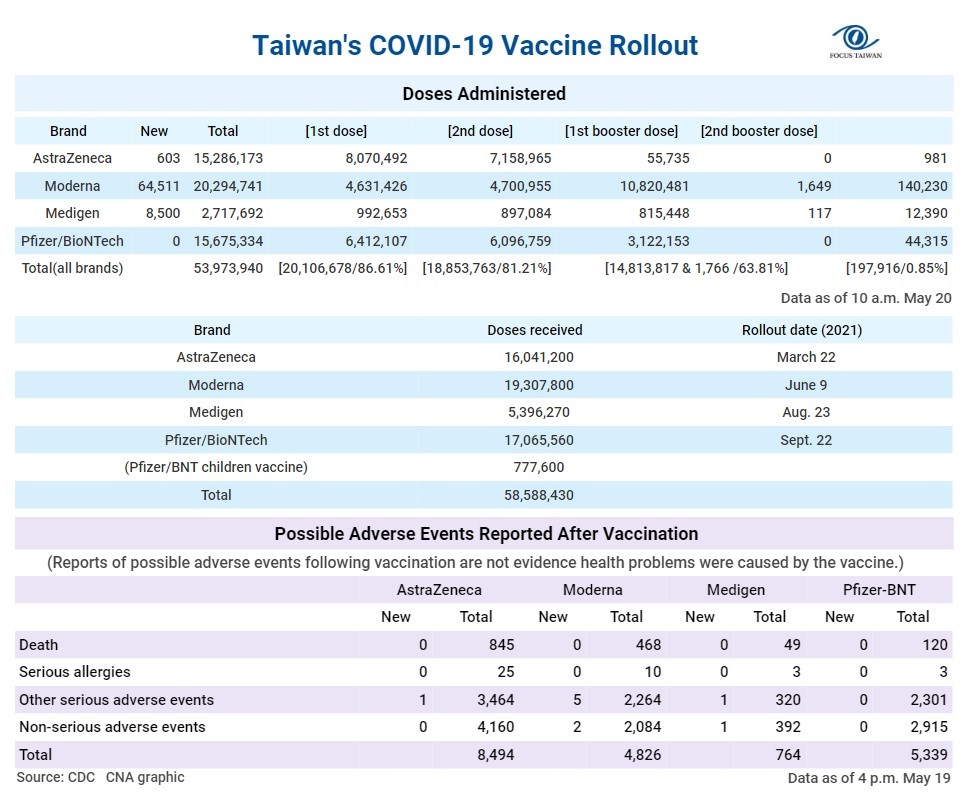 View All