CORONAVIRUS
/
Taiwan COVID-19 News Brief: May 17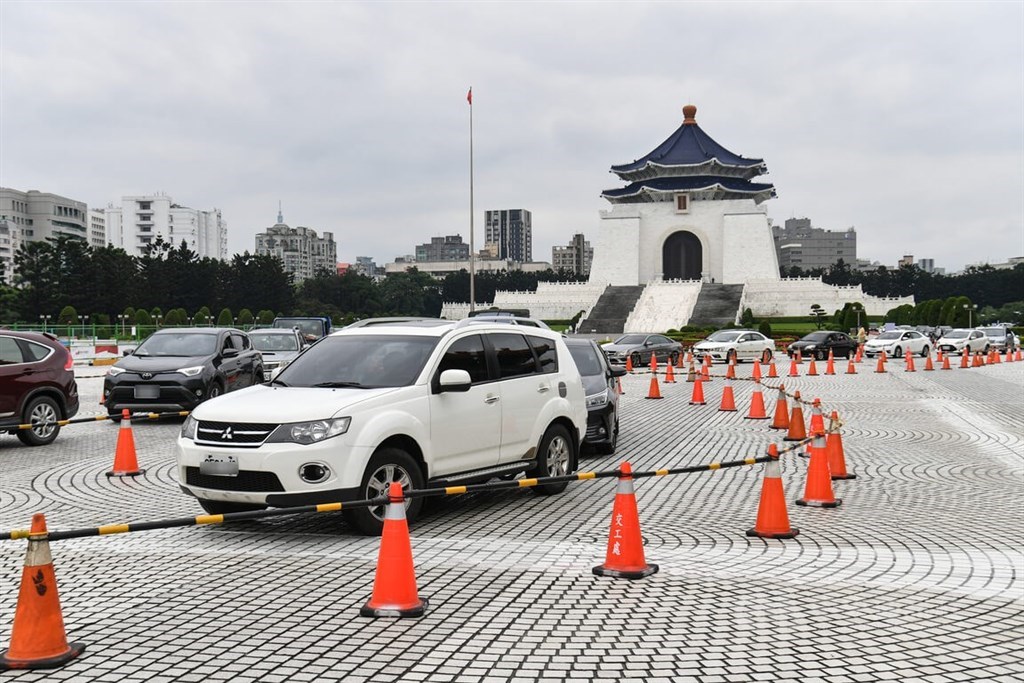 Taipei, May 17 (CNA) Taiwan reported 65,833 new COVID-19 cases on Tuesday -- 65,794 domestically transmitted and 39 contracted abroad -- and 38 deaths from the disease, according to the Central Epidemic Command Center (CECC).
Here are some of the latest developments regarding the COVID-19 situation around Taiwan on Tuesday:
Cases yet to peak
Health Minister Chen Shih-chung (陳時中) said Tuesday it would be "overly optimistic" to think that Taiwan's six straight days of over 60,000 new COVID infections meant the outbreak had peaked but denied that the numbers were being suppressed by insufficient testing.
"The experience of other countries shows ... that bottlenecks occur when you reach around 70 percent of your maximum testing capacity, at which point large numbers of infections begin to go undetected," Chen said at the CECC's daily press briefing.
Taiwan, by contrast, has a maximum daily testing capacity of around 220,000, but has recently only been testing 80,000-100,000 people per day, meaning that it has yet to reach such a "saturation" point, he said.
Second booster shot uptake
A total of 588 people received a second COVID-19 booster shot after they were made available to select high-risk groups on Monday, according to new CECC data released Tuesday.
The recipients of the jab included 273 people aged 65-74, 102 medical workers, 90 people who are in care facilities or are receiving dialysis, and 59 people aged 75 and above, the data shows.
The CECC has authorized fourth COVID-19 vaccine shots for people aged 65 and older, residents of long-term care institutions, and people aged 18 and over with illnesses that compromise their immune systems.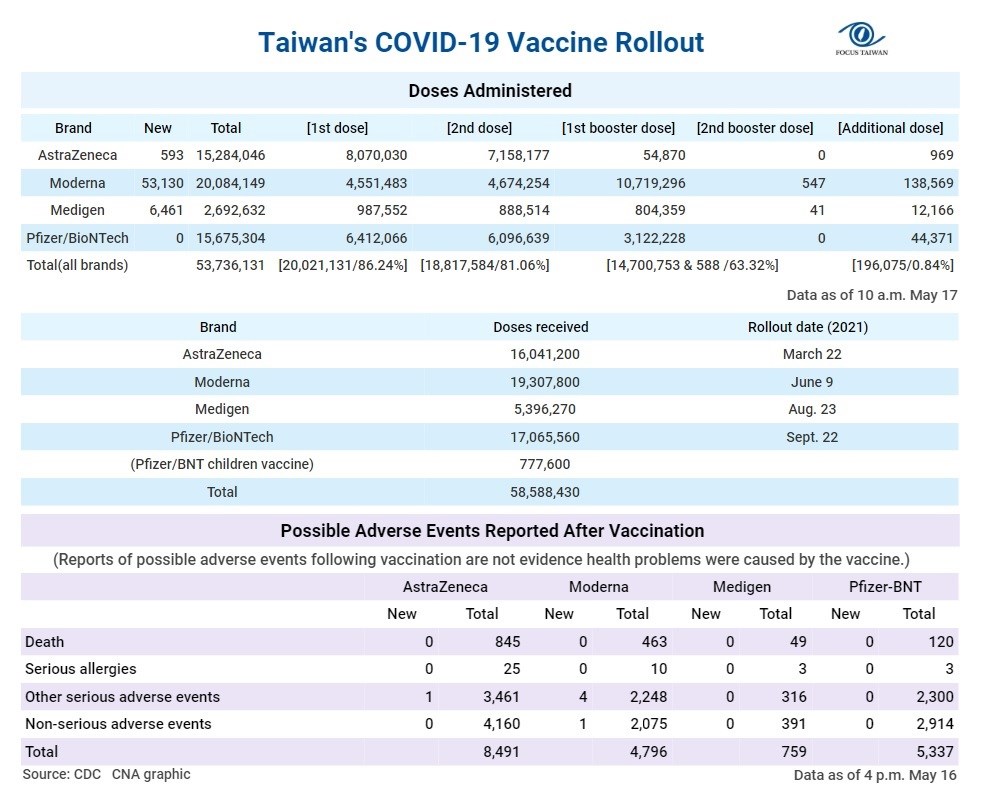 U.S. CDC raises Taiwan's COVID-19 risk assessment level
Meanwhile, the United States Centers for Disease Control and Prevention (CDC) raised Taiwan's COVID-19 risk assessment level to "high," adding it to a list of over 100 other destinations worldwide.
The listing means that Taiwan has had over 100 cases of COVID-19 per 100,000 residents in the last 28 days.
People who travel to countries with a high-risk assessment level are advised to get up to date with their COVID-19 vaccines and to wear a mask in public and indoor places, according to the CDC.
Taichung
Starting Wednesday, Taichung will be offering "upgraded" parent-child COVID-19 testing services at eight major hospitals.
The services will allow one child under age 18, as well as up to two relatives accompanying them, to use the hospitals' priority COVID-19 testing lanes, according to Mayor Lu Shiow-yen (盧秀燕).
Earlier this month, Taichung launched a program allowing children to receive priority COVID-19 testing at 130 pediatric clinics and 11 hospitals citywide. However, many parents noted that after getting their children tested, they had to go visit a second location to get tested themselves, Lo said, explaining the need for the new testing option.
The parent-child testing services will be offered at Taichung Veterans General Hospital, China Medical University Hospital, Taichung Hospital MOHW, Feng Yuan Hospital, Jen-Ai Hospital Dali Branch, Tungs' Taichung MetroHarbor Hospital, and at the Shalu and Dajia branches of Kuang Tien General Hospital.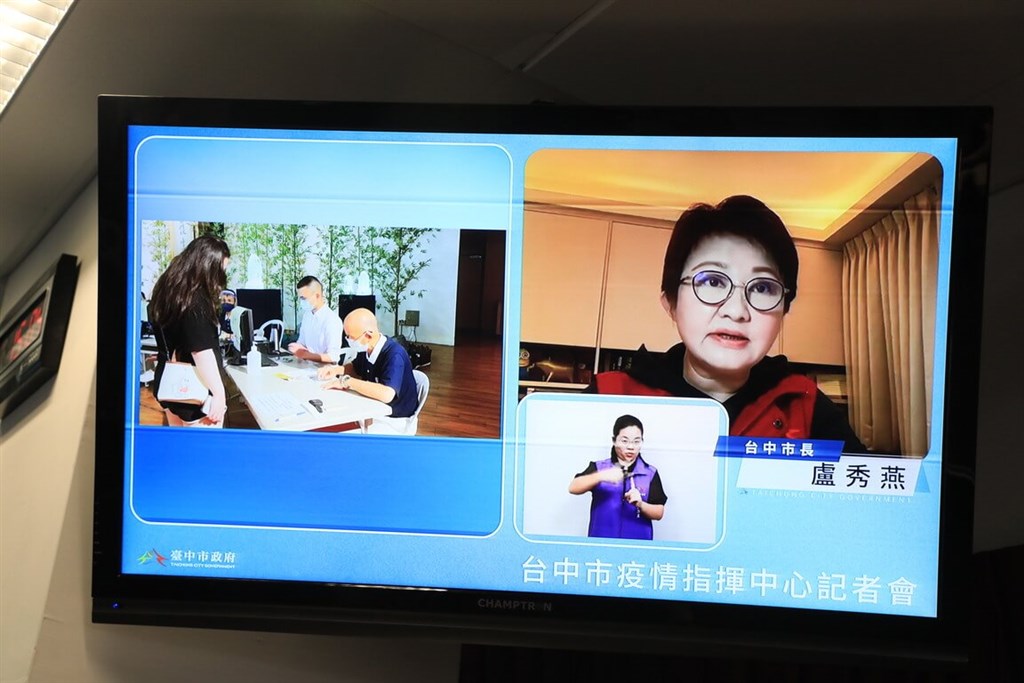 Keelung
Keelung City said it had opened the country's first facility to take in residents of long-term care homes evacuated due to a COVID-19 outbreak.
The 20-bed facility has been set up on an empty floor at the Keelung City Ren'ai Senior Citizens Home, Mayor Lin Yu-chang (林右昌) said.
Lin said that because many nursing homes in Taiwan were small-scale operations, often with fewer than 50 residents housed on a single floor, it could be extremely difficult to effectively isolate residents once an outbreak has occurred.
Tainan
Tainan's National Cheng Kung University Hospital (NCKUH) will open a special ward on Friday to accommodate pregnant COVID-19 patients who are due to give birth.
According to NCKUH President Shen Meng-ru (沈孟儒), the specialized ward will consist of 15 labor and recovery rooms, 15 rooms for mothers and their newborns, and 8 newborn ICU beds.
Shen noted that around 1,000 babies are born in Tainan every month. Assuming a 10 percent rate of infection, this means that around 100 of those mothers will test positive for COVID-19, he said, adding that at NCKUH alone, 15 women with COVID-19 had given birth since April 26.
Hsinchu County
Hsinchu County announced that it has opened a new 36-room hotel for COVID-19 patients, with priority given to seniors aged 65-79 and women 35 weeks pregnant and under who have mild or asymptomatic infections.
Individuals who are unable to quarantine at home can inquire about transferring to the hotel when they are contacted by the Hsinchu County Public Health Bureau, the county government said.
The county's admissions criteria for pregnant women differ from a new national policy the CECC announced Tuesday, under which only women 36 weeks pregnant or over are automatically admitted to designated quarantine centers or hotels.
Related News
May 17: Taiwan reports 65,833 new COVID-19 cases, 38 deaths
May 17: CECC further tightens COVID-19 hospital admissions policy
May 17: Taipei to provide 15,000 more Pfizer-BNT doses in latest booking round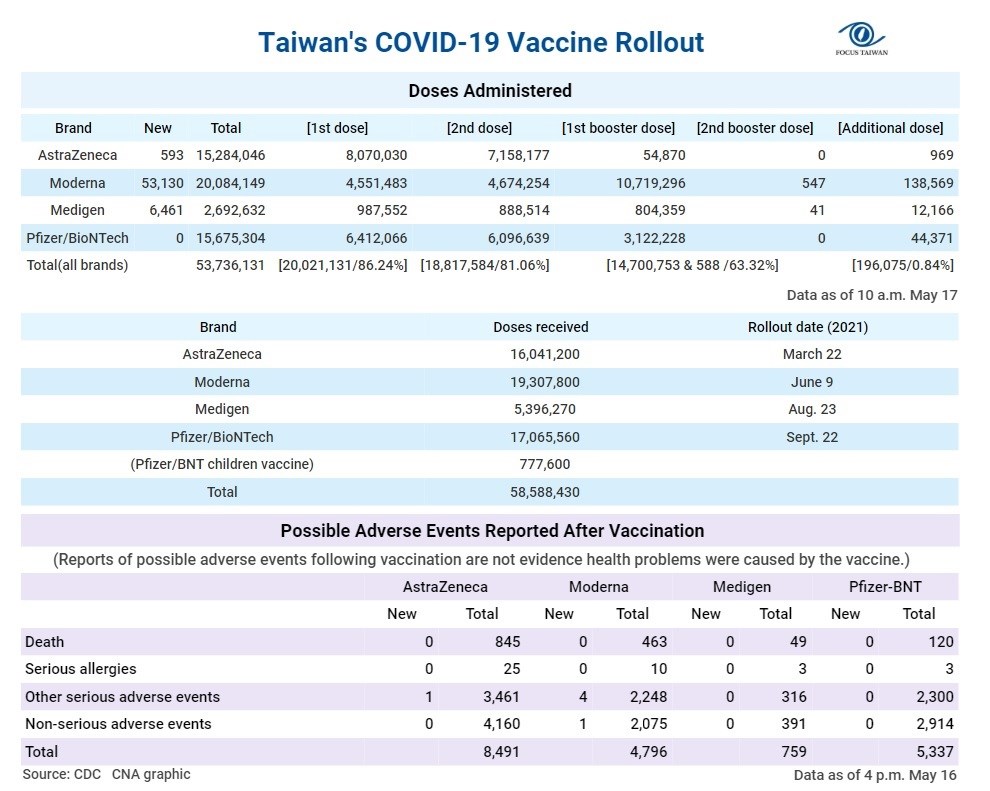 View All