CORONAVIRUS
/
Taiwan reports 65,011 new COVID-19 cases, 41 deaths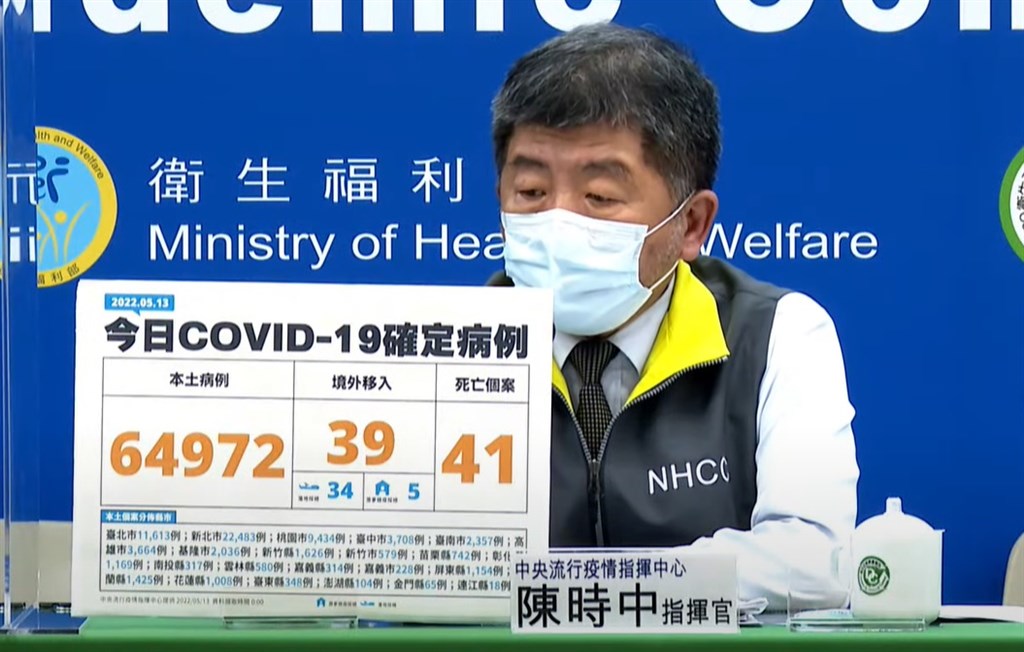 Taipei, May 13 (CNA) Taiwan saw its single-day COVID-19 cases surpass 60,000 for the second straight day on Friday, with the Central Epidemic Command Center (CECC) reporting 65,011 new cases and 41 deaths from the disease.
The new cases consisted of 64,972 domestically transmitted infections and 39 cases that were contracted abroad, the CECC said.
Of the 41 people reported on Friday to have died of COVID-19 complications, 18 were men and 23 were women who ranged in age from their 50s to their 90s. They tested positive between April 8 and May 10, and passed away between May 2 and May 10, according to CECC data.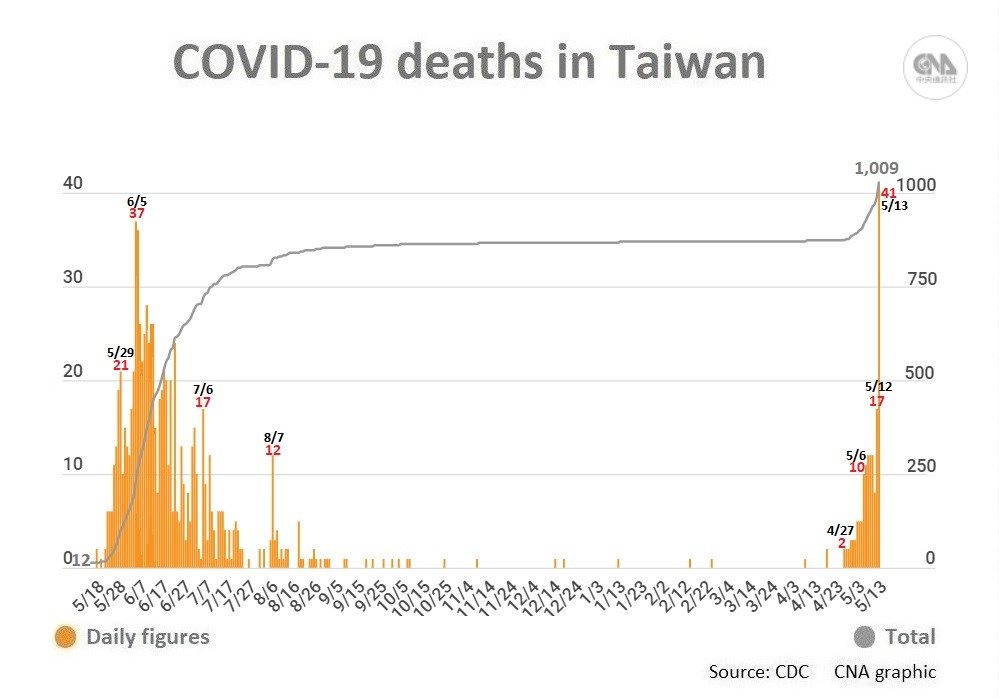 Among them, 21 were unvaccinated against COVID-19, while six had received one dose of a COVID-19 vaccine, two had received two doses, and 12 had received three doses, according to CECC data.
A total of 40 people out of the 41 who died had underlying medical conditions, including cardiovascular disease, diabetes, chronic lung disease, chronic kidney disease, stroke, and cancer, according to CECC data.
The CECC also reported Friday that an additional 165 patients had developed moderate symptoms and 52 had developed severe symptoms.
Of the 544,161 domestic cases recorded in Taiwan from Jan. 1 to May 12, 965 have been classified as moderate infections and 225 as severe, accounting for 0.18 percent and 0.04 percent of the total, respectively, according to CECC data.
In all the other cases, the patients were either asymptomatic or had only mild symptoms, the CECC said.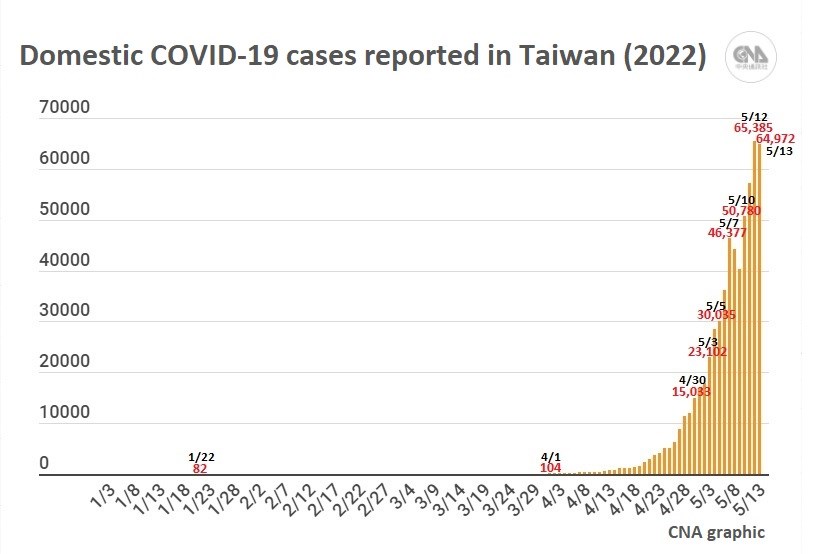 On Friday, New Taipei reported the highest number of domestic cases -- 22,483 -- followed by Taipei with 11,613, Taoyuan with 9,434, Taichung with 3,708, and Kaohsiung with 3,664.
Tainan reported 2,357 cases, Keelung 2,036, Hsinchu County 1,626, Yilan County 1,425, Changhua County 1,169, Pingtung County 1,154, Hualien County 1,008, Miaoli County 742, Yunlin County 580, Hsinchu City 579, Taitung County 348, Nantou County 317, Chiayi County 314, and Chiayi City 228.
Penghu County reported 104, Kinmen County 65, and the Matsu Islands 18.
Meanwhile, of the 39 new imported cases, 34 were travelers who tested positive on arrival in Taiwan, according to the CECC.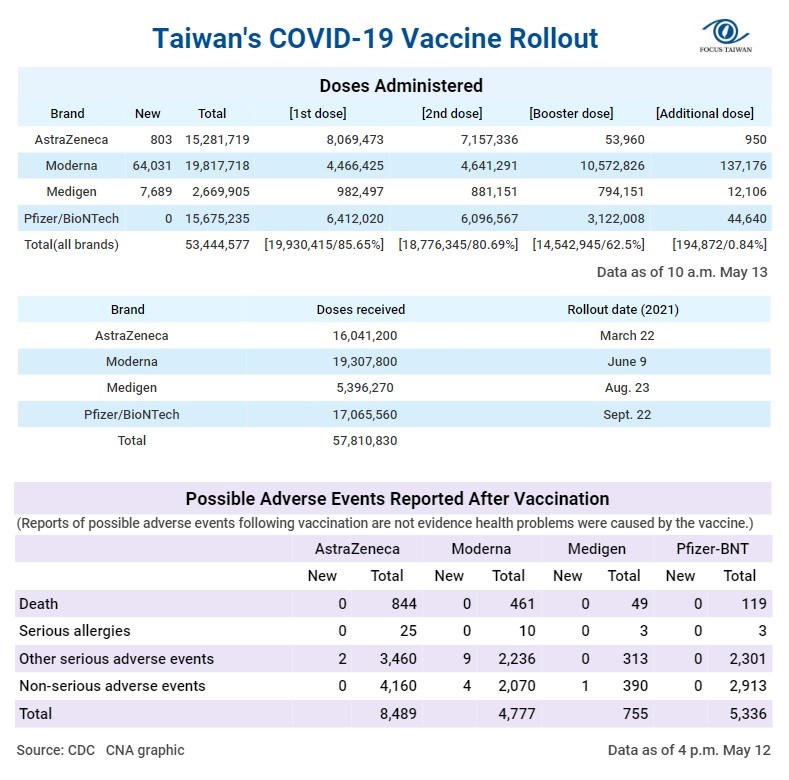 To date, Taiwan has confirmed 635,870 COVID-19 cases since the pandemic began in early 2020, including 623,724 domestically transmitted infections.
With the 41 deaths reported Friday, the number of confirmed COVID-19 fatalities in the country reached 1,009, with 156 recorded this year.
Also on Friday
● Taiwan COVID-19 News Brief: May 13
May 13: COVID-19 treatment channels for children to be set up: CECC
May 13: 7-Eleven, Cosmed to sell COVID-19 saliva-based test kits from Saturday
May 13: CECC adds '3+4', traveler rapid test confirmation option
May 13: Taiwan to roll out fourth COVID-19 vaccine doses next week: CECC
May 13: 'Taipei rapid tests requisitioned for Kaohsiung' rumor suspect apologizes
Related News
● Q&A/What to do if you or your contacts get COVID-19
May 11: Three groups of people with positive rapid test results to be counted as COVID-19 cases
May 7: Quarantine cut to 7 days for mild, asymptomatic COVID-19 cases: CECC
May 7: Taiwan rolls back quarantine rules for contacts of COVID-19 patients
May 4: Taiwan adjusts hospital policy for COVID-19 patients
Recent cases
May 12: Taiwan reports 65,446 new COVID-19 cases, 17 deaths
May 11: Taiwan reports 57,216 new COVID-19 cases, eight deaths
May 10: Taiwan reports 50,828 new COVID-19 cases, 12 deaths
May 9: Taiwan reports 40,304 new COVID-19 cases, 12 deaths
View All