CORONAVIRUS
/
Taiwan ends April with record 15,149 new COVID-19 cases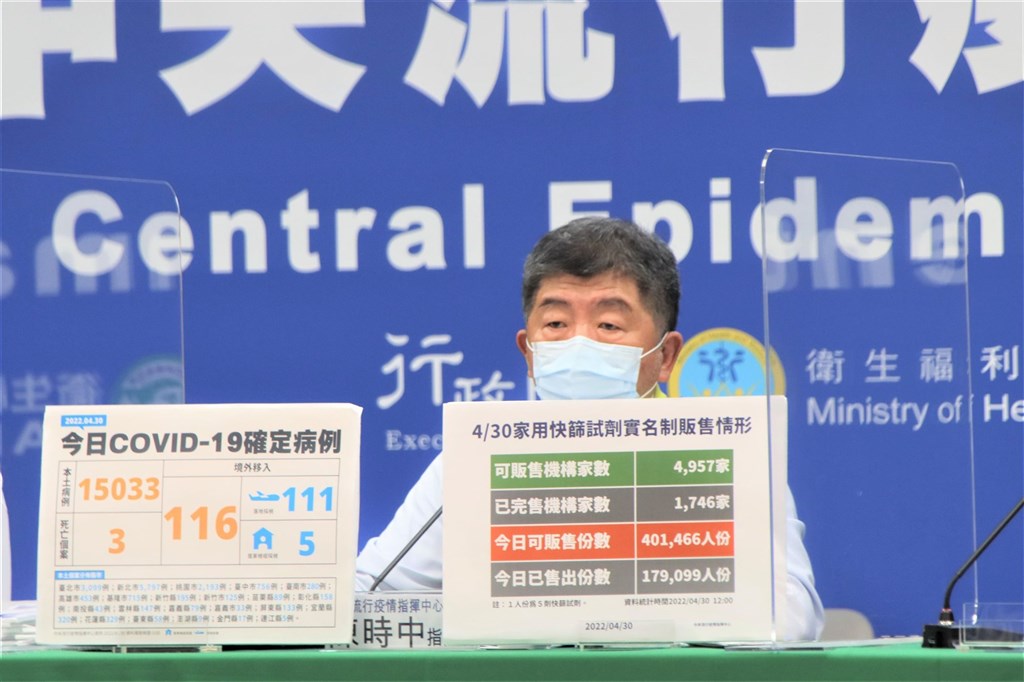 Taipei, April 30 (CNA) Taiwan reported 15,149 new COVID-19 cases as well as three deaths from the disease on Saturday, the third consecutive day the single-day total exceeded 10,000 cases, according to the Central Epidemic Command Center (CECC).
The new cases consisted of 15,033 domestically transmitted infections and 116 cases that were contracted abroad, Health Minister Chen Shih-chung (陳時中) said at a CECC briefing.
Of the new domestic cases reported Saturday, 8,108 were asymptomatic, according to the CECC.
Update
May 7: Quarantine cut to 7 days for mild, asymptomatic COVID-19 cases: CECC
May 7: Taiwan rolls back quarantine rules for contacts of COVID-19 patients
May 5: Rapid test positives to be counted as confirmed COVID cases from May 12
COVID-19 deaths
The CECC also reported three deaths from COVID-19 complications -- a man and a woman in their 80s and a woman in her 60s.
The man, who had kidney disease and died on April 23, was not vaccinated, while the two women had each received one dose of a COVID-19 vaccine, according to the CECC.
The woman in her 80s, who was diabetic, was taken to a hospital after being found unconscious at home on April 25 but did not recover.
The woman in her 60s, a cancer patient who was tested for COVID-19 on April 21 and got a positive result the following day, was not breathing when found at home by a friend on April 24.
After medics arrived and failed to resuscitate her, she was pronounced dead by a doctor, according to the CECC.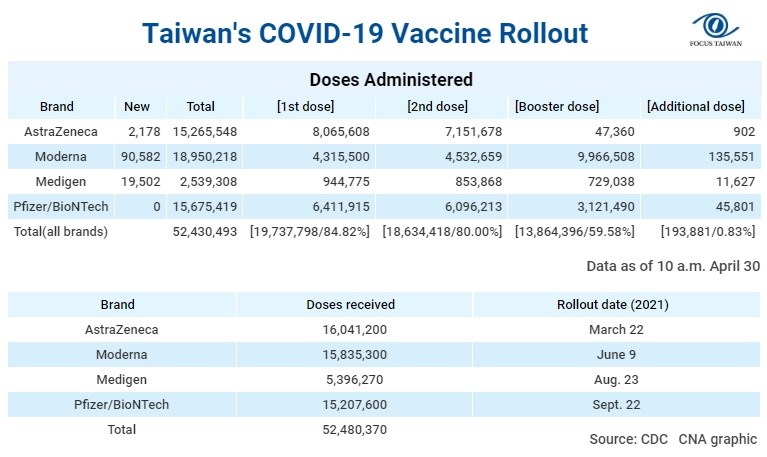 Of the 74,976 domestic cases recorded nationwide from Jan. 1 to April 29, 185 have been classified as moderate infections and 22 as severe, accounting for 0.25 percent and 0.03 percent of the total, respectively.
All other cases have involved only mild symptoms or the individuals were asymptomatic, according to the CECC.
New Taipei reported the highest number of domestic cases on Saturday with 5,797, followed by Taipei with 3,099, Taoyuan with 2,193, Taichung with 756, and Keelung with 715.
Kaohsiung reported 453 cases, Hualien County 329, Yilan County 320, Tainan 280, Hsinchu County 195, Changhua County 158, Yunlin County 147, Pingtung County 133, Hsinchu City 125, Miaoli County 89, Chiayi County 79, and Taitung County 58, Nantou County 43, and Chiayi City 33.
Kinmen County reported 17 cases, Penghu County nine and the Matsu Islands five, the CECC said.
Meanwhile, of the 116 new imported cases, 111 were travelers who tested positive on arrival in Taiwan on Friday, according to the CECC.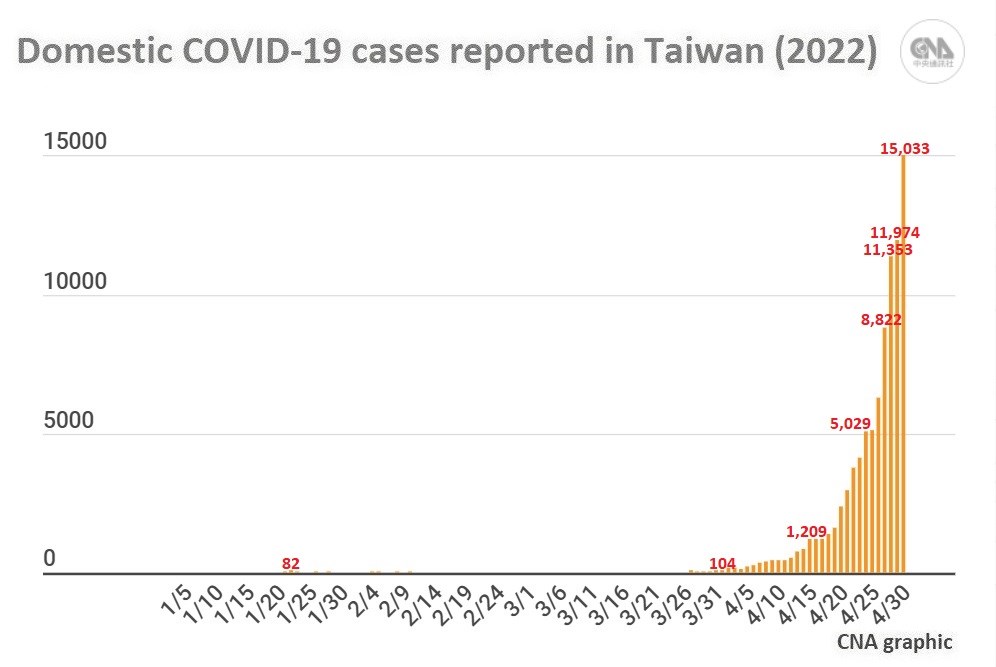 To date, Taiwan has confirmed 115,883 COVID-19 cases since the pandemic began in early 2020, including 104,593 domestically transmitted infections.
As of April 30, Taiwan had recorded 90,009 domestic cases for 2022, with the number of new locally transmitted infections exceeding 100 for the first time this year on April 1, when Taiwan reported 104 such cases.
The daily figures rose above 1,000 for the first time to 1,209 on April 15, before reaching more than 10,000 on Thursday.
The total number of imported cases so far this year, meanwhile, had risen to 11,236 on Saturday from 2,396 on Jan. 1, according to CECC data.
With three deaths reported Saturday, the number of confirmed COVID-19 fatalities in the country reached 865, and 12 of them were recorded this year.
Also on Saturday
April 30: CECC to launch contact tracing website for confirmed COVID cases
April 30: Rapid test kits restocked at retailers: health minister
April 30: Taiwan alerts travelers to China's Henan Province over H3N8 bird flu infection
Related News
April 29: Taiwan expected to buy 30 million COVID-19 saliva rapid tests
April 28: Taiwan inks new Pfizer-BioNTech vaccine deal, approves use for children
April 27: Taiwan to maintain current mask mandate through May
April 26: COVID vaccine rollout for 6-11-year-olds to start May 2: MOE
April 25: Taiwan will retain 10-day quarantine rule for arriving travelers: CECC
April 21: Rapid testing to replace preventive quarantine: health minister
April 15: Taiwan mandates 3 COVID shots for high-risk groups, venues
April 7: Taiwan suspends some COVID contact tracing, adopts new control model
April 1: Taiwan still plans to open up gradually, despite case spike: Premier
Recent cases
April 29: Taiwan reports 12,313 new COVID-19 cases, two deaths
April 28: Taiwan reports 11,517 new COVID-19 cases, two deaths
April 27: Taiwan reports 8,923 COVID-19 cases, two deaths
April 26: Taiwan reports 6,339 new COVID-19 cases, zero deaths
April 25: Taiwan reports 5,221 new COVID-19 cases, zero deaths
View All